printer friendly version
The heat is on
October 2018
CCTV, Surveillance & Remote Monitoring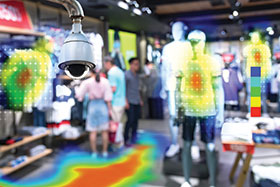 Heat mapping allows retailers to not only better understand customer behaviour, but furthermore increases security levels, with its ability to reduce fraudulent activities, such as shrinkage and theft. Leveraging surveillance camera footage, which would typically be used predominantly for security purposes, retail operations are now seeing the knock-on benefits that a well thought-out security system can have for smart business practice.
Vaughan Tempelhoff, product manager at Forbatt, says that as traditional brick-and-mortar-based retail operations increasingly seek faster and more cost-effective ways of driving up profitability in the face of the burgeoning online retail market, smart integrated solutions, like those from NUUO, are finding a captive market.
Heat map software works with existing surveillance cameras to mitigate security risks. Typically, an area of a store that is a cold (indicated by blue) zone on the heat map could be an opportune area for stolen items to be concealed, since foot traffic to that area is minimal. Having this information to hand allows management and the security detail to monitor this zone.
From a business enhancement perspective, retailers are looking to heat mapping, integrated with surveillance systems, to plan the layout of stores, monitor queue lengths, pinpoint dead zones, measure interest in promotional displays, and increase the effectiveness of store signage. The aim here is to provide a better understanding of customer behaviour in order to allocate marketing spend within the stores.
Research indicates that the average shopper only visits 20% of a store and that 25% of the store accounts for 80% of the sales. Add to this the fact that floor space rental in shopping malls can be very costly and it becomes evident that retailers need to equip themselves with an arsenal that will drive up shopper conversions.
In essence, heat mapping is a colour representation that allows retailers to view the activity in different areas of their store for quick comparisons. Warm colours such as orange and red indicate where customers have lingered in certain areas and colder colours such as blue indicate where there is a lack of visitor interest. This provides important feedback on actual, real-time traffic flow, so retailers can see how their shelving and aisles have a direct impact on the manner in which customers navigate when they shop.
Heat maps need to be studied regularly and compared to sales data to be of effect, so video makes these comparisons easier. Video also allows store managers to see exactly what products their customers touch and purchase, which of the employees assist customers and what the queuing trends are.
Heat maps used with the NUUO video management system not only provide individual store data, but can be used for A/B tests or store comparisons. By using the data from successful stores as a baseline, floor and shelving layouts can be rolled out nationwide for maximised profitability and security.
Another area where heat mapping is proving useful for enhancing security is at the point of sale (POS). By integrating the NUUO video management system with the NUUO POS Retail Solution, retailers are provided with a closer view of their checkout system as well as any self-checkout tills in the store.
"In fact," says Tempelhoff, "we can offer a total retail solution that includes advanced video analytics known as NUUO IVS, which can monitor customer flow and track seasonal performance. Additionally, our POS shrink detection technology works together with well-known third-party POS brands to detect, alert and record suspicious POS transactions from all store locations. It will send an alert to a designated manager when a transaction is void and allows four pre-defined POS events, such as 'cash drawer open' and 'till disconnect' as well as 10 user-defined POS alarms to be set up. It also allows one to easily review videos with advanced POS search and report tools."
Other NUUO retail solution add-ons include Remote Client, Remote Live Viewer, Mainconsole, CMS, Control Room Solutions, NVRmini2, iViewer, Titan NVR and NuClient. "There are a large number of technology combinations and our technical team is on hand to consult with retailers to develop a retail solution that works best for their store or chain of stores," says Tempelhoff.
Credit(s)
Further reading:
AI technology to empower vertical markets
Dahua Technology South Africa Mining (Industry) CCTV, Surveillance & Remote Monitoring Products
Dahua WizMind is a full portfolio of solutions comprising project-oriented products that use deep learning algorithms to provide more business value to its global customers and deliver reliable and comprehensive AI solutions for vertical markets.
Read more...
---
Elvey partners with HALO
Elvey Security Technologies News CCTV, Surveillance & Remote Monitoring
Elvey Group has partnered with HALO Europe to provide Africa's first body-worn solution with zero upfront costs. This includes an IP68-certified body camera and a 4G-connected device.
Read more...
---
Regal announces new partnership
Regal Distributors SA CCTV, Surveillance & Remote Monitoring
Having a bird's eye view of your surveillance data, with the capability to drill down to the details obtained via connected security solutions, is a game changer for security operators, companies and even officers on the ground.
Read more...
---
Invisible connection and tangible protection via cloud
Dahua Technology South Africa Perimeter Security, Alarms & Intruder Detection CCTV, Surveillance & Remote Monitoring Products
Dahua Technology has launched its AirShield security solution that uses advanced, stable and reliable RF communication technology and cloud services, integrating alarm hubs, various detectors and accessories, with several software apps.
Read more...
---
Hikvision expands solar-powered solutions
CCTV, Surveillance & Remote Monitoring Products
Hikvision is offering a portfolio of solar solutions, the 4G solar-powered camera kit, a wireless bridge, and mobile solar security tower solutions to assist in keeping remote and isolated areas safe in a simple, practical, and cost-effective way.
Read more...
---
Affordable entry-level cameras from Dallmeier
Dallmeier Electronic Southern Africa CCTV, Surveillance & Remote Monitoring Products
Dallmeier has introduced the 'E' version of the DOMERA camera family, offering high image quality with 2 MP and 5 MP resolution, and providing detailed images even in low light conditions.
Read more...
---
The importance of the operator's frame of reference
Leaderware Editor's Choice CCTV, Surveillance & Remote Monitoring Security Services & Risk Management Mining (Industry)
The better the operator's frame of reference and situational awareness, and the more informed they are in dealing with CCTV surveillance in the mining industry, the more successful they are likely to be in surveillance.
Read more...
---
Enhancing surveillance on mines
Avigilon Technews Publishing Axis Communications SA Forbatt SA Hikvision South Africa Bosch Building Technologies Editor's Choice CCTV, Surveillance & Remote Monitoring Integrated Solutions Mining (Industry)
Smart Security approached a number of surveillance vendors to find out what the latest in surveillance technology is that can make a difference to security operations in mines, as well as general operations.
Read more...
---
Surveillance to improve worker safety
Axis Communications SA Mining (Industry) CCTV, Surveillance & Remote Monitoring Integrated Solutions
With substantial deposits of mineral resources, mining is critical for South Africa's economic growth and prosperity; however, mining can be dangerous, especially for the people working on the ground and in the shafts.
Read more...
---
Radar-video fusion camera
Axis Communications SA CCTV, Surveillance & Remote Monitoring Mining (Industry) Products
The AXIS Q1656-DLE Radar-Video Fusion Camera device brings video and radar analytics together in AXIS Object Analytics to deliver detection and visualisation.
Read more...
---