printer friendly version
Five pillars to a safer city
January 2016 Editor's Choice, CCTV, Surveillance & Remote Monitoring, Integrated Solutions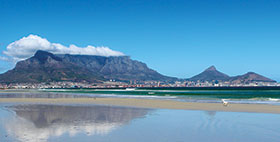 Securing a city is no small task. There are seemingly endless issues to deal with, from personal and personnel issues, through to turf arguments, politics and the finances if one wants to provide a secure environment for all residents. And while technology plays an important role in securing a city, there is no technical solution that can do it all.
The city of Cape Town has delivered some incredible results in terms of safety and security over the past few years, far outclassing any other city in South Africa. The city has seen significant reductions in major crime areas, including in gang-related crimes, due to steps taken by the city's government.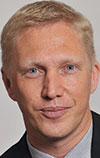 Alderman J. P. Smith, Cape Town's Mayoral Committee Member for Safety & Security.
Hi-Tech Security Solutions spoke to the driving force behind the improvements, Alderman J. P. Smith, Cape Town's Mayoral Committee Member for Safety & Security, to find out how the city managed to accomplish this. He explains there are five pillars the city addressed and continues to address to ensure it could and can deliver a safer environment for its residents and businesses.
1. Resources
The first pillar is resources. The city's administration prior to 2006 had allowed its safety and security resources to drop precariously low during its tenure. The Metro Police, for example, had lost 700 members who were not replaced. Since 2006, however, the administration has replaced those 700 in the Traffic Law Enforcement and Metro Police departments and added many more. Operational staff numbers have grown by over 53% in the past 10 years, a significant improvement in numbers for Cape Town, and the results bear witness to the success of these operational personnel.
2. Resourcing
Smith explains that simply having feet on the ground is not enough. Operational staff need to be supported with the correct infrastructure, equipment and training to empower them to do their jobs properly. Additionally, it's not all about improving policing – safety also relates to fire safety and disaster management.
Taking the city's fire services as an example, Smith says over R45 million has been spent this year alone (with over R300 million in the last five years) on fire-fighting facilities and staff. This is significant since deaths from fire-related accidents were very high in poorer areas. Since the administration has focused on this problem, Cape Town has seen a reduction in fire deaths among informal settlements and backyarder residents from a high of 7.9 people per 100 000, to 3.6 per 100 000, and the figure is expected to continue to decline.
Furthermore, the city is in the process of adding or improving the Fire Department's and Metro Police's facilities on a large scale. And as an aside, he notes that the city is also the only city in the country that has seen a decline in road mortality rates, as a result of a whole package of interventions targeting driver awareness, distracted driving involving cellphones, drunk driving, as well as the scofflaws who try and avoid paying traffic fines.
To address specific issues, Cape Town also launched a series of specialist units trained to focus on particular problem areas. These teams have produced sterling results, with the Gang and Drug Task Team, for example, delivering five times more successful prosecutions on their cases than SAPS has been able to. A special investigation unit has also been launched and is being expanded.
The city has also developed a police auxiliary service, run by the city, made up of volunteers who assist in visible policing and the enforcement of bylaws. There are currently 330 auxiliary members at work. In emergencies, however, they can be called on to support the Metro Police.
Finally, and another first for the city, Cape Town has been running its 'rent-a-cop' initiative for the last few years in which individuals, companies or institutions can sponsor law enforcement officers in order to increase visible policing levels. This means that business areas that want to increase their policing levels have the option of doing so without adding to the costs of the city. The sponsors pay the salaries of the relevant officers and contribute 50% towards their training, uniforms, transport, overtime and equipment costs. The externally-contracted officers are able to focus on addressing disorder, minor crimes and traffic offences, with some of these officers having foiled armed robberies, vehicle thefts and arresting pick-pockets and drug dealers.
3. Training
A common complaint among businesses and governmental departments today is the lack of skills they are expected to deal with when hiring people and Cape Town is no different. To ensure its safety and security personnel are able to deliver the optimal service to the city's residents and to see results, the local government has invested heavily in training for enforcement services and emergency services.
These operators have all been trained and accredited to international standards, learning from the best in countries such as the USA, UK, the Netherlands and Canada. In support of this, significant investments are being made into two new and expanded training colleges.
4. Partnerships
The city also realised early on that succeeding in making the whole of Cape Town a place where everyone would want to live required cooperation between various parties within the city. To achieve this, it has embarked on establishing partnerships to improve the safety and security of the city as a whole and in individual districts.
The rent-a-cop initiative is one programme already proving itself, as are 33 City Improvement Districts (CID) or Special Rating Areas that allow the residents and businesses in such improvement districts to pay an additional rates levy that is used for additional security and cleansing to address the 'crime and grime' that inhibits urban regeneration. In communities where residents can't afford to support the full CID programme, a CID-'Lite' programme (called the Mayor's Urban Regeneration Programme) has been developed to ensure that everyone benefits as the city grows.
Neighbourhood watches are an important part of the CID programmes and the city plays an active part in establishing and recruiting people to their areas' watches. Smith says no other city is this involved in its citizens welfare to this level.
Cape Town's involvement goes further, however, as it provides the neighbourhood watches with training and equipment. About R1.6 million is spent each year equipping these community organisations with radios and patrol bicycles etc. It has also trained over 4000 members of watches over the past three years.
Each neighbourhood watch is given 20 hand radios to start with. These are not cheap systems that only allow the watch members to talk to each other, but the same quality radios that the city uses and these are linked via repeaters that the city pays for, to the main radio trunking systems. This allows watches to speak to each other as well as the city's control room. Cape Town takes care of the ICASA licensing requirements and maintenance.
5. Technology
Smith explains that technology has an important role to play in creating and improving the safety and security of residents, as Cape Town relies on intelligence driven policing to be proactive and ahead of the curve where it can.
One of the technologies Cape Town uses successfully is Licence Plate Recognition (LPR). Those who attended Hi-Tech Security Solutions' Retail Risk Conference, held in September 2015, will remember two presentations dealing with the LPR systems installed in the Cape.
Bernard Schäfer, chair of the LPR User Group and the Camps Bay Community Police Forum, and Mike Voortman, MD of Verifier and chairman of the Constantia Valley Watches Association as well as the Wynberg Sector 4 CPF discussed the measures put in place to coordinate LPR in various districts of the city and the successes achieved. For those who were not able to attend the conference, a brief review is online at www.securitysa.com/8481a. Later in this issue, Hi-Tech Security Solutions will also look at how some private companies in Johannesburg are implementing LPR successfully.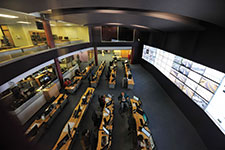 Smith says the LPR project has linked almost 400 private CCTV cameras to the city's surveillance operations, with over 1200 cameras in total now sharing crime information about suspicious vehicle registration numbers with a centralised server hosted at the city's control room. This allows the network to track targeted vehicles across the city and causes a prioritised response when one of the cameras identifies a vehicle of interest. The city has anticipated that this will cause criminal elements to use false licence plates or remove licence plates altogether and have therefore pre-empted this through the new Provincial Traffic Act regulations that will allow for vehicles with false plates or no plates to be impounded until legal proceedings are concluded.
The LPR system ties in with an important and ground breaking technology project the city has developed called EPIC. This project will see a mobile console in every Metro Police car that is linked to the Metro's dispatch, as well as relevant databases, such as eNatis, the firearms registry, stolen car records and even to the rates database so that officers can know who is supposed to be at a residence when called out. It can also include a biometric scanner, LPR, GPS mapping and dashboard cameras.
To save costs, the city has purchased 1000 ruggedised tablets for the project, as well as ruggedised cellphones that provide similar functionality to people patrolling on foot. It will also allow the city to know where its personnel are located in emergencies. These cellphones will be linked to the city's central database and officers will be able to take pictures on the scene and have them uploaded to the server immediately.
EPIC is being tested in a few cars at the moment and will be rolled out in 2016 first to the Fire Department (in February 2016) and then to all the other departments, including Metro Police, Law Enforcement, Traffic Services and the SIU (in July 2016). This will provide for full computer-aided dispatch (CAD) and integrated spatially-enabled response management (ISERMS) which will dramatically improve the quality of service delivery as well as the accountability in terms of the business intelligence available to the management of these services as well as to the public and Community Police Forums (CPFs), etc.
Another technical breakthrough is the implementation of Shot Spotter. This technology triangulates the location of gunshots and sends law enforcement to the correct place. It means that the police starting responding to every single shooting incident, as opposed to every fifth or sixth shooting as would normally be the case (the public routinely only report about 13% of shootings). It also supplies the detective with useful forensic data for the purposes of prosecution. The one square kilometre pilot project in Hanover Park was a success and the Council is now preparing to go out on tender with the technology in other high-violence areas as well. Smith says officers have now taken more firearms off the streets in the five months of it being live than they did in the previous five years.
The result from addressing city safety through the above pillars is that in a climate of escalating criminal violence in South Africa as well as Cape Town's renowned gang problems, the city has managed to reduce the gang murder rate. In the past, gang murders accounted for about 20% of the murders in the region, this year it's down to 11.4%. Smith says gang violence has been halved over the past four years. This despite the poor prosecution record of gang murders, amounting to only 2%, by the SAPS and National Prosecuting Authority (NPA).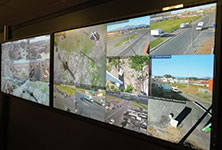 Looking ahead, Smith says the city's goal is to have all the cameras in Cape Town connected and able to interoperate. This will allow law enforcement to access all the cameras across the city, assisting them in making the city even safer for residents and more dangerous for criminals.
The city's crime analysis system will also be made broadly available to the relevant authorities and an easier version will be offered to the public. This will allow people to access the system from their smartphones (first on Android then iOS). Residents will be able to report crimes and communicate with the control centre via the app, allowing respondents to react more appropriately, with richer data to guide them. Unlike apps that are currently being talked about elsewhere in SA, which alerts staff directly, EPIC will still ensure that the incidents are properly prioritised and dispatched as the failure to do so will have serious operational consequences.
Using technology to provide usable intelligence is empowering the city to address crime and improve residents' safety more proactively, while the investment in resources and training is paying off in more effective service provision that has delivered the results mentioned. Of course, the city can't control every aspect of the safety and security portfolio, but Smith says, "The things we control, like fire deaths and road deaths, we do well. Those we don't control are more challenging, but we are still succeeding."
For more information, go to www.capetown.gov.za
Further reading:
Securing perimeters of secure locations
November 2019, Axis Communications SA, Modular Communications, Hikvision South Africa, Nemtek Electric Fencing Products, Technews Publishing, Stafix , Government and Parastatal (Industry), Perimeter Security, Alarms & Intruder Detection, Integrated Solutions
Hi-Tech Security Solutions asked a number of companies offering perimeter security solutions for their insights into protecting the boundaries of national key points.
Read more...
---
Intelligent analytics and the brains to match
September 2019, Bosch Building Technologies , CCTV, Surveillance & Remote Monitoring, Integrated Solutions
What if the brains behind our security cameras could be trained to improve their cognitive ability to pay attention, learn, and problem-solve according to specific rules and situations?
Read more...
---
AI-powered autonomous Drone-in-a-Box
September 2019 , CCTV, Surveillance & Remote Monitoring, Integrated Solutions
Organisations in the mining, energy and industrial, oil and gas, ports and terminals sectors can optimise security and business operations, whilst reducing risks and operational costs
Read more...
---
Cybersecurity for video surveillance systems
September 2019, Mobotix , Cyber Security, CCTV, Surveillance & Remote Monitoring
Video surveillance systems are increasingly accessible over any IP network, which has led to the rise of potential cyberattack.
Read more...
---
2020 Residential Estate Security Conference in KZN
November 2019, Technews Publishing , Editor's Choice
Meeting the residential security challenges in 2020 and beyond: Hi-Tech Security Solutions will host the Residential Estate Security Conference 2020 in Durban on 12 March 2020.
Read more...
---
Sentian secures funding from Imfezeko
November 2019, Sentian , Editor's Choice
Cape Town based smart security technology developer Sentian has recently secured a round of funding from Imfezeko Investment Holdings.
Read more...
---
A brighter future
November 2019, NEC XON, Technews Publishing , Editor's Choice
NEC XON hosted its annual summit in October 2019 at Sun City under the banner of 'Orchestrating a Brighter World'.
Read more...
---
What are the cybersecurity issues in video surveillance?
November 2019, Axis Communications SA , Editor's Choice, CCTV, Surveillance & Remote Monitoring, Cyber Security
he importance of the data captured by surveillance cameras – and what can be done with it – has led to a new breed of cybercriminals, looking for insights to steal and sell.
Read more...
---
The safe city and its need for interoperability
November 2019 , Integrated Solutions, CCTV, Surveillance & Remote Monitoring
Interoperability continues to present one of the greatest challenges, particularly with video management systems, video recording devices and cameras.
Read more...
---
Big data operational and management requirements
November 2019, Leaderware , Editor's Choice
Big data offers huge advantages in enhancing or augmenting data, giving it added meaning and context, creating a broader perspective in which to view things, and adding to the value of data.
Read more...
---