printer friendly version
Stopping theft in its tracks
November 2015 Editor's Choice, CCTV, Surveillance & Remote Monitoring, Asset Management, EAS, RFID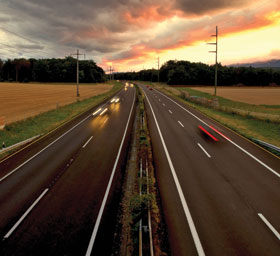 While theft of cargo continues to be a major issue for the transportation industry, another expensive trend is gaining impetus. Theft of diesel as well as truck and trailer tyres is costing transportation companies hundreds of thousands of Rands annually.
How can companies mitigate this risk? Hi-Tech Security Solutions spoke to industry representatives about systems designed to reduce losses and pinpoint problem areas.
Keeping track
Craig Lovell, operations director at Intelligent Telematics, explains that the company can supply three solutions, designed to fit specific goals and budgets. All systems are intended to protect fleets against false driving allegations, complaints from the general public, high claims costs and increasing insurance premiums. Many of the company's customers are using the solutions as part of their internal driver behaviour training programmes and insurers and fleet users are seeing a huge reduction in loss ratios.
With increasing deficiencies and faults found with SD card cameras and the need to view video footage instantly from the scene, more companies are opting for 3G cameras over SD card cameras, providing the perfect opportunity for the Intelligent Telematics solutions.
The I-Cam four-camera solution is ideal for large transportation companies who need a live management-based system; the ITS is an advanced 3G camera solution, while the VTS is the standard 3G camera offering. Both the ITS and VTS systems are one to two camera solutions.
I-Cam is a prestige tracking and tracing system that allows the user to set up events such as 'ignition off' and 'end of trip' with exception reporting provided in real time. A great benefit is that the user/manager/controller can log into the system to take evasive and proactive action.
Two cameras are mounted on the windscreen, an infrared version which faces into the cab of the truck to record driver activity and a standard camera that faces towards the road. In addition, two additional cameras can be mounted to monitor activity in areas of concern. Typically these would include the tyres, the fuel tank, the trailer and the door to the trailer. All cameras are weatherproof and tamper-proof for extended reliability.
The driver is provided with a panic button linked to the company management (cellphone and e-mail) and/or a control room. When the button is depressed, the system will automatically send a video of the event (attempted hijacking, etc) to the recipient for further action. This is supported by up to three separate inputs that could include the door switch on the passenger door. In this instance, if an unauthorised passenger enters the vehicle, a video alert will be issued to the pre-specified recipients.
A two-way microphone/speaker in the cab of the vehicle allows the controller to dial in to the system and speak directly to the driver. Mounted in a tamper-proof box, the system also allows the controller to hear any conversations in the cab, an important tool in attempted hijackings.
HD video available in minutes
With the I-Cam system, even if the cameras are removed by criminals trying to 'buck the system', the tracking capabilities of the system will remain intact and active.
With the VTS, using a mounting bracket on the interior of the windscreen, an infrared camera is directed inwards to monitor the driver, with another camera pointing towards traffic. The VTS software is a web based application that is available via mobile phone for both Android and IOS devices. HD quality video footage of harsh incidents and accidents are available within minutes from the scene as well as track reports and driver behaviour league tables.
A Web-enabled user interface indicates on an e-mail or screen pop up notification that an event has occurred and a full HD video is automatically uploaded upon the triggered event. The high level video review provides users with the ability to see a list of high-level events on the map and in the video preview window. The track report shows controllers the latest known position and status vehicles with the ability to modify and refine search criteria.
The Vehicle Safety League Table is often used as a driver behaviour training tool wherein reports can be produced that will classify and list the scores by calculating the high, medium and low events as well as harsh acceleration, braking and cornering, versus the amount of kilometres travelled by each vehicle.
The ITS is a fully integrated system that is able to provide a complete overview of the various routes taken by the driver during his shift and reports on any lengthy stops, deviations from pre-planned routes and other pre-determined events. It provides complete visibility over fleet operations to enable risk management control.
In addition to having all the features of the VTS system, the ITS also provides a trace report which shows the complete journey history of each fleet vehicle, detailing the start/stop time duration of the trip, and the mileage undertaken. In addition it monitors speeding events that have occurred on selected vehicles, with the ability to include specified 'tolerance' levels.
Other features include a trends analysis which populates all safety and efficiency scores and factors on the timeline in a chart form, as well as a scheduled maintenance capability that allows one to monitor and control the maintenance schedule of fleet assets.
Lovell says that the feedback from customers has been excellent, with many reporting that they have seen enormous decreases in theft and driver behaviour mindset changes. In addition, a number of clients have recorded substantial savings in fuel bills as a result of driver performance modifications initiated by system feedback.
Smoke screen
MJ Oosthuizen, head of the security business unit at Ingram Micro Distribution Africa, says that a number of logistics companies have now adopted the approach of sending an armed escort with cargo loads that have a value exceeding specified amounts. This, he explains, is to complement any existing security technology resident on trucks and trailers and which allows an immediate response time for high value goods in transit.
The most commonly targeted cargo types are mobile electronic devices and food. To mitigate risk, the company has developed a mobile version of its fog canon which provides a mechanism that fills the cargo hold with a dense fog that obstructs vision for a period of time but which is not harmful to humans, animals, electronics and does not contaminate food or water.
The resultant product – the Load Safer – fills up a compartment within 40 seconds and can be triggered when a panic button is depressed or when the contact switch on a cargo door is opened before a load reaches its destination. The unit is smaller than its static counterpart and more simplified. Each unit can fire up to eight 60-second duration fog balls and it is highly affordable.
Oosthuizen says that the company has designed the Load Safer to work in conjunction with a DVR. A dual 3G SIM card in a wireless router means that switching occurs between mobile service providers to ensure constant communications. The DVR and fog unit can be triggered remotely by a controller, using the router.
Francois Potgieter, general manager for Ingram Micro Distribution Africa, says that the logistics market is highly competitive and customers want to be assured that the product they order will arrive safely and in a complete form at its intended final destination. The ability to plot a route and deliver high-value items according to plan and schedule is critical.
Driving blind
Due to issues with driver/criminal syndicate collusion, companies seek ways to counter drivers having prior route knowledge. Ingram has developed a system that is GPS driven and simply provides the driver with real-time directions, with no knowledge of the final destination available in advance. The solution plots an optimised route for the driver through a system known as Electronic Proof of Delivery (EPoD).
This empowers the customer to monitor the location of the driver, time of arrival and provides some peace of mind on the arrival of the goods at their final destination. This, coupled with control centre monitoring, allows remote intervention at any point of time during the transition period.
In addition, the company provides a turnkey scheduling system that works in conjunction with in-cab cameras to maximise security. The system allows notifications of unscheduled routes, stops and irregular behaviour, as well as providing remote visibility, incident based recording, and remote activation and log down of security systems. The benefits of an integrated system are many but primarily, companies are now provided with total management of logistics.
Integrated software solutions
Kevin Buret, MD of Sukema Integrated Solutions, says that the operational aspect of transportation is often overlooked when designing a security system. An appropriate software management solution will provide this additional support.
He emphasises that technologies are merely enablers that raise a flag when preset criteria or rules are broken, as identified by the company's policies and procedures. There is an abundance of technology available to apply to any situation which functions perfectly in a controlled environment, but is not realistic or practically viable in Africa for many reasons including qualified manpower and network reliability.
The company uses its own software solutions in conjunction with a wide range of technologies such as GPS, RFID, biometrics, LPR, GIS, scheduling, licence scanning, access control and PSIM to authenticate people, safeguard and manage assets before departing, and tracking the vehicle, driver and cargo to its destination.
He explains that when a truck arrives at, for example a mine, the driver's identity is validated by scanning his driver's licence and the vehicle licence, which is verified against an order or waybill. At the same point, LPR captures the number plate, there is added CCTV footage and the weighbridge reading is linked to the record to provide a complete audit trail of compliance. On exit, the reverse procedure is applied to ensure that the cargo or load does not exceed thresholds. The final release of the vehicle should not be left to the person manning the boom, but rather enabled by a system transaction to the access control system to avoid any form of collusion.
Another example is the collection of small yet highly valuable packages from pharmaceutical manufacturers. Due to their size, these items are easy to steal and conceal. In these cases each package, fitted with an RFID tag, is picked from the warehouse and packed into special containers. These containers are locked biometrically, scanned with RFID readers whilst loading the vehicle, tracked by GPS along their travels and opened on the receiving end by the individual with the authorised biometric access.
The container will be tracked and any tampering or undue vibration of the container en route will send an immediate alert to the response centre. Similarly, if the truck deviates from its plotted route or conducts any unplanned stops, the response centre is automatically alerted.
Buret says that for one of the company's largest customers, they provided a control room solution that functioned on top of the Chase OEM operations enterprise management products platform. The system allows the company to replace all manual log books, conduct all pre-departure inspections, track vehicles and cargo, verify way points, coordinate deliveries and provide a command and control type response to any situation outside of the norm, all in an integrated electronic management system.
The success of any system, he says is dependent on the successful collection and management of data from all the variables, including cameras, RFID tags, accelerometers and door switches. Processing this data in line with defined policies, verifying personnel involved in operational issues and measuring their performance along with a structured planned response to an event, are all key elements to a successful solution to the challenge at hand.
Invaluable driver database
So what happens when drivers convicted of various serious driving offences such as homicide (due to accidents) and driving under the influence of alcohol, are back on the road driving for another transportation company within a short space of time?
Labour lawyer Steph Harmse saw this alarming trend increasing over the past few years and realised that something needed to be urgently done to alleviate the shortfalls in both the legal justice system as well as the inadequacies of proper driver reporting and checks by companies.
He says that last year there was a major increase in the presence of organised crime within the transportation sector, with theft of diesel, trucks, trailers and loads being the primary areas of concern. Typically, career criminal drivers drive the trucks into township areas, unhook trailers and offload part of the cargo onto a secondary vehicle whilst the horse (equipped with the GPS unit) is driven away and later left to be discovered by the SAPS or private security reaction units.
Harmse launched the Drivers4Trucks online database in November 2014 and to date 137 transportation companies have signed up as members and 374 serious offenders have been listed. Harmse used an existing database he had on file, then approached transportation companies and began adding further offenders. Members have clearly seen the advantages the system provides and willingly share details of drivers dismissed for various serious offences.
The database is divided up into two sections – 'the bad – you don't want them' and 'the good – you want them'. The first section is the database of offenders, with searches enabled on driver name, ID/passport number, licence type, date listed and reason for dismissal. Details of his/her offences are also listed. The 'good' section is a job portal that allows companies to advertise for a driver and also allows drivers to post their CV in pursuit of employment.
The website www.drivers4trucks.co.z has a breaking news section which provides up to the minute alerts. For a nominal fee, a professional screening service allows for screening of criminal records, as well as validity of ID, drivers' licences and PDPs.
For more information contact:
Intelligent Telematics, 0861 158 527, craig@intelligent-telematics.co.za, www.intelligent-telematics.co.za
Sukema, 0861 116 103, info@sukema.co.za, www.sukema.co.za
Ingram Micro Distribution: Africa, mj.oosthuizen@ingrammicro.com, www.ingrammicro.com
Credit(s)
Further reading:
Using fingerprint recognition under COVID-19
Issue 4 2020, Suprema , Editor's Choice
COVID-19 is raising questions about how safe fingerprint authentication really is, as touching sensors can potentially spread viruses.
Read more...
---
From the editor's desk: The worst of times
Issue 4 2020, Technews Publishing , Editor's Choice
While the world is going through a tough time at the moment with the pandemic and seemingly endless economic problems, Hi-Tech Security Solutions and Technews Publishing has had an additional burden of ...
Read more...
---
Leaders in risk & security: Assessing threat, risk and vulnerability
Issue 4 2020, Sentinel Risk Management, Technews Publishing , Editor's Choice
After serving a 27-year 'life sentence' in the military, Andy Lawler has spent over ten years in the private security industry as a risk specialist.
Read more...
---
IDEMIA launches VisionPass facial recognition
Issue 4 2020, IDEMIA , Editor's Choice
IDEMIA has launched its VisionPass facial recognition solution in Africa, offering secure and contactless access control to companies of all sizes and in all markets.
Read more...
---
BioCote antimicrobial technology
Issue 4 2020, Salto Systems Africa , Editor's Choice
BioCote helps to reduce the spread of microbes around a building as microbes are not transferred from door to door and surface to surface.
Read more...
---
Customised personal security app for your workforce
Issue 4 2020, Technews Publishing , Editor's Choice
Zecure takes the idea of app-based security to the business world, providing employees with a suite of applications on hand to cater to their personal security needs.
Read more...
---
Fulcrum Biometrics expands into Africa
Issue 4 2020, Fulcrum Biometrics , Editor's Choice
Fulcrum Biometrics Southern Africa, a subsidiary of Fulcrum Biometrics in Texas, USA, has been launched in Johannesburg with a number of industry stalwarts at the helm.
Read more...
---
Paying the ransom doubles cost of recovery
Issue 4 2020 , Editor's Choice
Paying cybercriminals to restore data encrypted during a ransomware attack is not an easy and inexpensive path to recovery.
Read more...
---
Coping with COVID-19
Issue 4 2020, Sentinel Risk Management, Xone Integrated Security, ISF SFP, Technews Publishing , Editor's Choice
Hi-Tech Security Solutions spoke to four security service providers about their new business reality and how they are coping with the stringent regulations.
Read more...
---
Milestone forges ahead globally and in Africa
Issue 4 2020, Milestone Systems, Technews Publishing , Editor's Choice
Hi-Tech Security Solutions was given the opportunity to speak to Milestone's Kenneth H. Petersen and Anders Johansson about the company's annual performance and its regional plans.
Read more...
---