printer friendly version
A powerful weapon to prevent ­forest fires
October 2015 Products, CCTV, Surveillance & Remote Monitoring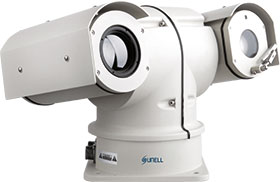 As per a study, on average more than 200 000 forest fires occur each year all over the world, burning over 0.1% of the world's total forest area. Forest fires are one of the major disasters faced by forests. They usually happen suddenly, causing extreme devastation, are difficult to put out, and are highly dangerous. Therefore to prevent forest fires, it is a must to implement a 'Prevention First – Active Fire-Fighting' approach, to detect and resolve wildfires as early as possible.
Without timely control of a wildfire, losses caused would be immeasurable. According to statistics, 95% of the world's forest fires are moderate and weak, and are easier to be controlled and put out, and only 5% of forest fires are large, difficult to control and fight. Preventing forest fires not only requires the establishment of strict emergency mechanisms, a strong command system, a well-organised and trained fire fighting team, but also relies on advanced video surveillance and alarm devices to predict and stop the fire early.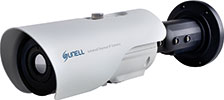 Surveillance cameras are often used for remote forest fire observation and prevention, however ordinary cameras have too many drawbacks. In case of large forest areas, wildfires are usually caused by obscure hidden elements. So it is very difficult to discover signs of a hidden fire with ordinary cameras. By the time smoke increases and is large enough to be detected, the fire has already spread. When the fire spreads, a lot of thick smoke and fog due to high humidity on the forest ground permeates the air, making it difficult for ordinary cameras to identify the fire's location and direction.
Thanks to the development of security technology, thermal imaging technology has been pushed forward creating history in forest fire prevention. Infrared rays radiated by objects of different temperature are absorbed by the infrared heat detector, resulting in temperature changes, thereby generating an electric effect. The electrical signals will then be amplified and processed, forming the thermal images corresponding to the distributed heat on the object's surface, thus it is called infrared thermal imaging.
Sunell Technology has launched a series of infrared thermal imaging cameras. The new products adopt uncooled infrared focal plane array sensors, to detect infrared rays with wavelength of 8 ~ 14 μm and up to 420 X 315 pixels. The cameras have high heat sensitivity up to 50 mK, support 8/15/25/35/50 mm and other focal length fixed focus lens (optional), support pseudo-colour mode switching: black hot / white heat / rainbow / iron red, support DVE image enhancement features, support noise reduction / mirroring functions. Compared with ordinary cameras, Sunell Technology's infrared thermal imaging cameras feature the following advantages for forest fire prevention:
24-hour monitoring, any lighting environment
Traditional cameras rely on natural or ambient light for imaging, while infrared thermal imaging cameras do not need any lighting, but only rely on infrared heat radiation to form a clear image. They are not affected by strong light, so whether it is day or night they can still clearly detect and identify camouflaged and concealed targets, achieving true 24-hour day and night surveillance.
Infrared thermal imaging is the only diagnosis technology that can instantly visualise thermal information and verify it. By quantifying non-contact detected infrared heat, thermal imaging cameras can accurately measure the surface temperature of captured subjects. Through heat distribution and temperature analysis of the captured subjects and scenes, the cameras can provide abnormality diagnosis of the environment or objects. The cameras can also trace hot targets in the scene or area, and alert when the temperature is higher than the set value.
Temperature measuring pre-warning type thermal imaging cameras can automatically measure in real-time, the highest temperature of the object in the field of view. In case the temperature exceeds the alarm temperature pre-set in the system, the camera will automatically alert and send alarm signals. Therefore it can be used to provide early warnings for forest fire prevention. In large forest areas, wildfires are often caused by hidden obscure fires. This is the root cause for devastating fires, and existing ordinary methods are very difficult to find such tacit fire signs. Infrared thermal imaging devices enable quick and efficient discovery of these hidden fires, ensuring the fire can be nipped at the very initial stage.
Range of thermals
After years of dedicated research, Sunell Technology launched a full range of networked temperature warning-type thermal imaging products in the second half of 2014. It contains bolt modules, integrated modules, double windows and other network series products. These newly launched items are already available in the market, stimulating great interest and enthusiastic response from the industry.
Apart from being used for forest fire prevention, thermal imaging cameras also play an important role in airport security monitoring, aquaculture monitoring, important cultural monitoring, marine red tide monitoring, border surveillance, coastal day and night surveillance, police force combat systems, nuclear power plants, hydroelectric dam/lake flood control monitoring, docks, oilfield night surveillance, large plants, oil and gas pipelines night surveillance, as well as many other fields.
According to head of Sunell Technology's thermal imaging department Zhang Bo, all of the company's current thermal imaging products have a network interface (video data transmission), analogue interface (for debugging), alarm interface, audio interface, RS-485 interface, default international standard ONVIF protocol and have strong compatibility. The SDK is fully open, and the system can transmit all data including video, temperature, alarm and other key data through a network cable in the background, to facilitate secondary development by customers, the system also supports customised development.
What is thermal imaging?
Any object that has a temperature above absolute zero emits infrared radiation, also known as infrared heat radiation. The infrared radiation of objects with different temperatures is absorbed by the infrared detector. The resulting temperature variation causes an electrical signal. The signal is amplified and then processed. The corresponding image that is obtained of the object by means of heat distribution of the surface is called 'thermal imaging'.
Sunell thermal cameras use an infrared wavelength of 8-14 μm, this helps penetrate through dust and smoke, so that you can identify objects at maximum range of the lens potential. Sunell also has a new feature called DVE (Driver's Vision Enhancer) that helps you see streaming video more clearly from a human eye perception, which makes identifying objects easier.
Key features
• Temperature detection
• Uncooled IRFPA Microbolometer (no need for the camera to switch off for a cool-down period)
• Resolution 420x315
• A choice between 8/15/25/35/50 mm lenses
• Different colour modes available to make it easier to identify objects
• Supports the new DVE (Driver's Vision Enhancer) feature
Benefits of using a thermal camera from Sunell
- No need for a light source to capture images
- Works in all weather conditions, as well as dark environments
- Clearer images makes reporting on incidents easier
- Depending on which model you are using, video capture can go from 60 to 350 metres
For more information contact Sunell SA, +27 (0)11 469 3598, sales@sunellsecurity.com, www.sunellsecurity.com
Further reading:
Shorten your checkout lines to enhance customer experience
September 2019, Hikvision South Africa , Retail (Industry), CCTV, Surveillance & Remote Monitoring
Hikvision's queue detection technology is purpose-built to offer cutting-edge flow analysis to retail outlets and any situation where waiting to pay is required.
Read more...
---
Constructive CCTV contributions to research
September 2019, Leaderware , Editor's Choice, CCTV, Surveillance & Remote Monitoring
Study leads to understanding that we need more recognition and reward for constructive participation in society.
Read more...
---
New Africa sales manager for Axis Communications
September 2019, Axis Communications SA , News, CCTV, Surveillance & Remote Monitoring
Axis Communications has appointed Brendon Hall, previously the founder and MD of Pentagon, as its new sales manager, Africa.
Read more...
---
Hikvision helps secure African Union Summit
September 2019, Hikvision South Africa , News, CCTV, Surveillance & Remote Monitoring
Hikvision established a complete intelligent video solution to ensure the security of the thirty-third African Union (AU) Summit held on 7 July in Niamey, the capital of Niger.
Read more...
---
Genetec to integrate CylancePROTECT
September 2019, Genetec , Editor's Choice, CCTV, Surveillance & Remote Monitoring, News
Genetec has announced it is partnering with Cylance, a business unit of Blackberry, to bring AI-based antivirus protection to its appliance customers.
Read more...
---
LanDynamix helps secure Michael Mount campus
September 2019 , IT infrastructure, Products
LanDynamix has implemented Fortigate, Fortinet's firewall appliance, at Michael Mount Waldorf School in Bryanston, Johannesburg.
Read more...
---
New AlproMAX7 secures maximum rating
September 2019 , Access Control & Identity Management, Products
Alpro has launched a new range of ultra-secure mechanical mortice deadlocks, the AlproMAX7 which comply with BS EN 12209.
Read more...
---
Best in class at sea and ashore
September 2019, Axis Communications SA , Transport (Industry), CCTV, Surveillance & Remote Monitoring
Thermal network cameras support the guard tour function that can be used for continuous monitoring of a particular area according to the pre-set guard tour.
Read more...
---
ViRDI UBio Tab 5
September 2019 , Access Control & Identity Management, Products
ViRDI Distribution SA (ViRDI Africa) has announced the release of its long-awaited UBio Tablet to the South African market.
Read more...
---
Autonomous attendance
September 2019 , Products, Asset Management, EAS, RFID
The SACO RF attendance solution was developed with the focus on driving down costs without compromising functionality and ease of use.
Read more...
---