printer friendly version
Low-voltage monitoring solves barrier fencing costs
Residential Estate Security Handbook 2018
Products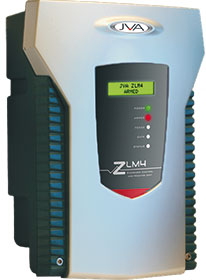 With the new legislation pertaining to security electric fencing now in operation, many housing and industrial estates are faced with the prospect of having to erect expensive barrier fences in front of their existing high-powered, monitored, electric security fences. The good news is there is no need to panic, as the new JVA ZLM4 low-voltage monitor solves this dilemma.
By simply attaching a JVA ZLM4 to the portion of electric fence below 1,5 metres and monitoring this portion with low voltage, which is quite legal, the monitoring capability of the fence is retained. Admittedly one will lose the deterrent high-voltage shock but the fence will still retain its aggressive appearance and its monitoring capabilities. What is more, the JVA ZLM4 is a four-sector monitor, so with a bit of simple wiring reconfiguration the sectorisation of one's fence can be increased, thereby reducing reaction time.
These JVA ZLM4 units have also been installed on fences that meet the legal requirements, but which during the day contain the general public within the secured area, e.g. schools, senior citizen complexes, sporting facilities and carparks. These facilities are now running their fences on low power during the day and then stepping them back up to high power at night when no one is present, giving them the best of both worlds.
For more information contact Shaun Williamson, Stafix, +27 11 397 3507, [email protected], www.stafix.co.za
Credit(s)
Further reading:
Enabling safety in communities
Security Services & Risk Management Products
Many Hytera devices are equipped with personal safety features, including emergency calling, Man Down and Lone Worker alerts, and GPS to enable users to be monitored and tracked.
Read more...
---
Solving coworking front-desk drama
Access Control & Identity Management Products
Flexible, shared and coworking offices have taken off with great success, but because occupational churn is high, the front-desk can be a difficult place to manage.
Read more...
---
Video technology can improve crowd management
CCTV, Surveillance & Remote Monitoring Entertainment and Hospitality (Industry) Products
Stadium operators can use video technology to implement effective crowd management in different areas, avoiding fines, reputational damage and injury or loss of life.
Read more...
---
What to consider when choosing a power backup plan
Products Smart Home Automation
Electricity is set to double in price in the next five years, and load-shedding will be an ongoing occurrence for at least the next decade.
Read more...
---
Securing business information more important than ever
Cyber Security Products
SMBs need to operate safely within the physical and virtual boundaries created by work-from-home business practices, as well as in-office operations.
Read more...
---
LucidLink Filespaces 2.0 cloud NAS offering
Products IT infrastructure
Drive Control Corporation (DCC) has announced the availability of LucidLink's new cloud NAS product, Filespaces 2.0, which forms part of the distributor's StorVault value proposition to its channel partners.
Read more...
---
New full-colour Smart Dual Illuminators camera series
Dahua Technology South Africa Products CCTV, Surveillance & Remote Monitoring
Using deep learning to accurately detect targets, the cameras can intelligently switch between the IR mode when there is no target, and full-colour mode when a target is detected.
Read more...
---
Turnkey data loss prevention solution
IT infrastructure Cyber Security Products
Acronis's expertise in data protection and the managed service provider market yields an innovative, fast-track approach for the prevention of catastrophic data leaks.
Read more...
---
Brewing a surveillance solution
CCTV, Surveillance & Remote Monitoring Integrated Solutions Products
VIVOTEK architects a surveillance enhancement solution for a century-old Japanese brewery comprising 260 devices, including 10 PoE network devices managed using the VAST 2 video management system.
Read more...
---
Axis to create explosion-protected cameras
Axis Communications SA CCTV, Surveillance & Remote Monitoring News Products
Axis Communications has announced its plans to develop its own explosion-protected surveillance cameras and devices across the Axis product portfolio through a new subsidiary, Axis Ex AB.
Read more...
---