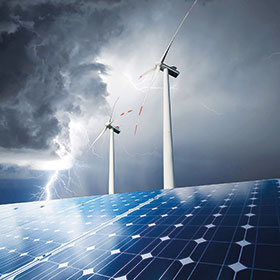 Surge and lightning protection
August 2018, Products
When it comes to sensitive electronic equipment, there are two main types of risk when it comes to electrical power surges, namely, lightning strikes (both direct and indirect hits) and switching surges. South Africa is known to be a country in which lightning strikes and surge voltages cause a high risk of personal and physical harm or damage to electrical and operational systems.
DEHN Africa offers turnkey services for lightning and surge protection as well as AC system earthing, from the beginning to the end of a project. These include lightning risk assessments, soil-resistivity testing, earth-grid design for AC system faults, detailed lightning protection designs, design and system inspection reports, incorporating the final lightning safety reports.
DEHN has over 4000 devices and components, tested to international standards, which allow flexible, comprehensively designed systems. From its advanced isolated lightning protection, HVI, to surge protection devices for electrical and communication systems, residential estates can be comprehensively protected.
For more information contact DEHN Africa, +27 11 704 1487, hano.oelofse@dehn-africa.com, www.dehn-africa.com