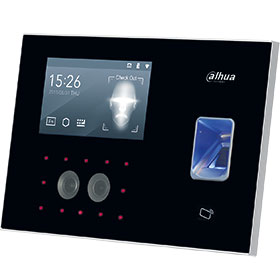 Multi-function access and time and attendance terminals
August 2018, Asset Management, EAS, RFID, Products
The ASA4214F and ASA6214F are access and time and attendance terminals that make use of infrared (IR) technology to perform facial recognition, in addition to fingerprint recognition. They differ only in their capacity for the number of stored faces, with the ASA4214F supporting 1000 (1:N) and the ASA6214F supporting 3000 (1:N). Both models support 30 000 card holders, 3000 (1:N) fingerprint templates and 150 000 transaction logs.
The devices feature a simple appearance, diverse interface and easy operation, making access control and time and attendance functions secure, convenient and fast. They have a 4,3-inch touchscreen and their advanced IR sensor and algorithms make them accurate even in environments with poor lighting.
Both facial and fingerprint recognition is performed within 1 second. As for the card reader, it supports 13,56 MHz Mifare and 125 kHz cards, and has a read range of 3-5 cm. Interfaces include Wi-Fi; TCP/IP; RS-485 and RS-232; Wiegand; two alarm inputs and outputs; one lock, one door sensor and one exit button; USB host; and a switch button.
Advanced access control functions include anti-passback, multi-card unlock, schedule management, holiday management, normal open and normal close periods.
For more information contact Fritz Wang, Dahua Technology South Africa, +27 72 628 6810, fritz.wang@dahuatech.com, www.dahuasecurity.com