printer friendly version
Breaking the cables
September 2015 Editor's Choice, IT infrastructure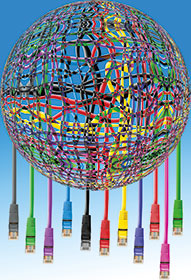 As more security solutions are using wireless networking to transfer large files of video and other data over long distances, Hi-Tech Security Solutions asked Bertus van Jaarsveld, CEO of MiRO distribution, to highlight some of the benefits involved in doing away with wires in your security networking, as well as touch on the burning issue of securing wireless systems.
Why should installers, integrator and users look at making the move to wireless?
Van Jaarsveld: There are many benefits to implementing a wireless IP network for video surveillance, such as:
• Quick and easy deployment: Wireless systems are so much faster to deploy, no need to find cable routes, trench and dig, rehabilitate etc. Wireless even makes large-scale temporary solutions an option at events such as outdoor music festivals.
• Cost savings: Wireless systems are often more cost-effective than wired solutions, especially once you include costs for civil engineering, trenching and rehabilitation.
• Flexibility: In a wireless system, it is very simple to add new cameras or change the position of existing cameras. In most cases this can be done at almost zero cost and with no impact to the existing system functionality or configuration.
• New possibilities: Wireless networks allow new solutions, such as cameras on boats that can be monitored from the shore, or cameras on moving vehicles in a mine.
• Easier to maintain and repair: In most cases, it is almost impossible to pinpoint a cable fault, often requiring many hours of hunting and regular recabling to fix the problem. In wireless networks, faults are easily located and in most cases can be addressed through off-site system maintenance or reconfiguration.
• Escape the limitations of cable runs: All wired installations have limitations on the length and positioning of cables. With wireless deployment, you can easily connect to cameras in remote positions many kilometres away or deploy links in environments where cables are not an option such as mining or marine solutions.
• Redeployment: Once money has been invested in a cabling solution, the cabling is fixed – never to be reused. When a company relocates, cabling is almost always removed and destroyed, where wireless systems are easily relocated and recommissioned.
Developments in wireless technology have made wireless a much more attractive proposition over the last number of years. These include:
• New higher-speed standards such as 802.11ac provides for cost-effective links delivering Gigabit speeds rivalling the speed of the fastest wired networks.
• New proprietary protocols on point-to-multipoint systems allow for guaranteed throughput to wireless clients, ensuring uninterrupted video streams from all cameras.
• Enhanced security features provide totally secure wireless links that cannot be compromised.
• Carrier grade features in affordable equipment provides 99.999% availability and reliability.
There are no compelling reasons to migrate existing wired solutions to wireless, however. If there is a wired solution in place, replacing it with a wireless solution will not provide any immediate benefits and the funds may be better utilised in other areas. Where entirely new IP networks are implemented, or additions / expansions are done to existing IP networks, wireless solutions provide compelling benefits to form at least part of the solution, if not the entire deployment.
Are there any specific integration or scalability issues one needs to consider when implementing a wireless solution?
Van Jaarsveld: Luckily the days of trying to transmit video over analogue wireless transmitters are long gone. With modern IP surveillance solutions, data is transmitted over an IP network, whether wired or wireless. Internet Protocol (IP) is designed to be ubiquitous, scalable and universally compatible. There are no concerns or issues to integrate IP solutions from various vendors, you have complete freedom of choice and peace of mind when it comes to selecting hardware solutions and combining and integrating them into your solution. This is simple on an IP communications level, things become a little more tricky in areas such as Radio Frequency (RF) and video management systems (VMS).
Not all radio systems are compatible on an RF level, while most Wi-Fi systems will be able to talk to each other at their most basic level – excluding any proprietary enhancements implemented by the specific manufacturer. Other wireless systems use proprietary protocols that deliver huge benefits to users, such as the Radwin carrier grade point-to-point links that are totally secure with guaranteed throughput.
This means that when you plan to connect radios to each other through the air, use equipment from the same vendor and product family, but you are free to use equipment from different vendors once you connect them to each other via Ethernet cable. For example, use Radwin point-to-point from control room to tower and connect it to a Ubiquity point-to-multipoint system to connect a number of distributed cameras.
Scalability is very easily achieved with wireless deployments. It is one of the major benefits of a wireless network. When you need to service a new area, deploy a new point-to-point link, or in a point-to-multipoint system, simply deploy another subscriber station. The only concern here is bandwidth availability across the system, which needs to be addressed through systems planning and design.
What should installers, integrators and users be aware of in terms of security when it comes to wireless networking?
Van Jaarsveld: There are some cases where wired infrastructure should be selected over wireless:
• Existing infrastructure: If there is a functioning wired network in place, there are no benefits to converting everything to wireless, unless there are specific reasons for using wireless such as mobility applications. Even then, wireless links can easily be used as an extension of the wired network.
• In-building applications are almost always better served by a wired network as wireless solutions do not function well inside buildings, through walls etc. When buildings are designed with sufficient capacity for network cabling, wired networks can be the best option.
• Wireless links rely on line-of-sight to operate. There are cases where a wireless link may not be possible and cable will be required.
Almost every IP security project can benefit from a wireless solution – if not the entire deployment, at least in some part of the network. Traditional headaches such as deploying a camera or access control reader at an entry gate, is handled quickly, efficiently and cost-effectively by a simple wireless link from the building to the gate – no trenching needed. The wireless network provides a simple IP network platform, identical to that of a wired LAN which is perfect to run IP security services across it.
How important is it to secure your wireless security networks?
Van Jaarsveld: It is of vital importance to secure your wireless networks, not only your security networks, but all wireless networks. Which wireless network provides a larger threat to your business or opportunity to criminals? Video streams on your security network or sensitive transaction information on your data LAN?
Luckily, wireless security has evolved to be a 100% secure solution, as well as fast and simple to implement at no added cost. All modern wireless products provide security features to make the link inaccessible to outside parties. We find that the largest threat to wireless data security is the lack of knowledge or disregard for the risk of unsecured wireless links. Security features vary from simple, industry-standard WPA2 security to advanced solutions such as Radwin LinkLock and radius authentication.
For more information contact MiRO distribution, 086 123 MIRO, riandi@miro.co.za, www.miro.co.za
Credit(s)
Further reading:
IRMSA launches Risk Report for 2020
Issue 2 2020 , Editor's Choice
The Institute of Risk Management South Africa (IRMSA) has launched its sixth annual risk report, the IRMSA Risk Report SOUTH AFRICA RISKS 2020.
Read more...
---
Why is CCTV failing?
Issue 2 2020, Leaderware , Editor's Choice
It seems that a lot of the CCTV systems out there are largely for show, or to retrieve information afterwards.
Read more...
---
Leaders in risk and security - To succeed in security: keep learning
Issue 2 2020 , Editor's Choice
Adriaan Bosch studied agriculture, became a sniper in the British Army, then entered the private security industry in South Africa and hasn't looked back.
Read more...
---
Redefining retail and the supply chain
Issue 2 2020 , Editor's Choice
Adriaan Bosch offers Hi-Tech Security Solutions readers eight trends that will redefine retail and supply chain security in 2020 and beyond.
Read more...
---
The importance of effective SLAs
Issue 2 2020, Technews Publishing, ISF SFP , Editor's Choice
A successful security installation that delivers over the long term requires ongoing maintenance and a reliable service provider.
Read more...
---
Education reduces cyber risks
Issue 2 2020 , Editor's Choice
Henk Olivier says the first step for small- and medium-sized businesses in their defence against cyber-attacks is education.
Read more...
---
The impact of the COVID-19 virus on security
Issue 2 2020, Leaderware , Editor's Choice
The social and personal implications of the COVID-19 Corona virus has already had a devastating impact on countries, social institutions, communities, businesses and individuals.
Read more...
---
Securex postponed to August 2020 due to COVID-19
Issue 2 2020 , Editor's Choice, News, Conferences & Events
Specialised Exhibitions has opted to reschedule its Securex South Africa, A-OSH Expo and Facilities Management Expo trade shows to 18 to 20 August 2020.
Read more...
---
Innovation is no longer a nice-to-have
Issue 2 2020 , Editor's Choice
5G, IoT, artificial intelligence, machine learning, block chain and ledger technology are impacting the way in which business as we know it operates.
Read more...
---
Axis gives a brighter future to children
Issue 1 2020, Axis Communications SA , Editor's Choice
Fully networked camera solution provides visibility and accountability, letting orphanage focus on what's important – its children.
Read more...
---