printer friendly version
Open estate surveillance
August 2018 Residential Estate (Industry), CCTV, Surveillance & Remote Monitoring, Integrated Solutions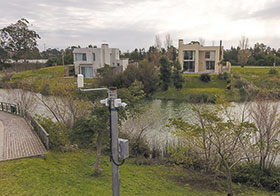 Located to the east of Uruguay's capital Montevideo, Lagos de Carrasco (Carrasco Lakes) stretches across two islands that are roughly 600-800 metres long. It is known for its beautiful houses perched on the lakes' shores. However, considering the fact that the semi-private residential community can be freely accessed through city streets, the topic of security, from physical to electronic, is of keen interest to its residents. A few years ago, as the neighbourhood began to grow, the area's residents decided to invest in updating its video surveillance system.
Considering its location and conditions, with certain factors like humidity, electrical currents and the difficulties surrounding cable extensions, the system that was formerly installed deteriorated over time. This led to a negative impact on the quality of the surveillance images, as well as to the stability of the system in general.
Lagos de Carrasco worked with Milestone Partner Foxsys to execute the modernisation project. Its commercial director, Juan Martín González, explained: "In light of the situational requirements, we decided to install an IP network system that connected to several of the power supply's points, and featured a wireless connection that stretched across both islands. This was in addition to acquiring new cameras and a video control system in the height of the project."
A custom technology upgrade
The previous system's cameras, roughly five years old, were removed and replaced with about 34 IP cameras manufactured by Hikvision and Arecont Vision. "We now have bullet-type cameras with both fixed lens and varifocal lenses at the access points. In addition, we have omni-directional cameras of varying lens types (based on their application) with four 3-megapixel sensors each," González states.
With the goal of combining each of these technologies and their new functions, Lagos de Carrasco chose the video management software XProtect Professional 2017R1 by Milestone Systems.
The XProtect video management software comes with an integrated array of alarm (alerts) and mapping features, and helps to minimise the number of necessary personnel while enhancing the capabilities of the current staff. In addition, the Hikvision cameras' algorithms allow it to cross-track virtual lines, even to the neighbourhood's furthest and most vulnerable entryways. If any of the virtual lines are crossed in the late night or early morning, the system detects and registers it as an alarm event to be analysed and if necessary responded to.
The control setup is also convenient and easy for operators to use, a fundamental characteristic in the anticipation and detection of potential incidents.
For González, another fundamental criterion is managing the bandwidth the camera streams consume. "Given that all of the cameras are IP security cameras and we depend on double monitoring. It's a big challenge to work with restricted bandwidth, and XProtect Professional allows us to optimise it, lower our consumption in real time and maintain the best recording resolution possible."
Surveillance is performed in two ways: from the central neighbourhood security office and remotely, from security company BLITZ's main headquarters. Jaime Márquez, director of BLITZ and manager of security at Lagos de Carrasco, adds that even though the previously implemented systems were not of poor quality, they made this update a complex challenge for the operator.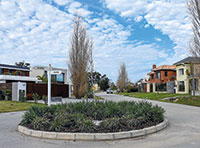 "With the introduction of Milestone Systems software, we could optimise the concentration of CCTV personnel, immediately observe different incidents and qualify the seriousness of them. What's more, we're now able to conduct pre-analyses to prevent potential crime through the identification of people and/or actions," says Márquez.
The project continues
This initial investment is the first of three stages that the Lagos de Carrasco community has planned – another stage focuses on expanding to the farthest, most western perimeters of the neighbourhood. "This is a complicated situation, seeing as there have been several intrusions specific to the area. Due to a lot of vegetation and precarious conditions, it faces some larger technical challenges," González explains.
They are also thinking of potentially adding 20-25 additional cameras.
The third and final stage involves integrating different video analytics through Milestone Solution Partners. These include "prowling detection methods, identifying trespassers in restricted areas and being able to register them, being able to identify and recognise licence plates, as well as establishing alerts for when a specific licence plate not belonging to any of the residents has entered the neighbourhood. This is the direction we want to go in," Gonzalez concludes.
For more information contact Milestone Systems, +27 82 377 0415, arms@milestonesys.com, www.milestonesys.com
Credit(s)
Further reading:
Directory of Suppliers
August 2019 , Residential Estate (Industry)
Read more...
---
Shorten your checkout lines to enhance customer experience
September 2019, Hikvision South Africa , Retail (Industry), CCTV, Surveillance & Remote Monitoring
Hikvision's queue detection technology is purpose-built to offer cutting-edge flow analysis to retail outlets and any situation where waiting to pay is required.
Read more...
---
Constructive CCTV contributions to research
September 2019, Leaderware , Editor's Choice, CCTV, Surveillance & Remote Monitoring
Study leads to understanding that we need more recognition and reward for constructive participation in society.
Read more...
---
Managing staff effectively
September 2019, dormakaba South Africa, iPulse Systems , Integrated Solutions, Access Control & Identity Management
Workforce management solutions allow organisations to track the relationship between productivity and the cost of employment, incorporating issues such as health and safety, T&A, rostering and more.
Read more...
---
New Africa sales manager for Axis Communications
September 2019, Axis Communications SA , News, CCTV, Surveillance & Remote Monitoring
Axis Communications has appointed Brendon Hall, previously the founder and MD of Pentagon, as its new sales manager, Africa.
Read more...
---
Hikvision helps secure African Union Summit
September 2019, Hikvision South Africa , News, CCTV, Surveillance & Remote Monitoring
Hikvision established a complete intelligent video solution to ensure the security of the thirty-third African Union (AU) Summit held on 7 July in Niamey, the capital of Niger.
Read more...
---
Genetec to integrate CylancePROTECT
September 2019, Genetec , Editor's Choice, CCTV, Surveillance & Remote Monitoring, News
Genetec has announced it is partnering with Cylance, a business unit of Blackberry, to bring AI-based antivirus protection to its appliance customers.
Read more...
---
Best in class at sea and ashore
September 2019, Axis Communications SA , Transport (Industry), CCTV, Surveillance & Remote Monitoring
Thermal network cameras support the guard tour function that can be used for continuous monitoring of a particular area according to the pre-set guard tour.
Read more...
---
Increase security efficiency, decrease costs
September 2019 , Security Services & Risk Management, Integrated Solutions
Trackforce offers customisable mobile and web applications to increase security operational efficiency and lower costs.
Read more...
---
Threats spread to IM, collaboration tools
September 2019 , Cyber Security, Residential Estate (Industry)
The average office worker now spends up to 80% of their time using collaboration tools, but many lack adequate security.
Read more...
---