printer friendly version
Milestone celebrates partners
September 2015 Conferences & Events, CCTV, Surveillance & Remote Monitoring, News, Integrated Solutions
Milestone Systems recently held its second MPOP Africa event in Fourways, Johannesburg, in which the company invites partners and users to join it for an update on what Milestone is doing, as well as what its partners are up to. Hi-Tech Security Solutions attended the event and what follows is a brief overview of some of the main points.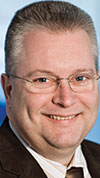 Peter Biltsted.
Milestone's director of sales in MEA, Peter Biltsted opened proceedings with an overview of where the company is and what we can expect of it in the coming months. The theme of his presentation, as well as the conference, was Winning Together – The Power of Partnership.
The first news on the African front is that Milestone's local operation has expanded with the addition to the team of Wesley Trollip, a solutions engineer. We can also expect the official launch of a Milestone office in the near future and more feet on the ground in the region. This is in line with the company's growth. Milestone has beaten the average growth rate of VMS systems, which grew at a CAGR of 21% between 2009 and 2014, by posting 28% growth over the same timeframe.
Biltsted noted that Milestone always strives to lead the market through innovation, from its first IP video management offering in 1998 to its latest Linux offering named Arcus, its Husky NVR series and its Interconnect software.
This year is also the 10th year in a row Milestone has taken the top spot in VMS software market share, although it has shared the laurels on a couple of occasions. The company's share of the worldwide market stands at around 7.1%, with a 12.9% share in EMEA. Milestone currently boasts over 400 distributors, 6500 resellers, 3300 partners, around 100 000 installations and 7500 active certifications.
And even though some criticised the recent acquisition of Milestone by Canon as the end of the company's open platform approach, Biltsted says the opposite is true. Milestone is still run by its own management and has an 'open platform DNA' – which is not going to change.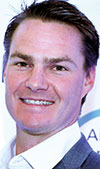 Michael Metcalfe.
Open platform hallmarks
To prove its commitment to open platforms, Biltsted identified five hallmarks of an open platform and showed how Milestone meets each of these.
1. Milestone's APIs (application programming interfaces), which partners can use to build their own applications to run on or with the Milestone platform are freely available to download.
2. The company provides an SDK to make integration with its platform easier and more reliable.
3. Its partner programme has been running successfully for years and is still growing and attracting new partners.
4. It has a respected skills certification programme that has more than 7500 active qualifications. Its website also offers training and support for customers and partners.
5. Milestone is 'walking the talk' when it comes to supporting partners and customers in expanding its current ecosystem. It also covers all aspects of the VMS market, from low cost and complexity offerings through to high cost and complexity solutions.
Due to its open platform focus and partnerships, the company's platform has also grown beyond security. Today Milestone's users can choose from add-ons offering functionality such as parcel tracking, transaction monitoring or even consumer behaviour systems. Milestone has also launched an access control module partners can plug their access applications into.
In her presentation, Jurate Beniulyte, Milestones strategic alliances manager for EMEA, added that Milestone ensures its products are backward compatible so that users are not forced to upgrade. An older product will be fully compatible with a newer one. Users also have the choice of using the Milestone user interface or one from a third party on the same platform.
As far as surveillance is concerned, Milestone users now have the choice of 141 camera manufacturers that are compatible with the platform without requiring any development or downloading of specific drivers. The platform supports over 4400 devices and sports 123 integrated solutions – such as video synopsis applications etc.
Capitalising on the natural growth of the company, Milestone is supporting both partners and users by launching a professional services division (see www.securitysa.com/52542n). These services will offer different levels of support, from 24x7 to other levels of onsite or remote support to ensure that Milestone installations are done optimally and that they can be fine-tuned to deliver the best performance.
Biltsted noted that the company will not be bypassing its partners, but will sell its professional services through its channel.
He ended by noting that the security market is still growing, offering significant opportunities for Milestone partners to offer services and solutions in a host of verticals. And as the transition from analogue to IP continues, Milestone partners will be able to assist customers in the transition.
Partner awards
As is the norm at MPOP events, Milestone held a banquet on the first evening of the conference to honour its partners. Part of the proceedings, apart from the party itself, was to hand out awards to those partners who have distinguished themselves over the course of the past year.
EMC was awarded the Milestone Technology Partner of the Year 2014/15 for the collaborative effort it was part of in bringing the Steyn City project to life. "We supplied the project with an EMC Isilon scale-out NAS device that will host the video footage for this estate," said Chipo Msimanga, channel sales for EMC. "It was our first big win together (EMC and Milestone) in our market with our product."
ADI received the Milestone Distributor of the Year award – Africa. Country manager, Brendon Land, said, "ADI Global Distribution was recognised for its outstanding commitment to serving and supporting its system integrators and customers via the support tools and value added services it provides. The Milestone distribution award reflects a distributor's outstanding performance in consistently driving sales momentum and delivering business growth for the Milestone product suite."
The newest security distributor on the Milestone block, PinnSec, received the award for Distributor Newcomer of the Year. PinnSec GM, Tim Timmins said; "I believe for our first year with the Milestone VMS we did pretty well, and it will be our first offering this year going forward."
Long-time Milestone partner, Axis Communications received the Milestone Alliance Partner Award for 2015. Roy Alves, regional business development manager for Axis, noted, "It's a great privilege to win the Milestone Alliance Partner Award for 2015. Every year, Milestone invites its partners to its Milestone Partner Open Platform Days (MPOP), which it hosts around the world. As Africa continues to emerge as one of the company's strong footholds, this is the second year running MPOP Africa welcomed a growing number of security professionals from the surveillance industry to learn more about Milestone's latest products, improve their network and exchange best practices and ideas. This event enables us as Axis to further promote our own open architecture and best of breed solution offering."
A real newcomer to the security market, Innovatec Africa is a training and technology solutions company and was awarded the Best Newcomer Partner at this year's MPOP. Innovatec's Jared Joubert said, "Innovatec Africa was formed with a vision to disrupt the market through insight and innovation, and with that at the heart of what we do, being awarded Best Newcomer Partner after such a short introduction in a competitive market comes as much as a surprise and an honour.
"It's a testament to the hard work, prowess and focus our team has put into solutions that provide coherent operational efficiency and security solutions. Milestone's open platform really allows us to get it right in disparate and demanding environments. We have thoroughly enjoyed the experience, watching the Milestone Xprotect take each new challenge in its stride and look forward to deploying more exciting solutions with this platform as its backbone."
Another award stemming from the work done at Steyn City was presented to Gallagher, the Milestone Integration Partner Award.
"Gallagher prides ourselves in partnering with best-of-breed technology partners such as Milestone and the award is proof of an enduring relationship," said Gallagher's Lyn Du Preez. "This allowed us to win significant projects, amongst others the prestigious and acclaimed Steyn City development. This significant win is not only recognised in this region, but also worldwide and therefore again affirms the Gallagher brand as a key technology provider in the security industry."
Another long-term Milestone partner, Camsecure has been integrating Milestone into its projects since 2003. Camsecure is only the third partner globally to be awarded Milestone Diamond Status and has received a number of awards over the years for the African and Middle East regions, including four Partner of the Year Awards and one Solution Partner Award for software development.
The partner exhibition
In addition to the Milestone speakers at the conference, a number of partners also presented. These include:
• Roy Alves from Axis,
• Sander van Oort from Promise Technology,
• Marco Pozzoni from NetApp,
• Sebastian Wainberg from Quantum, and
• Werner Geldenhuys from Paxton.
The conference was also supported by an exhibition area where various partners were able to display their security systems and Milestone integration. The exhibitor list includes:
• Arecont Vision
• Axis Communications
• BCDVideo
• Bosch
• Canon
• NetApp
• Paxton
• Promise Technology
• Quantum
• Solus
• Veracity
• Vicon
For more information contact Milestone Systems, +27 (0)76 811 7495, [email protected], www.milestonesys.com
Credit(s)
Further reading:
Schneider Electric launches training course
Training & Education News
Schneider Electric launches training course through Trace Academia app with the aim of reaching millions of African youths.
Read more...
---
Duxbury awarded Axis SA Distributor of the Year
Duxbury Networking News CCTV, Surveillance & Remote Monitoring
Axis Communications held its Annual Partner Awards on 1 July 2022 to celebrate and acknowledge the efforts of Axis' partners by awarding them for key projects and achievements throughout the year.
Read more...
---
Optimised people, processes and technology
Industrial (Industry) Integrated Solutions
When embarking on an industrial digitisation project, it's important to consider how people, processes and technology will work together and complement the other.
Read more...
---
All-mobile people management solution with facial recognition
Editor's Choice Integrated Solutions Security Services & Risk Management Products
The new mobile Incident Desk People Management platform with facial recognition combines identification data on suppliers, staff, sub-contractors and even people on watch lists, for less than the cost of traditional service management tools.
Read more...
---
Passion, drive and hard work
Technews Publishing Editor's Choice CCTV, Surveillance & Remote Monitoring Security Services & Risk Management
Colleen Glaeser is a leader in the security market, having made her mark in the male-dominated security industry through determination and hard work, along with a vision of making the world a safer place.
Read more...
---
Cybersecure surveillance cameras
HiTek Security Distributors News CCTV, Surveillance & Remote Monitoring Cyber Security
Provision-ISR builds customer trust and opens up new opportunities with Check Point Quantum IoT Protect Firmware built into Provision-ISR cameras.
Read more...
---
CathexisVision integrated with Suprema's BioStar2
Technews Publishing News Access Control & Identity Management Integrated Solutions
This integration uses BioStar2 access control events to trigger automated actions on the CathexisVision system, including alerts, recording a camera and commands such as locking and unlocking doors, and clearing an alarm.
Read more...
---
Gallagher releases Command Centre v8.70
Gallagher News Integrated Solutions Products
Command Centre v8.70 introduces a range of features and enhancements to create operational efficiencies and improved site security, including a next-generation integration with HALO Smart Sensors.
Read more...
---
Trackforce Valiant acquires TrackTik Software
News Integrated Solutions Security Services & Risk Management
Trackforce Valiant, a provider of security workforce management solutions, announced the acquisition of TrackTik Software, a cloud-based security workforce management provider.
Read more...
---
Cathexis releases Carbon, a new user-friendly GUI
Cathexis Technologies News CCTV, Surveillance & Remote Monitoring
Cathexis has launched its latest user interface, Carbon 3.1, with an enhanced feature set, offering improved performance.
Read more...
---