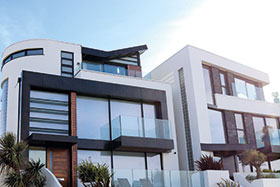 Keep it simple, and secure
August 2018, Residential Estate (Industry), CCTV, Surveillance & Remote Monitoring
If you are in the market to have CCTV installed or upgraded, how do you decide on the best cameras, recorders, installation locations and so on? Not long ago you only had two or three semi-decent brands to choose from and a non-certified installer. Today things have moved forward. There's a plethora of brands to pick from, and installers are well trained and certified. This does raise a dilemma, the agony of choice.
Where to begin?
At the top of your list, and we cannot stress this enough, should be a qualified video surveillance installer. All too often we hear about DIY setups that go wrong because the cameras were incorrect, there were too many cameras, blind spots were missed, night vision was set up incorrectly and so on. A qualified installer will save you money and the hassle of guesswork when integrating your CCTV and other intrusion detection devices.
A typical comparison is fibre optics or DSTV. Yes, you could do it yourself, and you can dig the trench and so on, but it's just not necessary and not a good idea. While it has become easier for installers to get you up and running, they have all the tools and expertise to do it right. Modern cameras such as the TVT range come with built-in Control Over Cable (COC) that allow you to make positioning tweaks via your recording device DVR (digital video recorder) once the set-up is complete.
KISS: Keep it Simple Stupid
Next is your choice of hardware from the cameras to the recorders. As a residential user, the last thing you want is a complicated, convoluted system to keep an eye on things. Leading brands have introduced fantastic features and functions. Yet, while many
CCTV brands have jumped on the me-too 'features-bandwagon', other leading brands have taken a step back to focus on the practical user experience. The age-old adage rings true now more than ever. KISS – Keep it Simple Stupid.
Simplicity is one of TVT's main features. The system is as close to plug-and-play as you can get for a professional series of video surveillance cameras. Once your network is setup, the installer can quickly add, remove, adjust and expand your camera network. TVT has focused its research and development on keeping the setup simple for the installer and the end-user.
What to ask your techie?
Next is your choice of cameras and DVRs or NVRs. Ask your installer for a configuration plan – their selection of cameras and their placement. Your options will include dome cameras, bullet cameras, PTZ cameras, etc.
Different camera tasks and positions often require specific functionality and features, from waterproofing for outdoor cameras to the more aesthetically pleasing products for indoor installations. There is nothing more distracting than a perfect interior, looked down on by a hideous, yet essential CCTV eyesore.
Another device to give thought to is your video recorder. There are currently two primary technologies to choose from. The DVR or digital video recorder and the NVR or network video recorder. In this instance, it's worth investing in the newer technology. With an NVR you have greater freedom of camera placement, fewer cables and access to even more smart functions than a DVR. You can also tap into more of the cameras' inbuilt intelligence than a DVR is capable of doing.
Speak to your installer about your options. TVT recorders offer ease of use, easy access to menus and other critical functions you will need. The range comes with a smart app that gives you access to all you need from your mobile device. Once again don't DIY your setup, get a professional installer to set it all up for you by the book.