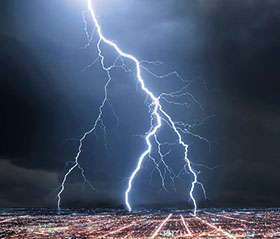 Surge protection for your ­residential appliances
August 2018, Security Services & Risk Management, Residential Estate (Industry), Products
Across South Africa, citizens will remember the rolling blackouts of 2014 and 2015 with varying shades of discomfort depending on whether they could, or could not, afford generators for their homes. When national utility provider Eskom was unable to match energy supply to demand, the result was a new term: 'load shedding', which basically meant planned (and sometimes unplanned) area-wide power outages. The results included costs to the economy in general at the national level, and frustration at the individual level.
During the power cuts, which were frequently accompanied by power surges when the electricity finally came back on, many expensive domestic appliances were blown: fridges, kettles, toasters, decoders … Today, while we trust that the rolling black-outs which took place regularly according to an actual schedule lie largely in the past, most people are aware that the threat remains, at least to some extent. Against this background, no individual consumer ever wants to experience the misery of having their appliances taken out en masse by even ad hoc power surges. Hano Oelofse, technical director at DEHN Africa, the local subsidiary of DEHN, points out that having insurance cover is not always enough to protect your family from the economic loss incurred by domestic appliances that are damaged or destroyed by power surges. He says, "Taking surge protection measures is arguably a simpler option than relying on insurance cover for your domestic appliances. In addition to financial issues that result from surges, as well as the time taken to process a claim, surges can often cause the loss of personal data. So, as they say, prevention is better than cure."
Step one: system protection
Consider all lines leaving or entering the building, including power supply, telephone and lighting lines, TV and satellite connections, connections for PV systems and so on.
• DEHNshield protects power supply technology.
• DEHNbox is used for telephone connections.
• DEHNrail and BLITZDUCTOR XT protect heating systems.
• DEHNguard surge arrestors protect further distribution boards, particularly low voltage.
Step two: protection of terminal devices
The next step is to protect all terminal devices, which are fed by several power supply systems, by installing surge protective devices at their inputs. These terminal devices include TVs, video and stereo equipment, as well as alarm and video surveillance systems.