Protection via thermal detection
August 2018, This Week's Editor's Pick, CCTV, Surveillance & Remote Monitoring, Residential Estate (Industry)
Thermal cameras are the envy of any security manager, of an estate or otherwise. They come with horrifying price tags though, in the higher-end market bracket especially, so what are some of the features they offer that make them worth investing in? We approached three specialists in the field to learn about how thermal cameras work, the ways in which they're advancing, and what environments they're best suited for.
How they work
Simply put, thermal cameras detect infrared (IR) radiation and depict it in a visual form to overcome the limitations of our eyes. Visible light and infrared are fundamentally both manifestations of electromagnetic radiation, with infrared occupying a portion of the spectrum with a longer wavelength (700 nanometres to 1 millimetre) than visible light (400 to 700 nanometres). Since the human eye can only detect light in the visible spectrum, thermal cameras therefore give us a way to perceive infrared radiation in a visual medium.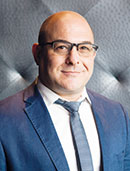 Philip Smerkovitz.
"The primary source of infrared radiation is heat or thermal radiation. Any object that has a temperature above absolute zero emits radiation in the infrared region," explains GoDistribution's managing director, Philip Smerkovitz. "The heat that we feel is all infrared. The warmer the object, the more infrared radiation it emits.
"Infrared energy coming from an object is focused by the optics of a thermal camera onto an infrared detector. The detector sends the information to sensor electronics for image processing, which translate the data into an image which is then viewed on a display or integrated as part of a CCTV system. Thermal cameras produce clear images during the day and night without the need for illumination."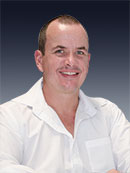 Justin Ludik.
Justin Ludik, business development manager at Axis Communications, goes on to point out that thermal cameras do not deliver images that allow reliable identification, but are rather used to detect and deter, and give an operator the ability to verify if the activity is really a threat. "Long-distance detection and durability make thermal cameras unrivalled.
"They are as accurate in pitch black, fog and camouflage as they are on a bright sunny day, making it impossible for intruders to hide in a camouflaged situation, and will furthermore detect heat leaks in buildings and processes. With different lens options, you can use them to surveil a wide area, or for perimeter protection. Thermal cameras are simply better at protecting property, and monitoring people for safety and security," he says.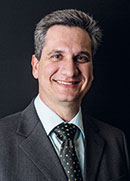 Laurence Smith.
"In the most basic of terms, thermal imaging allows you to see an object's heat radiating off itself," adds Laurence Smith, executive at Graphic Image Technologies (GIT). "Thermal cameras record the temperature of various objects in the frame and then assign each temperature a shade of a colour, which lets you see how much heat its radiating compared to objects around it. They detect tiny differences in heat – as small as 0,01 degrees Celsius – and display them as shades of grey in black and white video. Since you are looking at the heat generated by an object as opposed to a visual image, thermal cameras will work 24/7 in most weather conditions, including fog, rain, etc."
Making out details
As with all electronic components, infrared sensors keep getting more sensitive while also shrinking in size, but software has just as much of a role to play as the hardware when it comes to advances in thermal imaging technology. Digging a bit deeper, Smerkovitz explains that "thermal cameras offer clear, high-contrast images of a subject, and are specified for a particular application using Johnson criteria. The minimum required resolution according to Johnson's criteria is expressed in terms of line pairs of image resolution across a target, in terms of several tasks:
• Detection – an object is present (1,0 ± 0,25 line pairs).
• Orientation – symmetrical, asymmetric, horizontal or vertical (1,4 ± 0,35 line pairs).
• Recognition – the type of object can be discerned, e.g. a person versus a car (4 ± 0,8 line pairs).
• Identification – a specific object can be discerned, e.g. a woman versus a man, a specific car or a person carrying a firearm (6,4 ± 1,5 line pairs)."
Smith says that, while a thermal image effectively looks like a black and white image as opposed to a colour image, a decent thermal camera will give an image that is detailed enough to make out the object in front of the camera – whether it is human, animal, car, etc. – so operators should not have a problem recognising objects.
Equally as important, the images are clear enough to use video analytics without the problems faced with a visual camera, such as lack of light, interference from bright lights, rain and fog. "Analytics on thermal images are very reliable and in many cases are more reliable that analytics on visual cameras due to the consistency of the quality of the video," Smith elaborates. "A well-designed video analytics product linked to a thermal camera will be able to automatically determine that the image is of an animal versus a human versus a car, and as such black-screen operations are not an issue as most alarms will be positive alarms, reducing the need to respond to false alarms. Thermal cameras with analytics have been field-proven to provide more efficient operation, fewer false and nuisance alarms, and easier alarm assessment than other technology in the industry."
The ability of Axis Communications' thermal cameras to detect the heat signature an object radiates, to give an accurate and recognisable shape is enhanced by their support for intelligent analytics, says Ludik: "This in turn means that they analyse detected incidents, automatically dismiss non-threatening ones, and immediately notify security of critical situations. This greatly reduces the number of false alarms and call-out times for guards or operators on duty.
"The lack of clear images does not hamper any analytics used as thermal analytics use different algorithms to optical cameras. Different technology that is available, such as the Axis Camera Application Platform (ACAP), lets you add analytics which set system parameters to exclude things in the field of vision that aren't problems (such as animals) and trigger responses like video recording or steering a PTZ (pan/tilt/zoom) camera to the best view – allowing visual verification of real threats. Automatic alerts and visual verification mean that smart thermal cameras work in partnership with better-informed personnel – for the right response."
Analytics and AI
The race is on in the surveillance market, as it is in most technology sectors, to provide next-generation solutions powered by AI (artificial intelligence) capabilities. While it is debatable whether even the most state-of-the-art systems today represent true AI, there is no doubt that video analytics is one of the hottest areas for it to be applied, and the terms 'analytics' and 'AI' are converging at a rapid pace.
Smith asserts that current video analytics are effectively a form of AI "as the analytics can recognise the difference between animals, humans, vehicles, etc. and this has a definite positive effect. In addition, due to the efficiencies of video analytics, the distances that can be covered by a single thermal camera together with the video analytics gives the operator the ability to cover large distances (up to a few kilometres) with a single camera."
Expanding on how the benefits of AI extend to thermal cameras, Ludik states: "AI is a machine to machine concept with the objective to minimise the human factor. A surveillance system that includes a thermal offering would be able to detect a threat, then take action by sending an alarm to a horn speaker. The horn speaker could then sound the audio alarm or any pre-recorded audio and deter any unwanted activity.
"Built-in intelligence enables thermal cameras to perform a number of tasks to reduce the workload for operators, deliver vital business data and increase surveillance efficiency. The Axis R&D department is currently investigating how to take this technology forward and the impact it will have on the surveillance market as a whole."
Seeing in the dark
If you do not need all the benefits a thermal camera can provide but just want to be make use of their ability to capture images in dark conditions, there is an alternative solution in the form of using a visual camera with built-in infrared lighting. In some situations you might even choose to use both visual and thermal detection.
"IR illumination and lighting both require vast amounts of power to cover the same distances over which thermal cameras can be applied," Smerkovitz warns. "Apart from that, white light presents light pollution and IR illumination reflects back into the camera off surfaces such as wet foliage, fog and mist, severely hampering the image quality under these conditions. Thermal cameras require no light at all and are not as affected by the environmental conditions mentioned."
"A visual camera works by detecting reflected light energy and also relies on the contrast between the image being viewed and its surroundings," adds Smith. "If it doesn't have good contrast, you won't see it well, no matter how bright the sun is shining. A white object seen against a dark background has lots of contrast. A darker object, however, will be hard for a visual camera with built-in IR to see against a dark background. This is called having poor contrast. At night, when the lack of visible light naturally decreases image contrast, visible light camera performance suffers even more.
"A visual camera has the limitations of much shorter distances than can be achieved with thermal cameras in both day and night situations, with the night-time distances being reduced due to the range of the IR as well as the lack of contrast. In addition, visual cameras are affected by things like rain and fog, as well as bright lights being shone into them. Thermal imagers don't have any of these shortcomings. First, they have nothing to do with reflected light energy – they see heat. Everything you see in normal daily life has a heat signature, therefore you have a much better chance of seeing something at night with a thermal imager than you do with a visible light camera."
According to Ludik, "thermal cameras are ideal for perimeter protection where they comprise a powerful, cost-effective alternative to radio frequency intruder detection, electrical fences, floodlights, long-range sensors, and microwave and infrared barriers. In addition, thermal alarm cameras can be used to monitor for gas leaks and dangerous temperature variances in processes, and then trigger an alarm.
"There are, of course, times when you want to be able to identify individuals, so thermal cameras can be integrated with visual cameras in a system that will help you identify suspected criminals. How this works is that, with the help of intelligent on-board analytics, events detected by your thermal cameras can trigger visual cameras to start recording high-quality images. You can then use those images for identification and other forensic purposes.
For more information contact:
• Axis Communications, +27 11 548 6780, sasha@axis.com, www.axis.com
• Graphic Image Technologies, +27 11 483 0333, sales@git.co.za, www.git.co.za
• GoDistribution, +27 11 557 9200, sales@godistribution.co.za, www.godistribution.co.za