Smart home intrusion technology
August 2018, Perimeter Security, Alarms & Intruder Detection, Residential Estate (Industry)
The idea that you could control your home environment from a handheld device would have been difficult to imagine until just a few years ago. The Internet of Things and the availability of 'always connected' smartphones and tablets has made it possible for this idea to become reality.
All but the most stubborn Luddite would agree that smart homes are likely to make people's lives better, or at least easier to manage and now the processing power of the latest generation of intruder alarm systems means they can do so much more than just detect burglars. They can be at the heart of your smart home and enable you to manage sensors, cameras, heating, lighting and many other devices.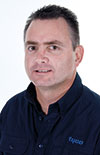 Ernest Mallett.
Ernest Mallett, regional director Africa for Tyco, the security products division of Johnson Controls, is confident that recently launched wireless smart home technology will offer homeowners added value from their intruder alarm systems. Below, Mallet answers some questions on Tyco's new iotega wireless intrusion control panel, which he says is designed to make intruder systems smarter.
How is iotega different to the many other standard intruder detection systems available?
Mallett: iotega is designed to be an all-in-one smart security and home automation platform for residential and small commercial properties. However, it provides the flexibility to start with a security only package with the option to upgrade to include a home automation solution with the help of our technology partner, Securenet Technologies.
Equally important, it will enable customers to easily remotely monitor their home or business, regardless of how tech-savvy they are and system integrators have to spend less time on site as installations are made simple.
So what devices can one manage via iotega?
Mallett: The list continues to increase as our technology partners seek to capitalise on the power of iotega. At present, customers can set and unset sensors and control cameras, lights, thermostats, power sockets and door locks. The cameras can be used to keep a close eye on pets whilst you are out, as well as to visually verify an alarm activation.
How does the user manage the devices?
Mallett: The intruder system, as well as the smart devices, can be programmed and controlled via the Securenet app which can be uploaded to a smartphone or tablet or accessed via a web browser. There is even the option to interact with the app via Google Home.
As an intelligent full-premises management solution, iotega enables users to lock doors, adjust the temperature, switch power sockets and turn lights on and off. All actions can also be implemented by user-set triggers and schedules or in real-time.
Is iotega protected from cyber-attacks?
Mallett: The system's integrity is of prime importance which is why transmissions are protected by end-to-end 128-bit AES encryption and other advanced security features such as Transport Layer Security.
Does the system need a lot of maintenance?
Mallett: One of the great things about iotega is that the configuration of devices, system diagnostics and upgrades can all be handled remotely. This is because iotega supports wireless technologies such as Ethernet, Wi-Fi and Z-Wave Plus, while 3G communication is also possible as an option. In addition, maintenance is minimised with the help of a capacitive touch keypad and a user-replaceable battery.
How confident are you that the smart home functionality of iotega will attract the interest of home owners?
Mallett: Our prime objective is to provide highly effective and reliable intruder alarm solutions to protect people and property. However, iotega enables users to achieve maximum benefit from their security system and its potential success is supported by a prominent market research report which predicts the global home automation system market to leap from a value of USD 39.93 billion in 2016 to USD 79.57 billion by 2022.
This ties in with what Cisco predicted in its 2013 paper 'The Internet of Everything: Global Private Sector Economic Analysis' that: ...$14.4 trillion of value will be 'at stake' over the next decade [2013 to 2022], driven by 'connecting the unconnected' e.g. people-to-people, people-to-machines, machines-to-machines, etc., via the Internet of everything.
For more information contact Johnson Controls Security Products, +27 82 566 5274, ernest.mallett@jci.com