printer friendly version
Solution based approach
August 2015 CCTV, Surveillance & Remote Monitoring, Integrated Solutions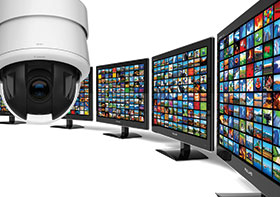 In an electronic security arena where the margins in features and quality between Tier 1 best-of-breed products are becoming smaller by the day, many manufacturers are taking a solution-based approach to the market compared to the earlier product-for-application approach, with VMS manufacturers appearing to be camera agnostic and vice versa. The margins of value differentiators between products is therefore offered in an integrated, tried, tested end-to-end solution coupled with the training, certification and support structures within the distribution channel.
This offers significant value add to the integrator and end-user, as this ensures all functionalities, integrations and other permutations are tested and integrated to the fullest extent. This approach is not to be confused with an end-to-end proprietary offering, which does not offer the openness the market is sure to embrace to use an open, flexible and future proof approach to their investment.
The greatest danger here is to the end user, that the proprietary solution is not able to offer a product for every application, or the distribution channel weakening making the access to the proprietary product a challenge. Also, a small variety of system integrators will be certified on a proprietary solution, making this a risky investment. While an open platform solution manages all these risks by making many – fit of purpose – camera technologies available on one video management system and also making a strong selection of SIs evident.
Of course, there is a strong case to be built around the advantages of ONVIF, but full driver-level integration with native camera protocols, for the foreseeable future, should remain king. This is the only way to guarantee full availability of features like: edge recording, audio, on-camera motion detection, I/Os, multi-streaming and multicast. Therefore, ONVIF support does not render the proprietary VMS to be 'open'. The differentiator is in the approach: With proprietary solutions the thought process is that it is a basic requirement and the solution must be well priced, this is for smaller, lower complexity and price driven solutions – not an engineered approach. While the open VMS Solution, with many camera brands integrated, speaks to a high-level requirement, a large, more complex solution solving a specific security need – a fully engineered process.
Critical aspects to consider
1. Open platform
The most critical approach to any successful solution design should be an open platform approach. This should be challenged by requesting a list of supported IP cameras and functionalities. This will provide detail on the depth of integration done with a variety of camera manufacturers. A good VMS will provide deep integration to a wide variety of best of breed manufacturers.
A good example is the Mirasys' partner scheme, which recognises security surveillance product and technology vendors whose solutions can be successfully integrated globally with Mirasys video management solution (VMS).
2. Scalability
When purchasing a surveillance solution, looking beyond the single investment point of the purchase can save a lot of money. During the lifespan of a surveillance system, any company faces different operational changes affecting surveillance decisions, such as outsourcing, increase of business locations, or centralising operations. When investing in a VMS solution, the total cost of ownership is the most important single denominator including the purchase price, operating and maintenance costs and the costs of the system growth.
In operational changes, a good solution makes the difference between spending on a new system or expanding an existing one. Choosing Mirasys means earning the right to choose without restrictions: Mirasys solutions can be created with practically any manufacturer's cameras and devices and you will never be locked to a specific device vendor. Whether your requirement is for a two server video surveillance system or a wide, city-spanning complex for video and audio surveillance with access control and intelligent video analytics, Mirasys has the expertise to create the solution that best fits your needs.
The Mirasys VMS Enterprise is a corporate grade solution with scope and scale to meet all the needs of the most demanding customer. The VMS Enterprise can scale limitlessly, allowing for hundreds of thousands of cameras to be supported in a single system. It allows easy integrations with third-party solutions and fully realised video intelligence solutions.
3. Ease of use
In calculating the total cost of ownership, a multitude of factors needs to be taken into account and the purchase price is just the start. Operating costs include training and learning costs and can be affected by the system usability. Maintenance costs include warranty, software maintenance fees, labour costs relating to remote or onsite work, software upgrade costs, and the cost of migrating from analogue to IP – these can bring hefty extra costs. And the cost of system growth is affected by the available selection of cameras and how camera licences are handled. Another factor is the cost of integrating third-party components to the system.
Mirasys VMS Enterprise is flexible and customisable, it can adapt to any video and audio surveillance situation. Despite its adaptability, the driving design philosophy behind the VMS Enterprise has always been ease of use – no matter how a system is being built and configured, it must be intuitive and fast to design and use.
Conclusion
The first port of call in the process of selecting a good VMS that will suit your business or environment-specific needs should be a reputable, certified system integrator. Your SI, in conjunction with a strong, technically competent distributor/principal can walk you through an engineering process which includes system design, proof of concepts and demonstrations.
The end result, if applied correctly should offer the following benefits:
• Powerful VMS – Practically unlimited number of servers and cameras in one centrally managed environment, providing both performance and efficiency for surveillance data processing.
• Cost effective – Attractively priced solution with professional features.
• Wide camera support – Supports thousands of IP and analogue cameras from all major manufacturers.
• Customisable – Plug-ins to enable multi-stream, multi-cast, two-way audio, video analytics, ANPR and management reports.
• Reliable – Non-fragmenting secure data distribution video storage method.
• Flexible – Open platform architecture supports access control, intruder alarm and video analytics from a wide variety of third-party partners.
• Expandable – Easy to expand to multi-server, richly featured enterprise VMS.
• Redundancy – True data safety through redundancy via failover, edge, and raid storage.
Credit(s)
Further reading:
Reinventing network camera security
Issue 1 2020, Axis Communications SA , CCTV, Surveillance & Remote Monitoring
Now in its seventh generation and celebrating its 20th anniversary, the Axis ARTPEC chip was launched in 1999 designed to optimise network video.
Read more...
---
Cloud-based fleet and driver management
Issue 1 2020, Graphic Image Technologies , CCTV, Surveillance & Remote Monitoring
Graphic Image Technologies (GIT) has announced the availability of a cloud-based dashcam designed to improve on-the-road behaviour and assist in improving fleet management.
Read more...
---
Cathexis specialises in integration
Issue 1 2020, Cathexis Technologies , CCTV, Surveillance & Remote Monitoring
The integration of multiple systems is intrinsic and essential to the goal of creating an effective and efficient operational environment.
Read more...
---
Do wireless networks meet modern surveillance demands?
Issue 1 2020, Duxbury Networking, RADWIN , CCTV, Surveillance & Remote Monitoring
It is predicted that video will account for 15,1 zettabytes (1 zettabyte = 1 trillion gigabytes) of data annually, which is more than any other IoT application.
Read more...
---
Traffic doesn't have to be this way
Issue 1 2020, Dahua Technology South Africa, Axis Communications SA , CCTV, Surveillance & Remote Monitoring
More effective traffic management is something that would save us all a lot of frustration and wasted time, and it's one of the areas where AI and big data can have a significant impact.
Read more...
---
Dahua launches Hunter Series
Issue 1 2020, Dahua Technology South Africa , CCTV, Surveillance & Remote Monitoring
Dahua launches a new dual-PTZ camera that enables flexible and multi-scene panoramic monitoring.
Read more...
---
8 MP fisheye camera
Issue 1 2020, Dallmeier Electronic Southern Africa , CCTV, Surveillance & Remote Monitoring
Dallmeier's new 8 MP fisheye camera combines AI-supported object classification and H.265 in a compact design.
Read more...
---
Using ANPR to enhance security
Issue 1 2020, Duxbury Networking , CCTV, Surveillance & Remote Monitoring
Deep learning and AI-based algorithms enable ANPR cameras and their associated software to detect and recognise number plates with an extremely high level of accuracy.
Read more...
---
AI supercharges surveillance
Issue 1 2020 , CCTV, Surveillance & Remote Monitoring
The ability to analyse live video through AI techniques means that untapped footage from existing, passive cameras can be used to identify patterns, trends and anomalies.
Read more...
---
IDIS launches new cameras with on-board analytics
Issue 1 2020 , CCTV, Surveillance & Remote Monitoring
IDIS has launched a lineup of Edge VA bullet and dome cameras, featuring on-board analytics that will transform the efficiency of security operations.
Read more...
---