printer friendly version
Management platforms in the spotlight
August 2015 CCTV, Surveillance & Remote Monitoring, Access Control & Identity Management, Integrated Solutions
There can be no doubt as to the importance of management platforms in security today; nor can there be any doubt as to the large number of platforms available under various titles and acronyms. The critical issue with management platforms is that, no matter how they classify themselves, they perform a function that makes security tasks easier, faster, more accurate and more reliable.
They also provide a foundation to incorporate added functionality into your security solution, allowing for an expanded management and control, as well as additional value beyond the traditional security portfolio. In today's fast converging world, we don't only rely on these platforms to collect and manage security information. More systems are being implemented that incorporate building or facilities management functionality into the same system, and perhaps more importantly, all of these systems take advantage of the ability to perform intelligent tasks.
Hi-Tech Security Solutions was fortunate to attend IFSEC in London this year and we were pleasantly surprised to see how many of the management platforms at the show were advancing, incorporating intelligence and generally trying to differentiate themselves. As such, third-party integration is becoming standard and proprietary systems are becoming harder to find.
It's not only in the area of technology where the changes are happening, however. The security market is also learning that taking care of customers and partners is just as important as having all the bells and whistles in your product. In this article, we briefly touch on a few of the management products we saw, highlighting what the companies responsible for their development view as their strong points.
Milestone cares

Milestone Husky.
Milestone is probably the poster child for open systems in this market and it had a large presence at IFSEC. As usual, a number of Milestone partners were on the stand demonstrating their plug-ins to the platform. However, the big news this year was Milestone's move to a more professional support business model.
As noted in the News section in this issue, Milestone Care is a way for Milestone's customers – both partners and end users – to gain a better technical support experience from the design of a security system through to its installation, configuration and maintenance. Milestone Care will make expert advice and support from Milestone available to partners and users, although the company is careful to point out that it will be providing this service through its partners as an added value service, not bypassing them.
There are various levels of support available, but the goal is to streamline the whole Milestone experience, from installation to troubleshooting. On the local front, Milestone is also expanding its local operation with additional skills, which can only benefit its local partner and customer community.
Suspect Search
Nice was showing off its latest development, the patented Suspect Search application which is built on Nice's IP video management solution NiceVision, and can be integrated with its situation management solution, Situator. Suspect Search allows users in large environments to find a person with ease. The system can look for a suspect within the current video feeds, as well as historical feeds in order to, for example, plot a timeline of his/her activities.
To enter a suspect into the system, the administrator can clip an image from an existing video and search for matches, or a photograph can be used as the template from which the system searches. Impressively, the administrator can also create an avatar, or composite of the suspect.
Creating an avatar is a process of describing the person being searched for to the computer. The administrator can specify gender, clothing, bags that are being carried etc., and the system will search for matches. One of the features of Suspect Search is that the system looks at the whole person, not only facial characteristics.
Using this search capability, the system will quickly pick out potential matches and present them to the administrator, who will then be able to refine the search criteria and allow the system to build a timeline of the individual's movements across a number of cameras and zones. If a shopping centre is looking for a lost child, for example, the system will look through the live feeds to see if they can be spotted. It can also examine older footage to find the child and plot their path through the centre.
Pelco gets an app store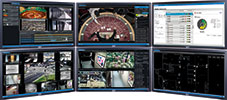 Pelco VideoXpert.
Pelco has also released a new VMS, VideoXpert. The system can manage single and multi-site video security systems from a single workspace. The Unified User Interface feature in VideoXpert allows up to six monitors to operate as a single workstation, configurable to suit the operator's requirements. Elements in the interface can be dragged and dropped as the operator requires, the idea being that no matter what functions are being used, the interface doesn't change when a new application is used.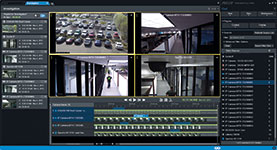 VideoXpert Investigation Display.
Pelco says the system has been specifically designed to be easy to use, with the complexity hidden behind a simple interface. Users can build a solution from Pelco security products, but the company has realised it needs to offer customers the option to use products from competitors as well. Therefore a host of third-party systems can be integrated into the platform.
Pelco also has a new facility in its software that functions like an app store where users can buy additional applications and functionality right from within the management platform. These apps will run on the same interface as they are designed to seamlessly slot into VideoXpert.
Features Pelco highlighted include:
• Scalable to support security infrastructures of any size.
• Aggregate existing VMS networks and manage all video through a unified interface.
• Efficient and intuitive operation from a single, user-friendly graphical user interface.
• Windows-based for easy installation and management.
• Available with an embedded mapping interface.
• Create user interfaces with up to six monitors, each capable of displaying 16 video streams.
• Extensible user interface plug-in framework to associate video with other information content.
• Supports digital PTZ in live or in playback views.
Sharing is managing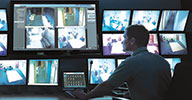 Genetec Security Center.
Genetec was promoting its open management platform Security Centre 5.3 at IFSEC. The latest version includes features such as IP video management, access control and automatic licence plate recognition (ALPR) systems. It has also included simplified tools for security investigations that promote collaboration and information sharing between operators and public and private organisations.
The company has also catered for the increase in image resolution. Security Centre 5.3 will improve system performance when managing high-resolution video streams by using hardware-accelerated video decoding. The system will take advantage of workstation graphics cards and embedded graphics processing units (GPU) to decode video and reduce processing demand on the CPU. Operators will also be able to view more cameras at higher resolutions and frame rates, while also benefiting from greater playback fluidity when reviewing video.
The Genetec Federation feature in Security Centre allows organisations to centrally monitor remote sites equipped with video, access control and intrusion systems. In Security Centre 5.3, this is extended to the AutoVu ALPR system, providing the ability to share licence plate recognition data between sites. ALPR Federation will also provide for the sharing of data between private and public agencies, providing participating organisations with full control over what information is shared while maintaining all licence plate data stored in their local system.
And as the popularity of body-worn cameras increases, Genetec has also incorporated support for these cameras and supports the import and archiving of video content from a variety of brands. Companies can import recorded video and audio in standard formats, including MP4 and MOV which are used by many body-worn cameras and index them natively within Security Centre.
The Incident Recording feature helps operators as they gather evidence by assisting in recording video sequences from multiple cameras into a storyboard. It will then export the storyboard to a single video clip for investigators. The new system also incorporates access control functionality to help improve the management of access points and services from the Genetec interface.
For more information: www.pelco.com; www.genetec.com; www.milestonesys.com; www.nice.com
Credit(s)
Further reading:
Reinventing network camera security
Issue 1 2020, Axis Communications SA , CCTV, Surveillance & Remote Monitoring
Now in its seventh generation and celebrating its 20th anniversary, the Axis ARTPEC chip was launched in 1999 designed to optimise network video.
Read more...
---
Cloud-based fleet and driver management
Issue 1 2020, Graphic Image Technologies , CCTV, Surveillance & Remote Monitoring
Graphic Image Technologies (GIT) has announced the availability of a cloud-based dashcam designed to improve on-the-road behaviour and assist in improving fleet management.
Read more...
---
Cathexis specialises in integration
Issue 1 2020, Cathexis Technologies , CCTV, Surveillance & Remote Monitoring
The integration of multiple systems is intrinsic and essential to the goal of creating an effective and efficient operational environment.
Read more...
---
Do wireless networks meet modern surveillance demands?
Issue 1 2020, Duxbury Networking, RADWIN , CCTV, Surveillance & Remote Monitoring
It is predicted that video will account for 15,1 zettabytes (1 zettabyte = 1 trillion gigabytes) of data annually, which is more than any other IoT application.
Read more...
---
Traffic doesn't have to be this way
Issue 1 2020, Dahua Technology South Africa, Axis Communications SA , CCTV, Surveillance & Remote Monitoring
More effective traffic management is something that would save us all a lot of frustration and wasted time, and it's one of the areas where AI and big data can have a significant impact.
Read more...
---
Dahua launches Hunter Series
Issue 1 2020, Dahua Technology South Africa , CCTV, Surveillance & Remote Monitoring
Dahua launches a new dual-PTZ camera that enables flexible and multi-scene panoramic monitoring.
Read more...
---
8 MP fisheye camera
Issue 1 2020, Dallmeier Electronic Southern Africa , CCTV, Surveillance & Remote Monitoring
Dallmeier's new 8 MP fisheye camera combines AI-supported object classification and H.265 in a compact design.
Read more...
---
Using ANPR to enhance security
Issue 1 2020, Duxbury Networking , CCTV, Surveillance & Remote Monitoring
Deep learning and AI-based algorithms enable ANPR cameras and their associated software to detect and recognise number plates with an extremely high level of accuracy.
Read more...
---
AI supercharges surveillance
Issue 1 2020 , CCTV, Surveillance & Remote Monitoring
The ability to analyse live video through AI techniques means that untapped footage from existing, passive cameras can be used to identify patterns, trends and anomalies.
Read more...
---
IDIS launches new cameras with on-board analytics
Issue 1 2020 , CCTV, Surveillance & Remote Monitoring
IDIS has launched a lineup of Edge VA bullet and dome cameras, featuring on-board analytics that will transform the efficiency of security operations.
Read more...
---