printer friendly version
TAPA South African Workgroup Conference
August 2015 Editor's Choice, Conferences & Events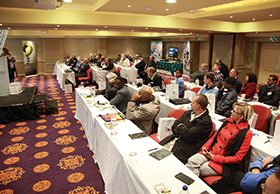 The South African Workgroup of the Transport Asset Protection Association (TAPA), held its annual conference in July at Emperors Palace. Members of TAPA as well as visitors were able to gather on a freezing Johannesburg morning to hear the latest insights into the state of the logistics world, as well as peruse a few products from sponsors of the event.
SA Workgroup chairman, Andre Du Venage opened the event to welcome everyone, before workgroup member Steven Lashmar introduced TAPA to the attendees, high-lighting what the organisation was hoping to achieve in an industry that is facing a criminal onslaught from all sides.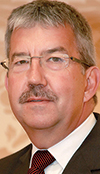 Brigadier Piet Pieterse.
The first keynote of the day was presented by Brigadier Piet Pieterse from the Hawks Electronic Crime Unit (ECU). He and his team have had significant experience in dealing with electronic crime and his presentation focused on identity theft and its implications to business. The ECU was specifically formed to deal with this and cyber threats in general.
Pieterse touched on the National Cyber Security Policy Framework, which sets out the National Cybercrime Policy and government's approach to addressing cybercrime. This is a process that still needs to be finalised, but work is ongoing to develop an environment in which South Africans are safer in their cyber lives, with recourse to remedies from the many issues that plague online transactions.
Part of the process is training and equipping officers in the ECU to effectively deal with cybercrime issues, something that is ongoing. It will also require private sector assistance to get such a system working optimally.
Moving onto identity theft, Pieterse explained that it was a critical aspect of cyber crime as it was one of the contributors to fraud and already cost the economy around R1 billion per year. He said it is the "white collar crime of choice because it is easily done", and that South Africans' relaxed lifestyle makes them easy targets for identity theft. And, of course, SAPS is not yet adequately equipped to handle this type of crime effectively.
He went into more detail on the threats facing us, noting that men in 30 to 40 year-old age group are most at risk of identity theft, while your typical fraudsters are men in the 36 to 45 age group. He made the point, however, that all groups are at risk and there is no "safe zone".
He ended with a number of case studies in which, fortunately, the perpetrators were caught. It is also worth noting that most cybercrime is organised and not the result of individuals "trying their luck". The Hawks also had a display outside the conference room in which it showed some of the devices criminals use to skim credit cards or ATM cards.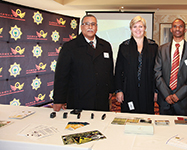 Driver database
Steph Harmse was the next presenter, educating the audience about the Drivers4Trucks database. This is a national database in which logistic company owners can enter the names of drivers that were dismissed for serious offenses. Subscribers can then also search the database before appointing a new driver to see if he/she has been reported for serious offenses – such as drunk driving or theft.
The cost of membership is R200 per month, which gives access to all the information. Harmse did however note that there are strict rules concerning the addition of names to the database to avoid situations where people with a grudge want to add lists of names without a valid reason. He also confirmed that the database was legal, which was a concern for some attendees.
Currently 127 transport companies are registered and 298 drivers have been reported. The site also provides the chance for job-seeking drivers to advertise themselves, and for companies to post job openings.
More information is at www.drivers4trucks.co.za
The e-toll deception
With possibly the most interesting and controversial presentation of the day, Wayne Duvenage from the Opposition to Urban Tolling Alliance (OUTA), gave an informal but information-packed presentation on the e-tolls saga and why the system is unworkable and unconstitutional, even in its latest, confusing format.
The gist of the presentation is that the struggle for justice and constitutionality continues, and OUTA will be expanding the scope of its operations to cover additional government 'issues' in future. One has to wonder what the real reasoning behind the e-tolls débâcle is?
Home Affairs gets its affairs in order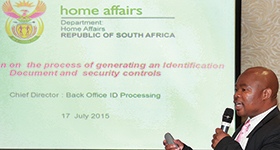 Thomas Sigama, chief director: Back Office ID at the Department of Home Affairs.
Thomas Sigama, chief director: Back Office ID at the Department of Home Affairs, although rushed for time, was up next with some insight into how the department has improved its processes and services. From being an organisation that was scoffed at and automatically assumed to be corrupt, Home Affairs has come a long way in improving its internal processes and its services to clients – primarily the citizens of South Africa.
Sigama offered the audience an insight into the improved processes within the department that have cut down on the time required to obtain identity documents (or now cards as well), as well as reduced corruption. He also showed some of the security features in the revamped Identity Book, as well as the new Identity Card which will be rolled out over the next few years.
The message Sigama delivered was that while Home Affairs has not had the most sterling of records in the past, the department has and is addressing the issues and delivering better service and more secure identity records. And the process of improvement is ongoing.
An economic disaster for the insurance industry
In his presentation on behalf of the South African Insurance Crime Bureau (SAICB), Hugo van Zyl touched on the impact of organised crime on the insurance industry with respect to the increasing crime levels related to vehicle theft. The industry is working to develop and implement best practices to deal with the fraud, and also has launched an "Insurance Fraudline".
Naturally, the industry is working together and with authorities in developing the specialised skills and using specific technology to deliver industry intelligence, address prevention and detection, and to obtain convictions and recovery. This is an industry-wide effort with a number of local insurance companies on board, as well as associated organisations such as Business Against Crime South Africa (BACSA), SAPS, and the Hawks among others. It is also progressing with bringing in other organisations with a number of memoranda of understanding in place or almost in place.
Van Zyl noted that some of the hurdles to overcome include helping law enforcement overcome the silo approach to combating crime and it, in cooperation with industry, needs to share information impacting on crime. The trick is to ensure that quality data is shared that can be usefully employed in the fight.
Of course, the issue of fraud goes beyond vehicle theft, and Van Zyl touched on identity theft and other areas where the industry needed to work together.
Understanding telematics
Paul Nghala from Mix Telematics was the last presenter, educating the attendees on what telematics is and how his company can deliver business benefits to the logistics industry. He explained that telematics is a method of monitoring vehicles through technology and communications systems.
Mix Telematics' products combine GPS (global positioning system), GSM (global systems for mobile communication), GPRS (general packet radio service) and RF (radio frequency) technologies to deliver a series of solutions for monitoring vehicles. This includes the usual tracking functions, but also more information about the state of the vehicle, such as how fast it is travelling, internal behaviour and other features, including internal surveillance and audio interaction.
Company presentations
Interspersed between the keynote presentations, the sponsors of the event were afforded the opportunity to briefly present their companies and services to the attendees. The companies presenting included:
• Combined Private Investigations (CPi),
• Container Guard (ContGuard),
• Shipping & General Transport,
• Hi-Tech Security Solutions, and
• TUV Rheinland.
Du Venage ended another successful event by thanking both the attendees and the sponsors, and delivering an early invitation to everyone for next year's conference.
Credit(s)
Further reading:
The instruments for investigation
Issue 1 2020, Technews Publishing , Security Services & Risk Management
Regardless of the reason for investigation, the investigation is only as good as the investigators.
Read more...
---
Do we really want simplicity?
Issue 1 2020, Technews Publishing , News
Everything today has to be simple, easy and fast. Even access to your bank account has to fit these adjectives and banks spend significant time and money trying to ensure their web and mobile interfaces ...
Read more...
---
Axis gives a brighter future to children
Issue 1 2020, Axis Communications SA , Editor's Choice
Fully networked camera solution provides visibility and accountability, letting orphanage focus on what's important – its children.
Read more...
---
Security events you can't miss in 2020
Issue 1 2020, Technews Publishing , News
Hi-Tech Security Solutions will host a number of focused events in 2020 to highlight the latest in security technology and the operational benefits they deliver.
Read more...
---
SFP Security & Fire becomes ISF SFP
Issue 1 2020, ISF SFP , Editor's Choice
SFP Security & Fire was sold to ISF in 2019, becoming ISF SFP and attaining Level-1 BEE status.
Read more...
---
Janu-worry or Twenty-Plenty?
Issue 1 2020 , Editor's Choice
If the available security spend right now is somewhere between limited and non-existent, here are just a few suggestions.
Read more...
---
CCTV surveillance needs are critical in defining types of camera deployment
Issue 1 2020, Leaderware , Editor's Choice
Cameras by themselves do not reduce crime; they need to be implemented as part of a considered strategy of crime prevention and detection.
Read more...
---
Leaders in risk and security: You have to know it to manage it
Issue 1 2020, Technews Publishing , Security Services & Risk Management
Hi-Tech Security Solutions profiles Nash Lutchman, Senior Vice President and Head of Protection Services at Sibanye-Stillwater.
Read more...
---
Trends 2020
Issue 1 2020, Technews Publishing , Editor's Choice
Hi-Tech Security Solutions asked a few people from diverse companies to join us in a round-table discussion about what they expect to see happening in their environments in the coming year.
Read more...
---
Seven key trends for 2020
Issue 1 2020, Hikvision South Africa , Editor's Choice
Hikvision looks at a few trends that will affect the security industry in 2020 and beyond.
Read more...
---