printer friendly version
Access control and surveillance gain ground
August 2015 Editor's Choice, CCTV, Surveillance & Remote Monitoring, Access Control & Identity Management, Healthcare (Industry)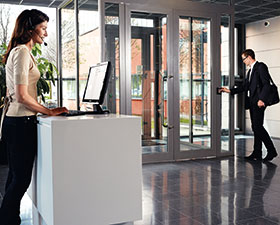 While the uptake of security systems in healthcare facilities has been slower than in the commercial and retail sectors, there is a growing awareness of the importance of securing employees, patients and visitors. A combination of access control and surveillance systems provides alleviation of many of the threats experienced by the sector.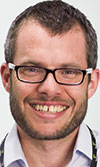 Dan Drayton, Paxton Access sales manager.
Dan Drayton, Paxton Access sales manager, says that there is an emphasis in Africa on hiring companies to secure hospitals who have a strong track record, history and knowledge of the industry. Paxton's flagship access control system, Net2 makes the management of security in any building straightforward and easy due to the intuitive software which allows staff to be trained on its use in less than an hour. Additionally, it's possible to control everything from one PC.
He says that Net2 access control is particularly effective for healthcare sites that have hundreds of people coming through the doors every day. It is possible to clearly define who has access to certain areas on the site by setting individual groups and different access levels for each group, while ensuring smooth access for visitors. The Landlord Tenant feature offers inter-departmental privacy with the ability to enable partitioning of the Net2 system, giving operators access to specific departments only. This is ideal for individual wards and departments only to view their own staff information and access levels in the software.
Complete control of doors is possible, with reports on who has opened the doors and when, allowing the hospital management to track where people are located around the building at any given time. Temporary access permissions allow users temporary access to a door or area for a specific period of time. This is ideal for shift workers or healthcare contractors. The security lockdown function secures select areas through a single action in the eventuality of an emergency situation.
Recent issues with overspending in the health sector have seen the employment of extremely expensive security contracts for a number of hospitals in Africa. Net2 offers free of charge ongoing software upgrades for life and no recurring licence fees for the life of the installed system, meaning just a one off payment is required.
Randen Lannas, national sales manager for the Architectural Division at ASSA ABLOY has found that the healthcare sector is a large market for security door products. The main door hardware product groups used are: door controls, security mortice locks and cylinders, electronic access control, fire door systems, panic exit devices and CCTV systems.
While integrators and installers are tasked with product selection, Lannas notes that administrators and security personnel are often involved with product selection to guide installation partners on how the security design of the facility is drawn up. Healthcare buyers should pay attention to the quality of products being offered and to ask for certifications showing test standards like SABS and EN (European standards rating). In addition, Lannas says, supporting locally manufactured products is also advised as these will have fast and reliable backup support.
Access integration
Net2 integrates seamlessly with leading CCTV, intruder, biometric and fire alarm providers, for flexibility, therefore providing the ideal solution for retrofit applications. Recent integrations have included Avigilon Control Center (ACC), Jarrison System's time and attendance software as well as integration with iEVO, ViRDI and Suprema to provide a range of biometric solutions with the added security of finger authentication for sensitive sites such as operating theatres.
One of the key functions of the Net2 software is that it allows the operation of the system to be customised to meet client requirements. For example Paxton's long range readers allow access tokens to be recognised up to two metres away and the door open time can be extended to allow sufficient time for the person to pass through. These are especially useful if patients are being transported between different areas of the building or for wheelchair users. It is also ideal for sanitary environments as it is touchless, so it is therefore more hygienic. If operating within the hospital carpark, the interface could be placed at a height enabling a driver's token to activate the door on approach, meaning the employee would not have to get out of the vehicle, thus saving time.
Paxton's Net2 is providing security benefits for the Conquest Hospital in the UK. By using the access control system across all five of its sites, the healthcare facility has seen a dramatic reduction in opportunistic theft. The system is also used to monitor the resident blood bank. There are strict EU guidelines that must be adhered to when handling blood. Each time the blood bank is opened, someone must be accountable for the action and blood can only be signed in or out by a qualified member of the staff. The Net2 restricts access to the blood bank to specific members of staff.
Another example of Net2 in action is at the Seashell Trust school and college for children and young adults with a wide range of learning and communication difficulties, together with physical and medical conditions. Net2 controls access on 31 doors around the site, with access granted to 450 staff members and a number of students who use the facilities. The external doors are all controlled using Paxton's long range readers, allowing tokens to be read from a distance.
Biometric growth
Hendrik Combrinck, director at ZKTeco.
According to Hendrik Combrinck, director at ZKTeco, while the healthcare sector is a fairly large user of security systems, they have predominantly concentrated on card based systems for access control. He believes that adoption of biometrics is on the increase though, especially in restricted areas.
He says that the larger healthcare institutions tend to have a clear understanding of what is needed to secure their institutions, but still rely quite heavily on solutions providers to make product choices. He advises that they make use of professional risk analysts and advisors to pinpoint safety vulnerabilities. He also suggests them becoming more involved in the decision-making process by familiarising themselves with the latest technologies and trends.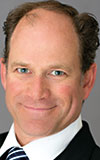 Greg Sarrail, vice president of solutions business development (biometrics) at HID Global.
Greg Sarrail, vice president of solutions business development (biometrics) at HID Global, says that four specific areas are highlighted to benefit from biometric access control. These are physical access control, network and applications access, patient registration and drug prescribing or dispensing.
In the first instance access to secure areas that contain patient records should be secured with more than just a PIN or pass card. Biometric authentication ensures that only authorised persons enter a particular area. Coupled with time and attendance applications, biometrics will eliminate fraudulent time cards and buddy clocking.
Sarrail says that usernames and passwords are cumbersome and not secure. A biometric access solution for computers and applications can be deployed to facilitate access and compliance. With biometrics it is possible to attach an undeniable record of access to an individual's file.
For patient registration, biometrics is a simple way to validate their identity, medical insurance information and biographic information without the need for an ID book or utility bill. Duplicate procedures are removed and the correct record of which person received which treatment can be captured.
He says that when a Lumidigm fingerprint sensor is coupled to a medication management kiosk, it provides a fast and reliable method of authentication for a pharmacist or care provider. Using the correct system will ensure that each drug is dispensed with a touch of the user's finger. The exact quantity and strength of the drug, as well as information on the person dispensing the drugs is captured, thus eliminating any unlawful diversion of drugs at the point of distribution.
More than skin deep
Sarrail explains that because Lumidigm fingerprint sensors can capture fingerprint data from below the skin's surface, this allows people with surface-damaged fingerprints to use the multi-spectral-based system, since these systems are less sensitive to variable conditions. Both the kiosk embedded T&A and the patient registration systems can be integrated with multiple systems to suit customer needs.
According to Sarrail, the convenience of the deployment of the Lumidigm sensors increases end user workflow. This is particularly relevant in the fast-paced healthcare sector where doctors and nurses are often rushing from one incident or emergency to another. Since healthcare professionals often have to access up to 70 medical records in one day, shaving seconds off each transaction with a suitable access system can save a substantial amount of time.
He cautions however, that in order to get buy-in from doctors for new biometric systems, it is critical to ensure that reliability and consistency are maintained. Medical practitioners simply will not adopt a new system that ultimately becomes more onerous than an existing system.
Identity management systems are diverse across hospitals, networks and doctor's rooms. In many cases Active Directory is the primary source of identity information for employees, but various health systems use different electronic health record solutions to manage patient information. South Africa, he feels, has a distinct advantage over other countries due to its Home Affairs National Identification System (HANIS). This project provides a national database of fingerprint biometric data that can be used to validate an individual's identity. Without this, customers would need to validate an individual's identity prior to enrolment as well as establish their own biometric database.
He cites global examples of Lumidigm's application in the healthcare sector. They are used in the majority of hospitals in the United States to secure dispensing of drugs. Additionally, Lumidigm sensors were chosen to secure the Mexican government programme for proper patient identity validation.
Video surveillance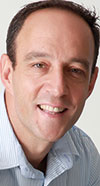 Roy Alves, regional business development manager of Axis Communications.
Roy Alves, regional business development manager of Axis Communications, says that healthcare is becoming an increasingly attractive vertical market for the company. In addition to functionality and fit for purpose requirements, it is important to ensure that the cameras used are as unobtrusive and aesthetically pleasing as possible. Visits to healthcare facilities are often stressful, given their nature, so glaring security systems should be avoided. For this reason he suggests the use of compact ceiling-mounted cameras such as the Axis M3004 which is a high-definition, low-cost and vandal-proof IP camera, making it perfect for use in emergency rooms.
Another factor to consider is the use of suitable cameras in areas where there is a lot of sunlight. This is particularly relevant in hospital reception areas and a camera that uses a wide dynamic range to compensate for this, with the ability to differentiate detail, is suggested.
For more cost conscious healthcare facilities that require video backup but cannot afford large systems, he says the introduction of Axis' Zipstream provides a cost effective solution. The technology analyses and optimises the network camera's video stream in real time, compressing data by as much as 50%. Scenes containing interesting details are recorded in full image quality and resolution while other areas are filtered out, to optimally use available bandwidth and storage.
Important forensic details like faces, tattoos or licence plates are isolated and preserved, while irrelevant areas such as white walls, lawns and vegetation are sacrificed by smoothing in order to achieve the better storage savings. This allows retention storage at a minimal cost, an attractive benefit for the healthcare sector.
Another trend that is proving popular with healthcare facilities is securing of doors into specific areas. By adding video surveillance to these sectors, the healthcare management has access to biometric information coupled with visual facial verification.
Access with video
The Axis A8004-VE network video door station is an open, non-proprietary IP-based door station for two-way communication, identification and remote entry control. The unit includes a HDTV camera with WDR and low-light performance offering reliable 24/7 identification. The product connects to existing IP networks and the use of Power over Ethernet allows for installation with one single network cable, providing enough power to also support standard door-locks to enable remote entry from a mobile device or a PC.
Another product used in healthcare is the Axis C3003-E network horn speaker. This simple-to-install outdoor loudspeaker provides clear, long-range speech for remote speaking in video surveillance applications. In live video monitoring situations, it enables an operator to remotely address people and deter unwanted activity.
The loudspeaker can also play a pre-recorded audio file when it is manually or automatically triggered in response to an alarm event such as bomb threats or fire.
The focus, Alves says, should be on increasing ease of system use for end users such as doctors and other healthcare professionals. He says that there is an increase in the number of users adopting mobile technology to monitor facilities. Android devices and iPhones and iPads are commonly used as mini surveillance cameras, allowing personnel to capture and monitor a remote birds' eye view of various sections and areas within facilities.
He cautions that for prosecutory purposes, image quality is critical. This has always been a stumbling block across all industries, so it is important to factor the selection and purchase of a high-resolution camera into the budget. This is especially important in emergency rooms where violence often follows patients into the facility.
Video in action
He says that unfortunately, there are still common examples of silositis occurring in many facilities. However, as end users become more educated on the importance of integrating time and attendance with access control and surveillance, this should lead to systems being managed on a common platform. Alves says that Durban-based Ethekwini Hospital & Heart Centre identified the safety and security of its staff, patients, visitors and property as a priority.
The hospital is a huge complex, housing highly sophisticated and expensive equipment and systems in various locations and wards on four floors and offering its visitors 420 parking bays.
Intelligent Building designed a video camera system over IP networks using Axis network cameras, linked to an operational room from where security officials can effectively control the building, parking area and all entrances.
Life Brenthurst Clinic in Johannesburg needed to modernise its video surveillance system. Axis partner Camsecure, a provider of integrated surveillance solutions, recommended replacing the analogue cameras, multiplexers and VCRs with Axis network cameras and a recording and monitoring solution from NUUO.
The newborn department of Olomouc University Hospital is equipped with 12 incubators, which are used to care for premature and ill newborns. The chief physician of the department looked for a way to ensure a video link between the mother and the newborn using a camera installed in the incubator. The technical solution had to fulfil the demanding requirements related to the weight of the camera, easy operation and mainly work in conditions with bad lighting at the department.
Following successful test operation, Axis P1214-E cameras were installed in all 12 incubators and connected via a platform for hosting video from NetRex. The cameras are easy to operate and provide an excellent view even in dim light. Each incubator is maintained in the system as a unique guest with secured access for the child's family. The family can view the child in an intuitive Web interface on a tablet or computer or using the NetRex Mobile smartphone application at times agreed upon with medical staff. A recording is not produced, in order to protect privacy.
While integration is a goal that all facilities aim for, unfortunately the many legacy systems still in the healthcare sector make it difficult
to achieve this on brownfields projects. The ideal is to plan for greenfields projects to have total integration between all systems run within the facility. Education of healthcare facility providers on the advantages of incorporating suitable security technology remains a pressing need.
For more information contact
Paxton Access: www.paxtonaccess.co.za
Axis Communications: www.axis.com
HID Global: www.hidglobal.com
ZKTeco: www.zkteco.co.za
ASSA ABLOY: www.assaabloy.co.za
Credit(s)
Further reading:
Reinventing network camera security
Issue 1 2020, Axis Communications SA , CCTV, Surveillance & Remote Monitoring
Now in its seventh generation and celebrating its 20th anniversary, the Axis ARTPEC chip was launched in 1999 designed to optimise network video.
Read more...
---
Facial access control for ministry
Issue 1 2020, ZKTeco , Access Control & Identity Management
The Ministry of Culture in Saudi Arabia has adopted ZKTeco's facial recognition technology and fingerprint biometrics to manage access control into its building.
Read more...
---
FaceDepot-7B
Issue 1 2020, ZKTeco , Products
The FaceDepot-7B is an indoor facial recognition station with a slim design and 7-inch display.
Read more...
---
Axis gives a brighter future for children
Issue 1 2020, Axis Communications SA , Editor's Choice
Fully networked camera solution provides visibility and accountability, letting orphanage focus on what's important – its children.
Read more...
---
SFP Security & Fire becomes ISF SFP
Issue 1 2020, ISF SFP , Editor's Choice
SFP Security & Fire was sold to ISF in 2019, becoming ISF SFP and attaining Level-1 BEE status.
Read more...
---
Janu-worry or Twenty-Plenty?
Issue 1 2020 , Editor's Choice
If the available security spend right now is somewhere between limited and non-existent, here are just a few suggestions.
Read more...
---
CCTV surveillance needs are critical in defining types of camera deployment
Issue 1 2020, Leaderware , Editor's Choice
Cameras by themselves do not reduce crime; they need to be implemented as part of a considered strategy of crime prevention and detection.
Read more...
---
Trends 2020
Issue 1 2020, Technews Publishing , Editor's Choice
Hi-Tech Security Solutions asked a few people from diverse companies to join us in a round-table discussion about what they expect to see happening in their environments in the coming year.
Read more...
---
Seven key trends for 2020
Issue 1 2020, Hikvision South Africa , Editor's Choice
Hikvision looks at a few trends that will affect the security industry in 2020 and beyond.
Read more...
---
Hundreds of millions to reskill
Issue 1 2020 , Editor's Choice
By 2022 alone, 75 million jobs will probably be displaced across 20 major economies, while 133 million new ones will spring up in industries that are only just gaining traction.
Read more...
---