printer friendly version
Take estate security seriously
Residential Estate Security Handbook 2018 Integrated Solutions, CCTV, Surveillance & Remote Monitoring, Perimeter Security, Alarms & Intruder Detection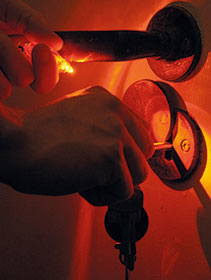 "Although lifestyle estates and complexes offer greater security, crime is still a factor," says Marcel Pienaar, estate and risk security specialist at Fidelity ADT.
Technology has, however, become a much more affordable option to use as part of the security solution for residential estates and security complexes. "Finding the technology that meets the security needs of the estate and is within budget is key," says Pienaar.
Thermal cameras, for example, are proven to greatly enhance the security of estates. "These camera systems can warn security officers before an intrusion occurs. By using analytics on these cameras, the system can warn the control room when someone comes within a few metres of the perimeter and give the security officer time to react even before a breach occurs," explains Pienaar.
He adds that a combination of thermal cameras and CCTV cameras is worth considering. Where the thermal cameras read heat signatures only, the CCTV cameras can assist in terms of identification, be it people or number plates. "Electric fences can and should be incorporated and integrated with the cameras. When there is a disturbance at the electric fence, the camera focusing on that specific zone will kick into operation." An alarm will be triggered and the officer monitoring the cameras can watch that zone to see whether it is a legitimate breach and a response team can be dispatched.
"One of the cornerstones of a successful camera surveillance system," says Pienaar, "is professional monitoring and responses to incidents. If this component is not guaranteed, the system is basically ineffective."
While perimeter security is a non-negotiable, he points out that very often crimes within estates are carried out with the assistance of a domestic staff member. "Make sure you have properly checked your domestic worker's and gardener's references and educate them on keeping your home secure when you are not there."
He adds that while security companies are constantly on the look-out for ways to improve their service to residents in estates, residents have to do their part too. "You can't rely on perimeter security alone," he says. While perimeter security measures have been successful in driving down crime in estates, once criminals gain access to properties within estates they often have free reign. This is because residents become complacent about their personal home security.
"Be sure to lock doors and windows and ensure vehicles are locked, even if parked in a garage. Don't leave valuables lying around, particularly where they may be visible to a passer-by."
He adds that it's important to always be alert when entering and exiting the estate. "Criminals have targeted residents leaving from or returning to estates and hijacked them a few metres from the gates, if not right in front of the gates. The reality is that people relax and become less alert the closer they get to home. Don't think that just because there is a security guard at the gate that you can become complacent. If you notice anything suspicious at the gate rather don't pull in right away but watch from a safe distance."
"Watch out if there is construction on the go. Having construction workers on site within estates has historically resulted in elevated crime levels. And report suspicious behaviour. A growing trend in estates is for a crime syndicate to move into a home for a period of time. During this time they monitor the behaviour of residents and initiate house break-ins in the estate before moving out. If you notice any suspicious behaviour i.e. blinds or curtains permanently drawn, report it immediately to your security company," says Pienaar.
He adds that appointing the right security company is also paramount. "The first step in appointing a security service provider is the undertaking of a comprehensive risk assessment. This will enable the estate manager and the team to devise a long- and short-term security plan, usually with assistance from a qualified consultant. The estate will then be able to determine who to employ, how many security officers are needed, and what the command and control structure will look like."
For more information, contact Fidelity Security Group, +27 11 763 9000, danielmo@fidelitysecurity.co.za, www.fidelitysecurity.co.za
Credit(s)
Further reading:
Building a nervous system for smart cities
Issue 1 2020, Pinnacle Instruments SA , Integrated Solutions
Build a central nervous system for smart cities, by employing real-time situation reporting and analysis that unites the powers of cloud computing, AI, IoT and big data.
Read more...
---
The secret to 5G security? Turn the network into a sensor
Issue 1 2020 , Integrated Solutions
We are about to make the leap from being a civilisation that uses networks to one that runs on them in a fundamental and inextricable way.
Read more...
---
The move to services and RMR
Issue 1 2020, Merchant West, G4S South Africa, Technews Publishing , Integrated Solutions
Project work used to be the staple diet for system integrators, but that was before the services model changed the way businesses buy and use their security systems.
Read more...
---
Global security industry adopts servistisation models
Issue 1 2020 , Integrated Solutions
New as-a-service business models are gaining traction because they reduce capital expenditure and cost of ownership, finds Frost & Sullivan.
Read more...
---
Looking ahead with mobile access technologies
Access & Identity Management Handbook 2020, Technews Publishing, HID Global, dormakaba South Africa, Salto Systems Africa, Suprema, Gallagher , Access Control & Identity Management, Integrated Solutions
Given the broad use of smartphones around the world and the numerous technologies packed into these devices, it was only a matter of time before the access control industry developed technology that would ...
Read more...
---
Scalable access solution
Access & Identity Management Handbook 2020 , Access Control & Identity Management, Integrated Solutions
Bosch Building Technologies makes access management simple, scalable and always available with Access Management System 2.0.
Read more...
---
Securing perimeters of secure locations
November 2019, Axis Communications SA, Modular Communications, Hikvision South Africa, Nemtek Electric Fencing Products, Technews Publishing, Stafix , Government and Parastatal (Industry), Perimeter Security, Alarms & Intruder Detection, Integrated Solutions
Hi-Tech Security Solutions asked a number of companies offering perimeter security solutions for their insights into protecting the boundaries of national key points.
Read more...
---
What are the cybersecurity issues in video surveillance?
November 2019, Axis Communications SA , Editor's Choice, CCTV, Surveillance & Remote Monitoring, Cyber Security
he importance of the data captured by surveillance cameras – and what can be done with it – has led to a new breed of cybercriminals, looking for insights to steal and sell.
Read more...
---
The safe city and its need for interoperability
November 2019 , Integrated Solutions, CCTV, Surveillance & Remote Monitoring
Interoperability continues to present one of the greatest challenges, particularly with video management systems, video recording devices and cameras.
Read more...
---
Analytics-driven solutions for smart infrastructure
November 2019, Bosch Building Technologies , Integrated Solutions
Video analytics technology can bring intelligence to infrastructure by delivering solutions for traffic flow, improved safety, smart parking, and data collection.
Read more...
---