printer friendly version
Efficient and proactive control rooms
August 2018 Editor's Choice, Integrated Solutions, Security Services & Risk Management, Residential Estate (Industry)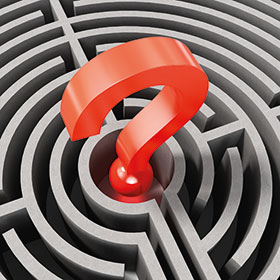 Estates that have a large security installation often set up a control room to manage their security service across the estate. Increasingly, the control room is also being used to monitor other electronic systems installed on the estate, from power management through to human resource management.
A question many estate managers face is whether they should keep the control room onsite and manage it and the relevant staff internally, or whether they should opt for a remote monitoring service. Of course, it is also entirely possible to have the control room on-site, but to outsource the management and operations to a service provider.
But what is the best solution for an estate? You can't simply install a few computers and move your guards from the gate and tell them they are now operators. Hi-Tech Security Solutions put this question, and a few more, to three specialist companies that offer control room (and other) services to the residential estate market.
What do you need?
The question we start with is a simple one with a complex answer. Exactly what is a control room and what should this entity do in an estate? Is it the place security personnel drink coffee while checking Facebook, or is it an active nerve centre?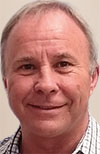 Gary Swart.
Gary Swart of Rhyco Risk Projects splits the various scenarios he has seen on estates as follows. While many estates have surveillance cameras in operation and monitor them in-house, he says many tend to only use them post-incident and review the camera footage to see what happened. This is the basic option that seldom delivers value.
Swart says this type of installation will have cameras monitoring their gates, and most of these cameras will be analogue. "Personally we have seen many of these scenarios where the footage was not sufficient to read number plates or identify faces after an incident had taken place. Unfortunately, some developers will only install low budget cameras at the gates and leave it up to the estate to upgrade at some stage. In many cases, criminal incidents might force them to upgrade."
Active on-site monitoring is often the next step after an estate realises it needs more than the basics. The next step is an attempt to stop incidents from occurring, or at least enable security teams to catch the criminals in the act. Today we see many estates at this stage, boasting a full control room, but when something happens, Swart says it turns out that the control room is actually just a viewing centre (similar to shopping centres).
Control rooms like these can be made more proactive and effective by training operators properly and using video analytics on their cameras – most cameras have basic analytics as a standard, and video management systems often offer more analytical applications estates can select.
Then we get to active off-site monitoring. In this scenario, estates can either not afford an on-site control room, don't have the space, or make a strategic decision to outsource to a company that is experienced in remote monitoring and has the necessary, trained personnel working 24-hours per day.
Swart says this scenario, if done correctly, often allows estates to cut down on their on-site guarding complement as a cost saving.
Clifford Gobetz from Myertal Tactical Security adds that Myertal is a firm believer that control rooms and their functions should be outsourced by estate managers. Control room functions should be left to professionals in the industry, to staff, train up and implement the off-site security solution for the estates. This allows the estate managers to focus on their primary roles and not the difficulties associated with running, controlling and managing an onsite control room.
Local or remote?
Of course, before you get to the local/remote decision, there are other factors to consider. Swart says the estate has to firstly consider whether they have or are implementing a surveillance system that will provide the control room facility with clear and proper coverage of the areas that have to be monitored. This combined with intelligent analytics will thus be the first step. "Our advice is to get a consultant with the applicable experience to assist them in planning the system."
Secondly, does the estate have the space and personnel that can fulfil the function (or can it afford to hire, train and manage the people required? This is a very important factor. The estate manager or security manager must realise that this will mean some added functions to their normal scope of work. They will need dialling-in facilities to additionally monitor if the functions and duties of the control room are properly being performed efficiently.
Gobetz notes that the answer to this question also revolves around allowing the professionals to do what they do best and avoiding the learning stumbling blocks that in turn will risk your security profile. In terms of what factors an estate should consider in deciding whether they want a local or remote control room, he suggests:
• Estates should consider the implementation and running costs required to build and implement an on-site control room against contracting an existing off-site control room service provider.
• Then they should take into consideration the manpower required to run the control room onsite, such as three operators per one 24-hour shift as you would need:
º Day shift.
º Night shift.
º Reliever.
• Staffing management and training of the controllers to be able to effectively secure the premises.
• By law, the estate would need to implement a PSiRA entity in order to perform a security role onsite, whereas contracting this to an existing monitoring service provider means all this is taken care of.
• The estate needs to consider the hardware and technology required in order to effectively monitor the site, as well as the implementation of said hardware and software.
• There would need to be the relevant redundancies implemented as well, whereas an off-site monitoring service provider should have this all in place.
• The control room is a high-threat environment and usually the first point of impact for criminal activity, the relevant physical security measures would need to be implemented.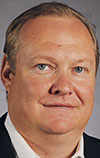 Ian Downie.
A remote site therefore has many benefits, among them avoiding the many human resources and technology challenges that go with a control room, however, Ian Downie of Xone Integrated Security explains that a control room is a complex operational environment and there are several other factors to consider as well:
• Where multiple decisions are required from a complex array of devices, from which the results need to be captured and assessed, it is always best to have situational awareness which remote monitoring cannot best provide. A second-tier remote control room performing services such as audit, review, targeted surveillance and alarm management can add great value, however.
• The fact that the operators are remote in no way reduces the number of operators, or time spent. It is only when the type of function that is provided is limited, such as alarm monitoring, or dial in with black screen, that such tasks can be split amongst operators and multiple clients.
• Collusion can take place both on-site and remotely, but this is less of a likelihood than with market segments such as casinos and mines. Here having both is the ideal, with remote monitoring checking up on collusion.
• Remote monitoring efficiency is directly related to throughput and bandwidth. If you opt for the remote route, the amount of data and video being transmitted should easily be sent to the remote location with enough bandwidth to ensure quality images, minimal latency and good failover.
• The on-site technology needs to be ­compatible with the remote monitoring facilities technology.
Pros and cons
It's clear that there is no single answer to whether a control room in your estate should be local or remote. Finances always play a role in these decisions, but if you want a full control room, or nerve centre as many are calling it in reference to all the additional functionality that the centre will have to handle, you will need to pay for the people and technology in one way or another. The biggest decision is if you can handle the added people and technology issues within your estate and are able to expand your internal staffing accordingly.
Expanding their comments above, the interviewees added a few pros and cons relevant to each decision. Downie notes that a remote site that handles multiple clients will deliver the goods if you have only a few functions that the control centre has to handle. In this case he says the remote option can be cheaper. "It does, however, provide a significantly more limited capability. If a dedicated operator is utilised it may cost more, because there is the added cost of bandwidth."
Downie also warns that some remote monitoring centres do not provide the capabilities they claim they do, and it is very difficult for the client to check. You often find out about the limitations only once a negative incident has occurred. An on-site control room is able to handle a more complex environment reliably, coupled with good situational awareness.
A pro for on-site control rooms is the direct access to hardware if required and fault finding if necessary, says Gobetz. "The cons being that it is extremely costly to set up and run, the potential for duress of controllers is significantly higher and constant managing and maintaining of both staff and the control room itself can become cumbersome for the estate manager. Lastly the likely hood of collusion increases dramatically if the control room staff are based on-site."
When it comes to off-site solutions, Gobetz says the pros include it being a more cost-effective option, the remote site can act as a third-party watch dog and compliance officer, the likelihood of duress and collusion are significantly reduced, and your site is monitored by experienced professionals in the field. The cons are that the estate manager has slightly less control over the control room environment.
The question of skills
No matter what decision an estate makes about on or off-site, a crucial aspect of a successful control room is having the right people who are properly trained looking after your security. The temptation is often to 'upgrade' your security guards into operators, but this is not the optimal solution.
Downie is adamant, "An operator is NOT a security officer. For an operator, a high level of concentration and attention to detail is required. Moreover, computer literacy, calmness under pressure, and intensive training are required."
He continues, "Dedication, writing skills, telephone manner and the desire to achieve results are all relevant criteria when selecting your operators. This basic operator functionality can extend all the way to a fully-fledged data analyst who can drive out business enhancements throughout the estate if so required."
Gobetz echoes Downie in saying that all staff hired should have extensive knowledge of computers and be computer literate. In addition, he adds that all staff should be registered with PSiRA for regulatory purposes, should be able to follow instructions and at the same time think out of the box as crime is usually aberrant, out of the ordinary behaviour.
Another non-negotiable is that they must be well spoken in English as the controller would need to deal with the client as well as multiple service providers, be it the armed response vehicles, SAPS, and medical or fire services, and in these instances time is of the essence.
And the list goes on, when asked to mention a few more skills operators require, Downie adds: people profiling, situational awareness, call handling, investigative skills, evidence handling, surveillance tactics, technical training, alarm handling, operating procedures, key holder services, audit trails, writing skills, an in-depth knowledge of the standard operating procedures for their clients, incident management and reporting, health and safety monitoring, productivity monitoring, targeted surveillance and exception monitoring, ANPR monitoring, SLA compliance and many more."
And for anyone who thinks this is all there is, he adds: "Continuous improvement is also required."
Coordinated response capabilities
Another issue to consider when deciding on a control room is that of your response services. Many companies offering control room services also include their own guarding and armed response services in the same package. Others will only provide the control room and work with third-parties for guarding and response. If you choose to handle your own control room, there is also the option of having your own guarding and response personnel, ensuring that all your security staff are focused only on your estate.
Opinion is divided on which option is the best. Swart, for example, recommends using an independent remote control room and not the one belonging to the guarding company. He says this prevents the rare cases of collusions.
Gobetz agrees, noting that Myertal built its business based on the understanding that an off-site monitoring service provider should be separate to other service providers for the site. He says this prevents 'rug sweeping', and the off-site control room can manage other service providers in the best interest of the client as there is no other vested interest, except for optimum security.
"In theory, it seems practical to split the two and in certain environments this can work well," notes Downie. "In the estate environment it hardly ever does."
He says this is because there is inevitably a limited budget and a manager is required for both entities if they are separate. "Typically, the client splits the cost and ends up with two more junior managers who cannot perform as well as one senior manager."
Additionally, in splitting the tasks, this allows for finger pointing and taking accountability is harder to manage. Moreover, each service provider has less 'skin in the game' and is not as committed, and as a result, response is not as efficient or rapid in many instances.
Final advice
Making the local vs. remote decision is not a simple decision, as there are many factors to take into account, all of which will have an impact on the final outcome as well as the efficacy of your overall security function. To assist estates in making a start, we asked our interviewees for their best advice regarding setting up an efficient estate control room.
Swart says estates should make a start by following these steps, each of which is merely a point in a long process:
• What does the estate want to achieve?
• How does it plan to go about achieving the correct result?
• Choosing equipment.
• Choosing the correct means of installing and building an internal and external communications network.
• Choosing the means of monitoring.
• Outsourcing or remote-monitoring.
Then you are set to commence event monitoring or full-time streaming.
Gobetz ends by saying, "The pros of outsourcing the service of off-site monitoring to specialists in the field far outweigh the cons. It is significantly more cost effective as you are eliminating the need for implementation and running costs, and it is far more secure and the estate manager will not have to incur the headaches associated with a control room start up."
He adds that understanding the software used by the off-site monitoring service provider to effectively monitor your site is key as certain solutions have far more 'holes' than others, and optimising the right video streaming at the right time and reducing false alarms is key to success.
Downie concludes, "Always start with an on-site control room to which you add a second-tier remote monitoring facility. If you have no choice, due to cost, be extremely cautious about what you accept as you are dealing with life safety. It is very difficult for a remote monitoring centre to provide the full functionality required. To find this out after a serious breach, incident or fatality is the worst consequence imaginable."
For further information, contact:
Clifford Gobetz, Myertal Tactical Security, 0861 188 881, cliff@myertal.co.za, www.myertal.co.za
Gary Swart, Rhyco Risk Projects, +27 83 306 5499, gary@rhms.co.za, www.rhms.co.za
Ian Downie, Xone Integrated Security, +27 82 906 7600, ian@xone.co.za, www.xone.co.za
Credit(s)
Further reading:
Putting secondary storage to work
September 2019 , IT infrastructure, Security Services & Risk Management
By 2022, more than 80% of enterprise data will be stored in scale-out storage systems in enterprise and cloud data centres, up from 40% in 2018.
Read more...
---
ContinuitySA offers Complete Continuity Practitioner in October
September 2019, ContinuitySA , Training & Education, Security Services & Risk Management
ContinuitySA is offering its popular five-day Complete Continuity Practitioner Programme on 21-25 October 2019 at its offices in Midrand.
Read more...
---
TAPA: The role of an effective treasury function in business risk management
June 2019, Technews Publishing , News
Neil Le Roux, the Founder of Diligent Advisors will speak at the TAPA SA (Transported Asset Protection Association) annual conference on 26 July 2019.
Read more...
---
Platforms are us
September 2019, Technews Publishing , News
A conversation I had at the recent Residential Estate Security Conference Hi-Tech Security Solutions hosted in August (which will be reviewed in the October issue) got me to thinking about the security ...
Read more...
---
Constructive CCTV contributions to research
September 2019, Leaderware , Editor's Choice, CCTV, Surveillance & Remote Monitoring
Study leads to understanding that we need more recognition and reward for constructive participation in society.
Read more...
---
TAPA conference 2019 explores layered approach to security
September 2019, Technews Publishing, TAPA (Transported Asset Protection Association) , News, Transport (Industry)
The Transported Asset Protection Association (TAPA) held its annual South African conference at Emperors Palace in Johannesburg on 26 July 2019.
Read more...
---
Managing staff effectively
September 2019, dormakaba South Africa, iPulse Systems , Integrated Solutions, Access Control & Identity Management
Workforce management solutions allow organisations to track the relationship between productivity and the cost of employment, incorporating issues such as health and safety, T&A, rostering and more.
Read more...
---
Security workforce compliance tool
September 2019 , Security Services & Risk Management
To maintain service excellence across a security workforce is impossible without the help of information systems and technology.
Read more...
---
Call back the past
September 2019, SCAN RF Projects , Security Services & Risk Management
Two-way radios are still very relevant in the security world and have gone through significant advances over the past few years to enable them to keep up with the expectations of people in today?s connected world.
Read more...
---
Ensuring a seamless ultra-wideband ecosystem
September 2019 , Editor's Choice, IT infrastructure
FiRa consortium ensures an interoperable ultra-wideband technology ecosystem across chipset, device and service infrastructure through standards and certifications.
Read more...
---