printer friendly version
Dahua completes security solution line-up
July 2015
CCTV, Surveillance & Remote Monitoring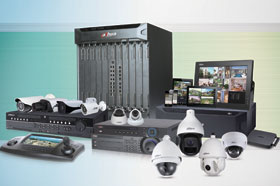 With the growth in its overseas market, Dahua achieved total annual revenue of US$1.2 billion in 2014. What has really surprised the global security industry is how the company has maintained such fast growth and is ready to compete with other big multinationals from Western countries. In 2015, Dahua is prepared to carry out its plan for being a total solutions provider and penetration of verticals. The company, now, has succeeded with its first attempts in completing a full line-up of HD video surveillance systems, alarm, access control, intercom as well as locks.
After years of effort from Chinese technology companies like Dahua Technology, the global market has now acknowledged technology and quality from China. That tells why Dahua Technology could achieve US$1.2 billion in its total sales revenue in 2014. One of the major factors for Dahua's success is the explosive growth from its overseas market. According to the company, it grew in double digits overseas in 2014, with the biggest markets in Europe and the APAC region, followed by Latin America, North America, and Africa.
Dahua president Fu Liquan.
Fu Liquan, president of Dahua said the company has set the goal to continue its high-growing pace in its overseas markets and achieve total sales revenue of $1.6 billion in 2015. In order to fulfil this goal, Fu emphasised that the company is now evolving from a device manufacturer to a solutions provider.
First, the company completed its full line-up of HD video surveillance systems, ranging from cameras and recorders to video management software (VMS). With all these products available, Dahua has now decided to take a vertical-specific approach, targeting specifically transportation and retail, which paves the way for the company to grow its high-end project markets all over the world. What is worth mentioning is this year Dahua established some independent teams to focus on the development of software, particularly VMS and global verticals and big projects.
Full line-up
Having a wide range of HD video surveillance systems and always keeping in the frontline of new technologies, Dahua is able to differentiate itself from other competitors. Tim Shen, marketing director for overseas business at Dahua Technology said, "Dahua has a full range of IP cameras with resolutions of 2K and 4K and various features, such as fixed focus, auto focus, WDR, star light cameras, speed domes, etc. Besides cameras, Dahua also has NVRs for various requirements – 1U/2U/3U/4U."
He further explained that in terms of all the IP and HDCVI cameras, Dahua has them in different series, categorising for all kinds of markets and projects, such as Ultra Smart (for large-scale projects), Eco-Savvy (for medium-sized projects and distribution channels), Lite (for the entry-level market), and the Wi-Fi series (for the non-security sector, like consumer electronics). For NVRs, it has Super NVRs (supporting 256 channels for large-scale projects), professional NVRs (medium-sized NVRs), and Beneficio NVRs (the SMB market sector).
This year, "we will focus on developing our 4K and H.265 products. We have already launched H.265 NVRs and plan to launch more H.265 cameras. So, this year, we should have a full line-up of H.265 products," said Shen.
VMS development
To better satisfy what the high-end project market needs, Dahua is strengthening its customised services. "We have developed our own video management platform, which can be tailored for different vertical markets, such as mobile applications, banking, CMS etc. Now, we also have made a full integration with other platform providers, like Milestone and Genetec," said Shen.
Dahua has also set up an independent R&D team to develop software. To stand out from other competitors in Asia, "We feel that software should be the key. That's why we are strengthening our capability in developing customised software for certain projects, markets or verticals. In the near future, we plan to establish a R&D team to provide a VMS tailored for different markets," Shen continued.
HDCVI continues to grow
In addition to its remarkable growth in IP products, Dahua's HD-over-coax product, HDCVI, also has enjoyed good growth since 2011, thanks to the high demand for HD-over-coax products from the global market. "Especially in 2014, we earned $70 million outside of China by selling CVI products. Lately, we just completed the whole product line of HDCVI products from cameras to DVRs, supporting 720p and 1080p resolution, and launched the second generation of HDCVI chipsets, DH5000 (TX+ISP), DH9910 (RX), which improve the overall performance of HDCVI products, and, I would say, excel among other current HD analogue products," Shen emphasised.
The latest HDCVI DVRs also make a breakthrough in integrating HDCVI and 960H signals in one chipset, the DH9910 (RX). Now, the latest HDCVI DVRs can totally replace the traditional DVRs. That means the users can replace HDCVI DVRs first without upgrading their existing analogue cameras. Meanwhile, "with our HDCVI DVRs becoming more than acceptable, we expect the latest HDCVI DVRs to bring in a lot of sales this year."
The HD-over-coax market will definitely grow, no matter how much IP grows. Dahua, predicts the highest demand for HD-over-coax should be this year and then continuing to 2018 due to customers' upgrading from traditional analogue products to HD-over-coax products. For Dahua, HDCVI is definitely not a transitional product line. The technology actually keeps evolving and developing and also fulfils the requirements for all kinds of projects and markets, ranging from low, medium and high-end sectors.
Shen said the company is planning its HDCVI road map, from 2K, 4K, and then 8K. "Since we have a complete and high-performance HDCVI product line, it definitely also brings our partners and customers a lot of confidence and also flexibility. Another key point is the large price reduction of HDCVI products. In 2015, we expect an explosive growth in the total shipment of HDCVI."
Alarm, access control, intercomand locks
In addition to the full line-up of its video surveillance systems, the company has also added alarm, access control, intercom and locks to its ecosystem. Starting from 2015, Dahua will showcase its alarm systems, including both wired and Wi-Fi-controlled panels with sensors and sirens. Meanwhile, Dahua's access control systems, designed for attendance and door control with its own software for the SMB market and Dahua's versatile door locks, with passwords, fingerprint, and cards, will both be ready in 2015.
Total solutions
Dahua is enriching its product range from video surveillance to video door phone, access control, smart lock, display products etc., which enables the company to provide turnkey solutions.
To penetrate verticals in order to roll out its solutions, the company plans to accelerate its localised strategies by establishing more branch offices and subsidiaries in overseas countries, after the establishment of Dahua's US and European offices. Dubai, in the Middle East and Thailand are planned.
Following Dahua's product development roadmap and its overseas market expansion, the company will soon become one of the big multinationals in security. Beyond what a traditional Chinese company can offer in cost-effective products, Dahua is heading towards total solutions to create more added value for its global partners and customers.
For more information contact Dahua Technology, +86 571 8768 8883, [email protected]
Credit(s)
Further reading:
Minimising fire risks in automotive logistics
Hikvision South Africa CCTV, Surveillance & Remote Monitoring Products Logistics (Industry)
Automotive logistics company uses thermal imaging solution from Hikvision to ensure its stores of lithium batteries for electric vehicles never overheat and cause a fire.
Read more...
---
Axis launches P3265-LVE dome camera
Axis Communications SA Products CCTV, Surveillance & Remote Monitoring
Based on ARTPEC-8 — the latest Axis system-on-chip (SoC) — Axis' latest dome high-performance camera includes a deep learning processing unit (DLPU), and cybersecurity features.
Read more...
---
Smart car parking solution eases traffic flow
Dahua Technology South Africa CCTV, Surveillance & Remote Monitoring Integrated Solutions Products
Ethiopia's first smart parking lot, designed to improve traffic flow and management efficiency, has been built and installed using Dahua Technology's smart parking solutions.
Read more...
---
VMS 7.2 supports the investigation process and adds cloud capabilities
CCTV, Surveillance & Remote Monitoring Integrated Solutions Products
Qognify has launched the second release of its VMS, including extended support for body-worn video, additional functionalities to support investigations, and a new web client architecture. VMS 7.2 addresses the increasing use of body-worn video (BWV) across many sectors.
Read more...
---
The future of AIoT
Hikvision South Africa News CCTV, Surveillance & Remote Monitoring
Hikvision hosted its 2022 Shaping Intelligence Summit in Bali, Indonesia, on 29-30 November, where the company, its customers, and technology and solution partners, looked into the future of AIoT and explored paths to shared success.
Read more...
---
A comprehensive video solution for retail
LD Africa Retail (Industry) CCTV, Surveillance & Remote Monitoring Products
Retail Intellect is a comprehensive, flexible solution for retailers that matches technologies to ensure point-of-sale safety and security with video analytics.
Read more...
---
Understanding customers better using AI
Secutel Technologies Retail (Industry) CCTV, Surveillance & Remote Monitoring Products
With in-store analytics of consumer behaviour, retailers can improve store performance and boost the productivity of their business.
Read more...
---
Benefits beyond just security
CCTV, Surveillance & Remote Monitoring
Store cameras are boosting customer experience and sales, as well as preventing losses, finds market research e-book from IDIS.
Read more...
---
Hikvision unveils first 'True 8K' NVRs
Hikvision South Africa CCTV, Surveillance & Remote Monitoring Products
The new M-Series NVRs can be used with a host of Hikvision cameras, and are ideal for environments where a wide field of view and extremely high image resolution are needed.
Read more...
---
AI in video analytics
CCTV, Surveillance & Remote Monitoring Integrated Solutions
AI (artificial intelligence), has been developed and debated ever since the first computers were invented, and while the most revolutionary incarnations are not yet here, AI-based technologies are widely used today.
Read more...
---