printer friendly version
Customising solutions is critical
July 2015 Entertainment and Hospitality (Industry), CCTV, Surveillance & Remote Monitoring, Asset Management, EAS, RFID, Integrated Solutions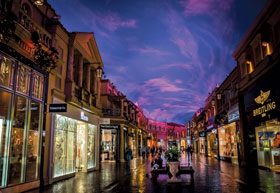 Balancing the need to keep patrons happy and secure with the need to protect assets is a paradox that security and risk managers regularly face in the entertainment industry. Finding creative solutions to these issues is a challenge and relies on a customised approach to problem solving in order to match the technology/physical security offering with the specific application and venue.
Mike Francisco, independent consultant, and head of safety and security at Avianto Hotels, says that although each of the company's venues has its own specific set of security risks, probably the common thread running through all the installations is that of theft. In fact, 80% of all risks are from theft and of these 90% are internal threats that entail direct staff involvement or collusion with a third party.
Lionel Pillay, security manager for uShaka Marine World in Durban, says that the theme park's predominant issue is crowd management. Spread over 16 hectares, the venue hosts a number of events on a daily basis throughout the year and this involves the entry of thousands of people. Consequently, the theme park's management needs to ensure that patrons feel safe and secure in the environment, while at the same time ensuring that movement of people is not unduly restricted.
According to Francisco, while many entertainment facilities say they approach security in a proactive manner, the opposite is actually true. He says that he often uses threats in other industries to highlight to the entertainment industry that reactivity is rife. He cites the example of the retail facility that had received five bomb threats in a two-month period. His question to his entertainment clients is whether they have a systematic programme in place to deal with similar threats. Sadly, in most instances, the event management is less than adequate.
This, he says, begs for education and training of both management and security personnel to ensure that if an event occurs, the necessary sequential steps are in place to mitigate against the potential damage which can occur in mismanaged situations. A common problem, he adds, is the attitude that once a risk assessment has been performed, that is sufficient to eliminate future risks. The problem here is that risks and threats change over time, both in their nature and their level of seriousness. The answer, therefore, is to revisit risk assessments on a regular basis.
Customised security plan
Another issue he cautions against is the assumption that the security technology plan that was implemented in a facility is best fit. In one particular instance, the security profile was written by an electrical engineer who is responsible for writing the electrical solutions standards. The criteria he set for the electrical components are completely different to the criteria for the security installation. Clearly there needs to be communication between all stakeholders, including the technology providers, the onsite security team, the guarding component and representation from the other building elements such as HVAC and electrical, in the design and implementation stages of a project.
The gaming industry, in particular, says Francisco has to find a balance between the industry-specific internal requirements such as the Gaming Board regulations and requirements, and the security needs of the facilities. As part of their casino licence holder requirements, a separate control room is required to monitor tables, machines and money handling facilities on the floor. A different, security-based control room that monitors other areas, such as restaurants, lobbies, exits and entrances, as well as parking areas, is required to ensure high levels of safety and security.
The problem here, he says, is that there is too much segregation of monitoring. A common goal should be the reduction or elimination of threats and one control room, working towards this purpose, could be implemented to streamline security processes. By having a security executive sitting on the board who is well versed in what works best in the security environment, such as is exhibited in many of the large mining houses, there is a greater chance that the security solution will achieve its goals.
Pillay feels that uShaka Marine World has worked hard to achieve a synergistic and symbiotic relationship between its technology operators and its physical security guards. Regular meetings between the two parties and comprehensive training that outlines the nature of each party's duties are critical to the success of the relationship. Regular feedback from the operations centre personnel to the patrolling security officers provides fast response and reaction to any issues.
The theme park uses a combination of access control (turnstiles) and CCTV cameras, together with static and patrolling security/client liaison officers to deter and detect crime and implement crowd management. He says that it is important to note that all security officers play a dual role at uShaka. Not only are they registered with the Security Officers Board as security guards, but they are also expected to interface with the public in a helpful and friendly manner. This requires a personable and outgoing character, combined with the ability to ensure that correct security measures are executed.
The park's CCTV control room operators receive ongoing training from technology suppliers and are also subjected to training at the SAPS to enable them to identify possible risks and react promptly and appropriately to them. The park uses target reporting measures to monitor cameras for set periods of time. For instance, in high risk areas, cameras will be monitored more frequently than in low risk areas. Operators also receive psychological behavioural training to enable them to quickly identify suspicious behaviour. Doubling up as an after-hours call centre, the operational team receives training that enables them to deal with patrons in an approachable manner.
Turn the other cheek
Facial recognition is fast gaining in popularity as a security measure. But is there an uptake of this rather expensive technology in the entertainment arena? Pillay says that uShaka is currently investigating the use of facial recognition as part of its three-phase security upgrade process.
He explains that phase one of the project involves replacing all analogue cameras with IP versions and the addition of further cameras to cover identified blind spots. In phases two and three the facility will consider the merits of facial recognition cameras as well as implement the installation of live audio and recording at cash handling areas.
Francisco says that facial recognition technology is really the only route to go when identifying masses of people. This makes it an ideal solution for the entertainment arena, but its implementation is obviously restricted by budgetary constraints. The reality, he says is that few facilities feel its cost is currently justified.
Francisco believes that the addition of a building management system that is integrated into a crime analysis system would be an asset in the entertainment sector. In this way, management will have access to crime statistics and can proactively run their facility using CCTV and an early warning system by identifying suspicious trends, such as pickpocketing.
Another useful tool is the addition of a security drone. However, he cautions, pending legislation regarding the licensing of such drones at R150 000 a drone could be a huge deterrent to their adoption. Both Francisco and Pillay agree that a good surveillance system should be the bare minimum element in a good security profile.
Further reading:
Axis launches P3265-LVE dome camera
Axis Communications SA Products CCTV, Surveillance & Remote Monitoring
Based on ARTPEC-8 — the latest Axis system-on-chip (SoC) — Axis' latest dome high-performance camera includes a deep learning processing unit (DLPU), and cybersecurity features.
Read more...
---
Smart car parking solution eases traffic flow
Dahua Technology South Africa CCTV, Surveillance & Remote Monitoring Integrated Solutions Products
Ethiopia's first smart parking lot, designed to improve traffic flow and management efficiency, has been built and installed using Dahua Technology's smart parking solutions.
Read more...
---
Deposita's Digitisor SmartPOS devices can grow your business
Deposita Financial (Industry) Asset Management, EAS, RFID
The Digitisor N910 Pro and N700 SmartPOS devices are suited for SMME retailers and suppliers looking to enhance their customer payment experience.
Read more...
---
VMS 7.2 supports the investigation process and adds cloud capabilities
CCTV, Surveillance & Remote Monitoring Integrated Solutions Products
Qognify has launched the second release of its VMS, including extended support for body-worn video, additional functionalities to support investigations, and a new web client architecture. VMS 7.2 addresses the increasing use of body-worn video (BWV) across many sectors.
Read more...
---
The future of AIoT
Hikvision South Africa News CCTV, Surveillance & Remote Monitoring
Hikvision hosted its 2022 Shaping Intelligence Summit in Bali, Indonesia, on 29-30 November, where the company, its customers, and technology and solution partners, looked into the future of AIoT and explored paths to shared success.
Read more...
---
Hytera and KZN Police Service roll out digital call handling system
Government and Parastatal (Industry) Asset Management, EAS, RFID Integrated Solutions
Hytera Communications announced that the municipality of Ray Nkonyeni in the KwaZulu-Natal province of South Africa is now using its digital call handling system for the reporting and recording of crimes.
Read more...
---
Smart parking management platform
Access Control & Identity Management Asset Management, EAS, RFID
Parket builds a seamless bridge between supply and the ever-increasing, but fluid – and often temporary – demand for parking bays.
Read more...
---
A comprehensive video solution for retail
LD Africa Retail (Industry) CCTV, Surveillance & Remote Monitoring Products
Retail Intellect is a comprehensive, flexible solution for retailers that matches technologies to ensure point-of-sale safety and security with video analytics.
Read more...
---
Understanding customers better using AI
Secutel Technologies Retail (Industry) CCTV, Surveillance & Remote Monitoring Products
With in-store analytics of consumer behaviour, retailers can improve store performance and boost the productivity of their business.
Read more...
---
Cyber resilience is more than cybersecurity
Technews Publishing Editor's Choice Cyber Security Integrated Solutions IT infrastructure
Hi-Tech Security Solutions held a round-table discussion focusing on cyber resilience and found that while the resilience discipline includes cybersecurity, it also goes much further.
Read more...
---