printer friendly version
Too safe to escape
July 2018 News
A recent story I was told highlights how we still take security for granted in our daily lives. Most people try to ensure that their houses, townhouses and apartments have some form of security in place to protect them from burglaries and home invasions, but these solutions are often simply chosen because they were offered. How many of us really think about what security is in place for different scenarios?
What brought this to mind was a funny story about how someone locked himself in his bedroom and couldn't get out. Well, it was funny to hear, probably less funny and very costly to experience.
This individual is very security conscious, so much so that friends generally consider him to be paranoid. So one evening he went to bed after checking that his house was locked up and alarmed. As usual, he also locked the bedroom door – just in case.
Unfortunately, for whatever reason, as he locked the door the key broke. Fortunately, he had his cellphone with him and was able to call someone to help. Of course, that someone had to get into the house and disarm the alarm to get the spare key which was locked in a cabinet and the cabinet's key was hidden somewhere else. This meant the person would have to break in, or as they ended up doing, getting a locksmith to get through the back door.
Being security minded, however, the individual had bolted the door from the inside, which meant damaging the door to get in, even after the locksmith had bypassed the usual locks. Then they found that the spare key didn't work because the door was 'half-locked', according to the locksmith. So it was a couple of minutes more of locksmithing before he was free – with an after-hours bill from the locksmith and the need to buy a new door and locks.
I asked him why he didn't just escape out of a window instead of being trapped for nearly three hours? Well, he couldn't as there were bars covering the entire window, not just the opening ones, so even breaking a window was pointless. "So what if there had been a fire and your bedroom door was unusable?", I then asked.
So the question I asked myself, and am now asking you is: Does your security protect you from intruders only, or do you have a plan to escape if the unthinkable happens (or in this case, the ludicrous – who thinks a bedroom door key will break for no reason)?
Are you so secure you're too safe to escape?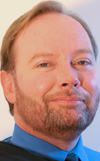 Correction
In the May issue of Hi-Tech Security Solutions we managed to print an article that belonged to a past era. The article in question, Upgraded video management system, was an old one from 2014 that found its way into the current edition and the individual mentioned is no longer with the company. Hi-Tech Security Solutions apologises for the error.
Andrew Seldon
Editor
Credit(s)
Further reading:
Olarm launches the Olarm LINK
Olarm Perimeter Security, Alarms & Intruder Detection News Products
Building on the success of smart-enabling, monitoring and controlling alarm panels and electric fences, Olarm has a new solution for customers to integrate gates, garage doors, pumps and other electrical products with the Olarm APP and Olarm PRO communicator.
Read more...
---
Ultimate smart monitoring and reliability
Olarm Perimeter Security, Alarms & Intruder Detection News Products
Olarm is gearing up to unveil its latest product, the Olarm MAX, set to be available in late 2023, which will redefine smart monitoring by offering unparalleled connectivity options and functionality.
Read more...
---
New algorithm for OT cybersecurity risk management
Industrial (Industry) Cyber Security News Commercial (Industry)
OTORIO's new risk management model and attack graph analysis algorithm technology, calculates OT cybersecurity threats and provides risk mitigation actions, prioritised according to actual exposure and potential impact on operations.
Read more...
---
Robots: a security opportunity or a threat?
Editor's Choice News Conferences & Events
Professor Martin Gill, Director of Perpetuity Research & Consultancy International and the School of Criminal Justice at the University of South Africa (UNISA), will be holding a Global Thought Leadership Security webinar on 22 June 2023 to discuss the contentious issue of robots operating in the security industry.
Read more...
---
UNISA sponsors Securex seminars
Editor's Choice News Conferences & Events
As part of UNISA's 150-year birthday celebrations, UNISA has sponsored the Securex Theatre Seminar Programme, which will include a number of prominent industry specialists, academics and security practitioners focusing on a number of themes.
Read more...
---
Sustainability School opens for enrolment
Education (Industry) News Security Services & Risk Management
Three-part programme, first developed for Schneider Electric employees, is now available for free for companies worldwide. Attendees learn how to future-proof their businesses and accelerate their decarbonisation journeys.
Read more...
---
From the editor's desk: Get Smart
Technews Publishing News
Welcome to the fourth issue of Hi-Tech Security Solutions for 2023, which is also the first issue of Smart Security Solutions. As noted in previous issues, Hi-Tech Security Solutions has been rebranded to Smart Security Solutions.
Read more...
---
Accenture Technology Vision 2023
Editor's Choice News
New report states that generative AI is expected to usher in a 'bold new future' for business, merging physical and digital worlds, transforming the way people work and live.
Read more...
---
Cyber attackers used over 500 tools and tactics in 2022
Cyber Security News
The most common root causes of attacks were unpatched vulnerabilities and compromised credentials, while ransomware continues to be the most common 'end game' and attacker dwell time is shrinking – for better or worse.
Read more...
---
Economists divided on global economic recovery
Editor's Choice News
Growth outlook has strengthened in all regions, but chief economists are divided on the likelihood of a global recession in 2023; experts are concerned about trade-off between managing inflation and maintaining financial stability, with 76% anticipating central banks to struggle to bring down inflation.
Read more...
---