printer friendly version
Too safe to escape
July 2018 Home Security, News
A recent story I was told highlights how we still take security for granted in our daily lives. Most people try to ensure that their houses, townhouses and apartments have some form of security in place to protect them from burglaries and home invasions, but these solutions are often simply chosen because they were offered. How many of us really think about what security is in place for different scenarios?
What brought this to mind was a funny story about how someone locked himself in his bedroom and couldn't get out. Well, it was funny to hear, probably less funny and very costly to experience.
This individual is very security conscious, so much so that friends generally consider him to be paranoid. So one evening he went to bed after checking that his house was locked up and alarmed. As usual, he also locked the bedroom door – just in case.
Unfortunately, for whatever reason, as he locked the door the key broke. Fortunately, he had his cellphone with him and was able to call someone to help. Of course, that someone had to get into the house and disarm the alarm to get the spare key which was locked in a cabinet and the cabinet's key was hidden somewhere else. This meant the person would have to break in, or as they ended up doing, getting a locksmith to get through the back door.
Being security minded, however, the individual had bolted the door from the inside, which meant damaging the door to get in, even after the locksmith had bypassed the usual locks. Then they found that the spare key didn't work because the door was 'half-locked', according to the locksmith. So it was a couple of minutes more of locksmithing before he was free – with an after-hours bill from the locksmith and the need to buy a new door and locks.
I asked him why he didn't just escape out of a window instead of being trapped for nearly three hours? Well, he couldn't as there were bars covering the entire window, not just the opening ones, so even breaking a window was pointless. "So what if there had been a fire and your bedroom door was unusable?", I then asked.
So the question I asked myself, and am now asking you is: Does your security protect you from intruders only, or do you have a plan to escape if the unthinkable happens (or in this case, the ludicrous – who thinks a bedroom door key will break for no reason)?
Are you so secure you're too safe to escape?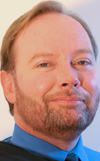 Correction
In the May issue of Hi-Tech Security Solutions we managed to print an article that belonged to a past era. The article in question, Upgraded video management system, was an old one from 2014 that found its way into the current edition and the individual mentioned is no longer with the company. Hi-Tech Security Solutions apologises for the error.
Andrew Seldon
Editor
Credit(s)
Further reading:
Securing perimeters of secure locations
November 2019, Axis Communications SA, Modular Communications, Hikvision South Africa, Nemtek Electric Fencing Products, Technews Publishing, Stafix , Government and Parastatal (Industry), Perimeter Security, Alarms & Intruder Detection, Integrated Solutions
Hi-Tech Security Solutions asked a number of companies offering perimeter security solutions for their insights into protecting the boundaries of national key points.
Read more...
---
Check your bank statements
October 2019 , Home Security
To prevent nasty surprises, the banking ombudsman urges customers to check statements and raise questions immediately.
Read more...
---
Yale updates smart home app
October 2019 , Home Security
Yale has announced that its Yale Home app has been updated with new features for smart home users using either Android or Apple devices.
Read more...
---
Test your alarm system before the festive season
October 2019, Fidelity ADT , Home Security
December is almost upon us and making sure your alarm system is in working order ahead of the festive season rush should be a priority.
Read more...
---
Don't let your personal information become someone else's business
October 2019, AVeS Cyber Security , Home Security
The ever-growing use of social media and mobile devices by everyone has opened easy gateways for cyber criminals to steal personal information, identities, and money.
Read more...
---
Don't let hotspots pour cold water on solar
October 2019, GoThermal (TeleEye) , Home Security
Thermal cameras are ideal when it comes to the regular inspection of roof-mounted photovoltaic solar panels recommended by the manufacturers.
Read more...
---
30% of local consumers still use unsupported operating systems
October 2019, Kaspersky , Home Security
Many consumers and businesses still rely on unsupported or near end-of-life operating systems (OS) which is a security risk, according to Kaspersky research.
Read more...
---
Fidelity scoops top security awards
October 2019, Fidelity ADT , Home Security
The private security industry, supported by the Private Security Industry Regulatory Authority (PSIRA), hosted the annual Bravery and Crime Prevention Awards.
Read more...
---
2020 Residential Estate Security Conference in KZN
October 2019, Technews Publishing , News, Residential Estate (Industry)
Meeting the residential security challenges in 2020 and beyond: Hi-Tech Security Solutions will host the Residential Estate Security Conference 2020 in Durban on 12 March 2020.
Read more...
---
Looking ahead with mobile access technologies
Access & Identity Management Handbook 2020, Technews Publishing, HID Global, dormakaba South Africa, Salto Systems Africa, Suprema, Gallagher , Access Control & Identity Management, Integrated Solutions
Given the broad use of smartphones around the world and the numerous technologies packed into these devices, it was only a matter of time before the access control industry developed technology that would ...
Read more...
---