printer friendly version
'Keep it simple' – now more than ever
June 2018
CCTV, Surveillance & Remote Monitoring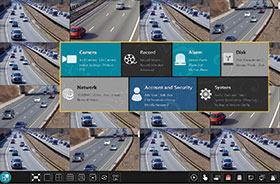 The rate of change in the technology industry is not slowing down. The blistering pace has its pros and cons. A good example, Facebook and the brilliant algorithms they made available became the very rod for their back. The mess companies such as Facebook and Cambridge Analytica are finding themselves in is the double-edged sword of significant gains and then big blows – some fatal for the businesses. The surveillance industry is just as vulnerable. The rapid rate of development tends to leave behind the basics, common sense or worse still, a purge of useful and relevant features.
While many CCTV brands have jumped on the me-too 'brand-wagon', some brands have taken a step back to focus on the practical user experience. The age-old adage KISS 'Keep it simple, stupid' rings true now more than ever.
One of the brands that impressed us in all three areas is TVT. In our selection of brands to present to the South African market, TVT scored tops in all our tests. The technology behind the brand has been around for 13 years in various OEM formats for some of the big local names. In recent years the brand has undergone a massive transformation, cleaning up the OEM segment and building brand awareness. This strategy means a stronger drive behind the name. For distributors, it means a collective gain from awareness of a renowned TOP 30 (A&S) industry brand and piggybacking on all marketing and awareness created in various formats.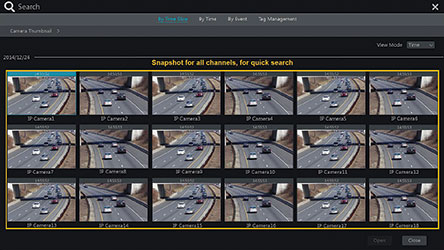 Why the GUI scores high
After a successful installation, the first point of contact between you and your customer is the GUI (graphical user interface). All too often the focus has been on designing GUIs for the installer, but the reality is their contact with it dissipates after the installation. A complicated, non-intuitive GUI means many of the features may never be used.
TVT has a different focus. One more click than necessary is one click too many. It may seem like a small tweak, but that is their attention to detail right down to minimising the menu depth.
The GUI, transformed in recent times to their all-new N9000 interface, allows for easy, convenient access to menus – the 'modular design format'. This offers quick access to different menus and eliminates the pesky right click. Is it minor? Maybe for some, but for the end user, it is easier, more manageable and quicker. No end user has ever complained about fewer clicks – at least that we know of.
Safety and convenience built-in
Another function that has been moved from the camera to the GUI is COC on all cameras. This gives one the ability to control the camera and set sensor settings from the convenience of your armchair. We have seen too many installers performing this function from a stepladder, with a test monitor sometimes in less than ideal weather conditions. Again, in practice it is simple – but the ability to set up your camera from the display means a more straightforward, user-friendly experience.
Searching is also simplified via Thumbnail Search. This gives one the ability to search across a 24-hour day via thumbnails.
Backup – simple
Another simple but often unnecessarily complicated feature is backup. While in playback mode one can select the area of backup and then back it up to USB directly from the playback interface. No need for any other menus.
Audio, PTZ and TV-out as a standard
It is common practice to cut the costs of entry-level DVRs by removing features such as audio, PTZ control and TV-out. Not with TVT. Forbatt offers the above for entry-level DVRs. Also, the graphical user interface is the same when working with the entry level DVR or enterprise NVR, giving one a consistent experience and simpler learning curve as you upgrade.
When the focus is on perfecting the user experience first and then the bells-and-whistles, you get a brand that has a reputation for reliability and people first. That is the TVT brand.
Credit(s)
Further reading:
Antarctic surveillance
Dahua Technology South Africa CCTV, Surveillance & Remote Monitoring
Dahua Technology donated 15 security cameras to different scientific bases in the Argentine region of Antarctica; the cameras were especially developed to handle the harsh climate and extreme weather conditions in the area.
Read more...
---
Deep learning engine set to supercharge end-to-end solutions
CCTV, Surveillance & Remote Monitoring
IDIS, manufacturer of South Korean-made video technology, will be displaying an exciting line-up of end-to-end video solutions that include the latest advances in AI-powered video analytics for businesses of any size, at this year's Intersec.
Read more...
---
Realistic image quality even in dark environments
Dahua Technology South Africa CCTV, Surveillance & Remote Monitoring
The 4K video surveillance market size is expected to grow at 9 percent CAGR (compound annual growth rate), which is primarily driven by the increasing demand for public safety and security services.
Read more...
---
Cloud-based forensic video searching
CCTV, Surveillance & Remote Monitoring
Arcules introduces Forensic Video Search to empower rapid event identification within its video cloud service, providing a critical tool to help businesses identify specific objects or events in seconds.
Read more...
---
Minimising fire risks in automotive logistics
Hikvision South Africa CCTV, Surveillance & Remote Monitoring Products Logistics (Industry)
Automotive logistics company uses thermal imaging solution from Hikvision to ensure its stores of lithium batteries for electric vehicles never overheat and cause a fire.
Read more...
---
Axis launches P3265-LVE dome camera
Axis Communications SA Products CCTV, Surveillance & Remote Monitoring
Based on ARTPEC-8 — the latest Axis system-on-chip (SoC) — Axis' latest dome high-performance camera includes a deep learning processing unit (DLPU), and cybersecurity features.
Read more...
---
Smart car parking solution eases traffic flow
Dahua Technology South Africa CCTV, Surveillance & Remote Monitoring Integrated Solutions Products
Ethiopia's first smart parking lot, designed to improve traffic flow and management efficiency, has been built and installed using Dahua Technology's smart parking solutions.
Read more...
---
VMS 7.2 supports the investigation process and adds cloud capabilities
CCTV, Surveillance & Remote Monitoring Integrated Solutions Products
Qognify has launched the second release of its VMS, including extended support for body-worn video, additional functionalities to support investigations, and a new web client architecture. VMS 7.2 addresses the increasing use of body-worn video (BWV) across many sectors.
Read more...
---
The future of AIoT
Hikvision South Africa News CCTV, Surveillance & Remote Monitoring
Hikvision hosted its 2022 Shaping Intelligence Summit in Bali, Indonesia, on 29-30 November, where the company, its customers, and technology and solution partners, looked into the future of AIoT and explored paths to shared success.
Read more...
---
A comprehensive video solution for retail
LD Africa Retail (Industry) CCTV, Surveillance & Remote Monitoring Products
Retail Intellect is a comprehensive, flexible solution for retailers that matches technologies to ensure point-of-sale safety and security with video analytics.
Read more...
---