printer friendly version
'Keep it simple' – now more than ever
June 2018
CCTV, Surveillance & Remote Monitoring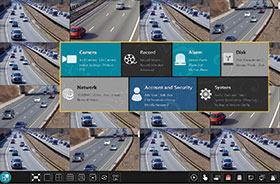 The rate of change in the technology industry is not slowing down. The blistering pace has its pros and cons. A good example, Facebook and the brilliant algorithms they made available became the very rod for their back. The mess companies such as Facebook and Cambridge Analytica are finding themselves in is the double-edged sword of significant gains and then big blows – some fatal for the businesses. The surveillance industry is just as vulnerable. The rapid rate of development tends to leave behind the basics, common sense or worse still, a purge of useful and relevant features.
While many CCTV brands have jumped on the me-too 'brand-wagon', some brands have taken a step back to focus on the practical user experience. The age-old adage KISS 'Keep it simple, stupid' rings true now more than ever.
One of the brands that impressed us in all three areas is TVT. In our selection of brands to present to the South African market, TVT scored tops in all our tests. The technology behind the brand has been around for 13 years in various OEM formats for some of the big local names. In recent years the brand has undergone a massive transformation, cleaning up the OEM segment and building brand awareness. This strategy means a stronger drive behind the name. For distributors, it means a collective gain from awareness of a renowned TOP 30 (A&S) industry brand and piggybacking on all marketing and awareness created in various formats.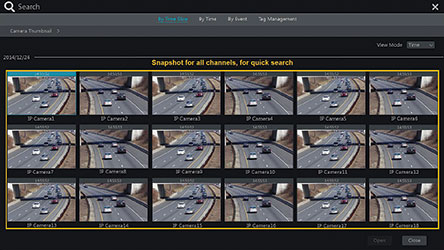 Why the GUI scores high
After a successful installation, the first point of contact between you and your customer is the GUI (graphical user interface). All too often the focus has been on designing GUIs for the installer, but the reality is their contact with it dissipates after the installation. A complicated, non-intuitive GUI means many of the features may never be used.
TVT has a different focus. One more click than necessary is one click too many. It may seem like a small tweak, but that is their attention to detail right down to minimising the menu depth.
The GUI, transformed in recent times to their all-new N9000 interface, allows for easy, convenient access to menus – the 'modular design format'. This offers quick access to different menus and eliminates the pesky right click. Is it minor? Maybe for some, but for the end user, it is easier, more manageable and quicker. No end user has ever complained about fewer clicks – at least that we know of.
Safety and convenience built-in
Another function that has been moved from the camera to the GUI is COC on all cameras. This gives one the ability to control the camera and set sensor settings from the convenience of your armchair. We have seen too many installers performing this function from a stepladder, with a test monitor sometimes in less than ideal weather conditions. Again, in practice it is simple – but the ability to set up your camera from the display means a more straightforward, user-friendly experience.
Searching is also simplified via Thumbnail Search. This gives one the ability to search across a 24-hour day via thumbnails.
Backup – simple
Another simple but often unnecessarily complicated feature is backup. While in playback mode one can select the area of backup and then back it up to USB directly from the playback interface. No need for any other menus.
Audio, PTZ and TV-out as a standard
It is common practice to cut the costs of entry-level DVRs by removing features such as audio, PTZ control and TV-out. Not with TVT. Forbatt offers the above for entry-level DVRs. Also, the graphical user interface is the same when working with the entry level DVR or enterprise NVR, giving one a consistent experience and simpler learning curve as you upgrade.
When the focus is on perfecting the user experience first and then the bells-and-whistles, you get a brand that has a reputation for reliability and people first. That is the TVT brand.
Credit(s)
Further reading:
Platforms and community lead the future
May 2019, Milestone Systems , Editor's Choice, CCTV, Surveillance & Remote Monitoring, News, Integrated Solutions
Milestone Systems took a look into the future of open platforms and the power of community at MIPS EMEA in Copenhagen in March this year.
Read more...
---
The consequences of false alerts
May 2019, Leaderware , Editor's Choice, CCTV, Surveillance & Remote Monitoring, Integrated Solutions
Craig Donald discusses the impact of false alarm rates on the utility of intelligent security technology systems.
Read more...
---
Does your control room add value?
May 2019, Fidelity Security Group, G4S South Africa, Progroup , Editor's Choice, CCTV, Surveillance & Remote Monitoring, Integrated Solutions, IT infrastructure, Commercial (Industry)
Whether on- or offsite, control rooms are a critical aspect of security today and care must be taken in the design and rollout of these nerve centres.
Read more...
---
Delivering greater control room value
May 2019, Cathexis Technologies , Editor's Choice, CCTV, Surveillance & Remote Monitoring, Integrated Solutions
A truly integrated security system requires that all aspects of the security system work seamlessly together, while being managed by the heart of the system, which is the control room.
Read more...
---
Security workforce management platform
May 2019, Secutel Technologies , CCTV, Surveillance & Remote Monitoring, Integrated Solutions, Security Services & Risk Management
Secutel Technologies says the South African market is excited about body-cam technology and clearly sees the potential benefits.
Read more...
---
HD PIR camera with strobe light
May 2019, Hikvision South Africa , Perimeter Security, Alarms & Intruder Detection, CCTV, Surveillance & Remote Monitoring
Hikvision's Turbo HD passive infrared (PIR) camera uses advanced video surveillance technologies to capture infrared light given off by human bodies.
Read more...
---
AI enhances intruder detection
May 2019, Dahua Technology South Africa , Products, CCTV, Surveillance & Remote Monitoring
Dahua Technology launched its new XVR series, XVR5000-I/XVR7000-4KL-I featuring full-channel SMD Plus to benefit customers with an AI upgrade.
Read more...
---
KCB Bank Tanzania
May 2019 , CCTV, Surveillance & Remote Monitoring, Products
Uniview delivered a cost-effective and intelligent solution to help KCB Bank to upgrade its CCTV system.
Read more...
---
The world's first surveillance camera day
May 2019 , News, CCTV, Surveillance & Remote Monitoring, Conferences & Events
As part of the National Surveillance Camera Strategy for England and Wales, the Surveillance Camera Commissioner is holding the world's first Surveillance Camera Day on 20 June.
Read more...
---
Control room software selection
May 2019, Intelligent Monitoring , CCTV, Surveillance & Remote Monitoring, Security Services & Risk Management
Wolfgang Kirsch discusses what customers should look for when selecting a control room management platform.
Read more...
---