printer friendly version
IP delivers more than images
June 2015
Mining (Industry)
One of the bi-products of consolidation in the mining sector over recent years is that some of the larger players, operating in southern Africa and elsewhere, are now migrating their proprietary analogue CCTV surveillance systems to digital network video systems. It makes sense for growing mining organisations to maintain one single network infrastructure that can be used for multiple purposes.
The diamond, gold, platinum and copper mining organisations that are doing so are already seeing significant benefits including: reducing maintenance costs; increasing operational efficiencies; and tightening security at their high-value sites where plant equipment and raw material theft as well as people, health and safety risks, all need to be tightly managed.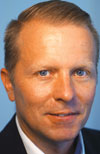 Henrik Petersen, vertical sales manager for Milestone Systems.
As these organisations also become larger and more mature, there is an increasing focus on utilising their highly skilled workforce more efficiently. The reason for this increased focus is that highly skilled people (IT people for example) are becoming much more expensive as demand for their skills increases. It is becoming unaffordable for many of them to base these skilled people at every site but instead they need to support several sites at the same time. Intelligent deployment of those skilled individuals across multiple sites is becoming a much larger management challenge today.
Centralisation is key
The managing director of Johannesburg-based security solutions provider and Milestone Systems' Diamond Partner Camsecure, Francois Malan explains: "Mining groups operating in this part of the world are beginning to centralise key aspects of their operations as they strive for efficiencies. So we've seen scenarios where some key aspects of the running of six mines, some located more than 200 kilometres distant from each other at the furthest point, are now managed from a single, highly secure central location, moving data over their corporate networks. Key operational systems are networked to enable senior managers to monitor production from these centralised locations remotely."
Surveillance systems have not been immune from this trend which is driving a belated migration from old and inefficient, locally-managed analogue-based CCTV systems which are expensive and hard to maintain; to brand new network video systems which can be managed remotely, working with specialist contractors and suppliers. This trend began over three years ago in the mining sector and is set to accelerate in 2015.
The truth is that the mining sector is actually late to the network video party. In many parts of the world more than 80% of all new CCTV systems being installed today are networked. The business benefits are well-proven. Milestone has been participating in the migration of standalone CCTV systems to digital network (or IP video) systems in other sectors globally for more than 15 years – so we are well-placed to comment on why firms are embracing it.
One of the largest drivers for this migration in many sectors from the beginning was the need to centralise control of security reliably and cost-effectively. In short, network video enables efficient and highly cost-effective remote video surveillance around-the-clock, 365 days a year. And because all the video data in these new systems flows over existing corporate network infrastructures (already in place for other IT systems), the costs of migration are not onerous. Yet without the migration onto the network, distributing and storing relatively data-intensive video files (via microwave or satellite links and recording using old analogue-based tape-based media for example) can be very expensive, unreliable and time-intensive.

Image: Leandro Neumann Ciuffo.
Better maintenance, lower costs
Malan says, "From a maintenance perspective there are clear efficiencies within the mining firms we are migrating to network video. In the past, when cameras went down we would run around like headless chickens to try and work out what had gone wrong. Remote visibility was the problem as the cameras were not on the network. Invariably it meant flying an engineer to the mine in question to diagnose the problem. He might have to make a second trip to retrieve and install the appropriate part and run tests on-site. It might take a week to get a camera back up, exposing the site to a lengthy security vulnerability during that time."
This all changes once surveillance systems are on a secure virtual private network and using a centralised group network security policy (via Active Directory for example) to prevent unauthorised access. Camsecure has developed its own network monitoring utility that acts as a live dashboard to give a snapshot overview of the system performance at any given time. It can even configure Milestone's XProtect VMS platform to send instant email alerts or TXT-based alerts to the mobile devices of key people if a pre-defined rule on the system is broken.
If required, remote engineers are able to power-down a camera and reboot it remotely to get it back up. This can happen sometimes with solar-powered video systems whereby the total start-up power load does not allow all the cameras to boot up correctly. If the problem is more serious, say an internal uninterruptible power supply (UPS) has failed, they will be able to send the right skilled person with the right part the first time – potentially cutting maintenance time and costs in half.
Digital network cameras are increasingly being integrated into mobile units which provide lighting and power to areas where mining activity is focused to assist round the clock operations. This means that digital network video systems can also be used to monitor the efficiency of the mine's cutting and processing equipment, and ensure health and safety procedures are being adhered to in these production zones right through the night.
It is common today to deploy over 60 network cameras at large mines to monitor Red Zones, site perimeter, as well as processing and distribution areas. Each new video system is configured to meet the specific needs of each site. Here an open platform software system is a benefit.
Malan adds, "Site managers know what aspects of their site are most vulnerable. They have a unique set of concerns for their operational teams. For example, we've had to secure surface shafts of underground mines which had had a history of copper cable theft. Teams of thieves had been scaling the perimeter fencing and cutting out long runs of thick copper power lines which provide electricity to the equipment used for mining underground. Loss of power underground not only causes production loss, but it is also very dangerous for miners because the air-ventilation fans extracting toxic air could stop running. If not picked up quickly there is a real risk of loss of life underground."
Thermal benefits
Moving to digital networked video has enabled Camsecure to deploy some of the latest thermal imaging cameras which provide highly robust, quality images discreetly through the night which are ideal for sites which are most vulnerable to intrusion.
"We've been extremely impressed with some of the latest thermal cameras from Axis Communications, the leader in network camera market. These products provide images based on the heat from intruders in complete darkness, and enable us to gather video which alert us of individuals at the perimeter fence of a site without the knowledge from the potential intruders that they are being watched. We achieve this by using the latest thermal camera units which Milestone is able to manage and record without fail, even in low network bandwidth environments which are common at these sites.
"We simply could not achieve this sort of quality of images before without using large and expensive lighting units which demand lots of power and eliminate the element of surprise. We don't want to let would-be thieves know they are being watched, so glaring lights near the perimeter fence or barriers are a bad idea. The criminal will then simply move on to the next easiest target. We want to catch them red-handed rather than simply move the threat," Malan says.
Tripwire video analytics software is also used to help secure the perimeter of many of the mines that Camsecure provides video security systems and services to in South Africa, Mozambique, Tanzania and Zambia. Using this software, digital networked video systems can be set up to provide pertinent alerts changing the system to a proactive event-driven system that focuses the operator's attention where needed.
It is even possible to fit Automatic Number Plate Recognition (ANPR) software into network video systems so that network cameras trained on secure entrances to mines can record all vehicles' number plates and link these to accompanying high quality images of drivers or those vehicles. In short, there is so much intelligence being added to network video systems right now that our partners know they will be able to tailor a network video to meet highly specialist needs of any customer – even the toughest and most remote mining site.
Intelligence and integration
The arrival of the latest HD technology and multi-megapixel cameras over the last five years; combined with improved compression algorithms for real-time streaming of video images to central control rooms and smart mobile devices; has conspired to accelerate adoption of network video in this market.
Milestone VMS is now being more widely deployed to help these facilities to capture, record and manage the resulting images. The other advantage of moving surveillance onto the network using Milestone open standards VMS as the 'visual hub', is that it opens up the potential for integration with existing process management systems. Many mines are integrating other systems such as access control in order to gain more information from the scene such as the names of the individuals who may be in the video.
There is a strong argument now for mining operations exploring the power of digital network video still further by looking at the benefits of integration with other networked systems. In the manufacturing world we have seen digital video systems being fully integrated with HMI/SCADA (Supervisory Control and Data Acquisition) or other ICS (Industrial Control Systems). In larger plants we've seen network video supporting MES (Manufacturing Execution Systems) and ERP (Enterprise Resource Planning) systems.
If integrated into existing mining control systems, network video can support mining processes in key areas such as Work in Progress (WIP) visualisation, product traceability, non-conformance management and quality control management more generally. As centralised control systems are connected with more devices and systems throughout a mining operation; the opportunities to use network video to support processes increases exponentially.
In summary, the latest generation of HD quality digital network cameras, combined with Milestone open standards video management software is offering mining organisations the ability to centralise security and improve remote management of mining operations. The intelligence and integration abilities in network video management software can help detect and resolve problems faster; whilst protecting men, machinery and highly-prized raw materials better than was possible with old analogue-based CCTV systems. It can do it locally or remotely from thousands of kilometres away.
The flexibility and cost-efficiency which this facility opens up is not to be under-estimated. The use of open platform digital video management systems also opens up a world of opportunity to bring together other processing and control systems to enhance the effectiveness of these operations, helping managers find efficiencies, predict and fix faults before they impact production capacity. In short it future proofs mining companies' investment.
Why the mining sector is migrating CCTV systems to network video
1. To centralise security and surveillance management.
2. To deliver maintenance efficiencies.
3. To provide a secure, remote view of multiple mining sites to senior managers, investors and key maintenance contractors.
4. To create a platform for integration with other processing and control systems, unlocking additional efficiencies.
5. To create a platform for benefitting from new network video software analytics innovations – making the system progressively more intelligent and thus future-proofing mining firms' network video investments.
6. To use their CCTV infrastructure for more than basic surveillance – as a vital tool to deliver operational improvements long into the future.
7. To replace the ageing CCTV infrastructure which is proving expensive to manage locally, hard to manage remotely, standing still or simply failing to deliver the quality and reliability of images and recordings that are needed to provide insight and, in worst case scenarios, to prosecute.
For more information contact Milestone Systems, +27 (0)76 811 7495, mme@milestonesys.com, www.milestonesys.com
Credit(s)
Further reading:
A platform approach to safer and smarter cities
November 2019, Milestone Systems , CCTV, Surveillance & Remote Monitoring
Selecting the right platform to manage the vast data collected from smart and safe cities is critical to the ultimate success of the project.
Read more...
---
Milestone introduces centralised search
November 2019, Milestone Systems , CCTV, Surveillance & Remote Monitoring
Milestone introduces new features, including centralised search, a new driver framework, adaptive streaming and enhanced device password management.
Read more...
---
Effectively securing large mines
October 2019, Veracitech, Technews Publishing, Dallmeier Electronic Southern Africa , Mining (Industry), Integrated Solutions
The vast areas covered by mining operations present security challenges such as the ability to provide effective perimeter protection and surveillance, while maintaining reliable communications between remote areas and control rooms.
Read more...
---
Improving mining safety through technology
September 2019 , Mining (Industry), Integrated Solutions
There is a strong connection between technology, cybersecurity and the physical safety of mineworkers; the more mining operations automate, the higher the cybersecurity risk.
Read more...
---
Enhanced biometric technology for mines
September 2019, ZKTeco , Mining (Industry), Access Control & Identity Management
Biometric identification and authentication are currently used at various mines in South Africa and in the SADC region.
Read more...
---
Multitude of solutions available for mining operations
October 2019, Axis Communications SA , Mining (Industry), CCTV, Surveillance & Remote Monitoring
Mines need to spend money on security just like all businesses do, and the economies of scale that apply to mining operations make some of the most advanced and expensive technologies somewhat more attainable than in many other applications.
Read more...
---
Improving access in mines
October 2019, Astra Fasteners , Mining (Industry), Access Control & Identity Management, Products
The VP1 controller provides full access control and remote monitoring of intelligent locks without having to wire into a network or install, manage and maintain software.
Read more...
---
Perimeter protection in Ghana
October 2019, AcoustAlert , Mining (Industry), Perimeter Security, Alarms & Intruder Detection
A gold mine in Ghana has erected a dual fence with AcoustAlert PIDS fence detection on both inner and outer fence lines.
Read more...
---
Adding value to mining security
October 2019, Cathexis Technologies , Mining (Industry), CCTV, Surveillance & Remote Monitoring
Cathexis offers users the ability to make key-decisions, based on intelligent information processing and take automated actions.
Read more...
---
Milestone Community Kickstarter Contest
October 2019, Milestone Systems , News
Milestone Systems invites developers around the world to demonstrate their ability to create and deliver innovative software.
Read more...
---