printer friendly version
Security needs to step into the modern era
June 2015
Mining (Industry)
Mines currently face enormous challenges such as exchange rate volatility, power and fuel costs and interruptions, lack of stable government policy and the threat of nationalisation, cost of labour, labour unrest, taxation, theft, disruptive union activity and violence, safety criteria and syndicate activity.
In this article, we will focus on the labour force, the security force and the use of new and effective methodologies and tools to improve security, safety and productivity. Each of these has a specific methodology which requires skilled input to manage.
One of the largest challenges faced by mines is the labour force performing less efficiently but costing more. The Chamber of Mines shows this in graph form (see Figure 1).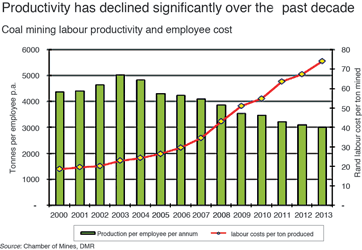 Figure 1.
The same applies to the efficiency of a security force as opposed to the increased costs. How does one combat this?
Secondly, there are a number of challenges facing mines in relation to labour, which are far more powerful than just the workers on the mines, as is illustrated by the Chamber of Mines diagram (see Figure 2).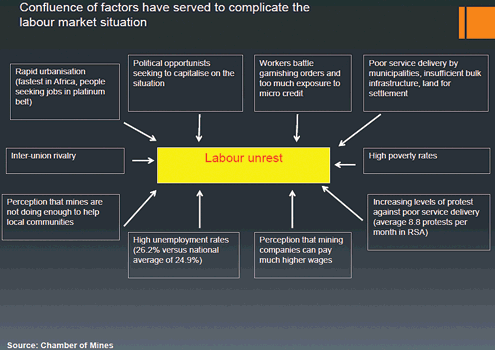 Figure 2.
This makes it very difficult to achieve a happy work force that performs optimally. Often this can boil over into unhappiness and inefficiency, leading to potential violence. How do we improve efficiency, make it more safe for labour, prevent unrest and improve productivity in these complex scenarios?
Combination of people and processes
It is the intelligent combination of people and processes with technology that can unlock solutions that have a real chance of keeping assets, people and information safer. The best way of doing this is through efficient command and control. Control rooms form the core of this new approach.
A recent installation at a Glencore mine in upper Africa is a case in point. The installation is a textbook case of how the integration of people, processes and technology makes for a powerful combination that not only improves safety and security, but also boosts overall business intelligence.
A world class control room has been created to drive the necessary measures. From top of the range thermal cameras with video analytics to normal megapixel cameras deployed strategically around the site that can transmit high quality images to access control points that use the very latest biometrics, the electronic and digital components are there in all their glory. The various mechanisms are integrated into a central command centre through wired and wireless networks that allows operators to monitor the entire complex in real time.
What really sets the system apart, however, is the backend software that integrates the various components and helps translate the data into meaningful outcomes; as well as the people that built and monitor it.
We spent many months working with the client to identify and prioritise risks, and plot every conceivable process on the mine. Managers helped identify where the key problem areas in the operation are and defined areas of productivity and desired outcomes. This information was then programmed into the system to drive operators to respond appropriately to a variety of incidents.
We also had a hand in training skilled personnel to work in the control rooms and had a full-time team of technicians on standby to make sure that the technology that enables it all keeps running smoothly.
Better decisions, faster
If something happens in one part of the mine, it is picked up on a camera and relayed in real time to the control room operator. A series of questions will enable the operator to determine whether the event is a safety, productivity or security issue and a pop-up screen will then literally tell them what to do. In essence, the system helps him or her to make a more accurate decision, faster.
This is management by exception. The beauty of the system is that it virtually eliminates human error while speeding up the decision-making process and response times.
Even more powerfully, the software can generate reports allowing mine operators to get an immediate snapshot of safety, security and productivity on the mine. They can use that business intelligence to weigh up risks, measure trends and ultimately to drive outcomes to improve the risk perspective.
The control room and integrated system allows mine operators to keep their finger on the pulse in a way not previously imagined.
A typical mine faces several challenges:
• Numerous disparate incidents and sources.
• Staff complexities.
• Numerous service providers involved.
• Islands of data.
• Limited mobility options.
• Lack of information and intelligence sharing.
• Large geographic areas.
• Safety a key priority.
• Maintenance efficiencies.
• Security management.
Typically, a complete process management solution is required which includes:
• Information and monitoring of key areas, such as maintenance of high risk areas.
• Real-time incident management of the total landscape.
• Targeted surveillance, review, analysis of trends and tendencies, intelligence gathering, undercover operations, defining and managing key areas of risk.
• Command and control.
• Prevention of collusion.
• Deterrence and show of force.
• Management of threats pro-actively, such as strikes, syndicates, key risk areas in plants, product movement and other threats.
Emerging trends
There are several new trends in the technology space. Video analytics, coupled particularly to thermal cameras, are allowing very effective automated alarming of numerous categories of incidents in mines across the spectrum of security, avoiding of accidents, early warning of equipment failure and maintenance issues, defining location of staff, prevention of perimeter breach and automatic triggering if items are removed without authorisation. This has taken black screen monitoring to a new level.
Also, mobility and visual analysis tools coupled to geo-spatial technology and artificial intelligence are coming to the fore. This becomes incredibly powerful at tracking and understanding workforce behaviour and patterns, incident management and maintenance of sites. This is the largest new trend in the mining environment and can play a significant role in predicting and managing labour unrest and work inefficiency. Every person with a cellphone can add value.
For more information contact Ian Downie, Xone Integrated Security, +27 (0)82 906 7600, ian@xone.co.za, www.xone.co.za
Credit(s)
Further reading:
An end to complexity and frequent false alarms
Issue 6 2020, Dallmeier Electronic Southern Africa , Mining (Industry)
The right camera technology and the right artificial intelligence (AI) systems provide for smarter perimeter protection with almost no false alarms.
Read more...
---
Local or remote management
Residential Estate Security Handbook 2020, Xone Integrated Security, Vox , Fidelity ADT , Editor's Choice
Hi-Tech Security Solutions asked three companies well versed in offering control room services – either remote, local, or both – what's happening in the estate monitoring and/or management market.
Read more...
---
Perimeter security design
Issue 6 2020, XtraVision , Mining (Industry)
XtraVision offers some tips on designing the right perimeter security solution and selecting the appropriate technology.
Read more...
---
Wireless networks ideal for mines
Issue 6 2020, MiRO , Mining (Industry)
Wireless networks provide reliable and secure communications for mines and other environments where coverage is required over extended areas.
Read more...
---
Easing the tension of perimeter security
Issue 6 2020 , Mining (Industry)
Gallagher has different solutions, both standalone and integrated, for securing the perimeters of mines and most other environments.
Read more...
---
Introducing the JUKA 614
Issue 6 2020, Veracitech , Mining (Industry)
Providing the best possible image at the lowest health risk in the shortest time, by making use of the smallest footprint at the lowest cost.
Read more...
---
Connectivity vital to mines' IoT success
Issue 6 2020 , Mining (Industry)
Inmarsat research finds 85% of organisations struggle to access reliable connectivity for IoT projects across their mine sites.
Read more...
---
Coping with COVID-19
Issue 4 2020, Sentinel Risk Management, Xone Integrated Security, ISF SFP, Technews Publishing , Editor's Choice
Hi-Tech Security Solutions spoke to four security service providers about their new business reality and how they are coping with the stringent regulations.
Read more...
---
Effectively securing large mines
October 2019, Veracitech, Technews Publishing, Dallmeier Electronic Southern Africa , Mining (Industry), Integrated Solutions
The vast areas covered by mining operations present security challenges such as the ability to provide effective perimeter protection and surveillance, while maintaining reliable communications between remote areas and control rooms.
Read more...
---
Improving mining safety through technology
September 2019 , Mining (Industry), Integrated Solutions
There is a strong connection between technology, cybersecurity and the physical safety of mineworkers; the more mining operations automate, the higher the cybersecurity risk.
Read more...
---