printer friendly version
Using technology to increase mine health and safety
June 2015
Mining (Industry)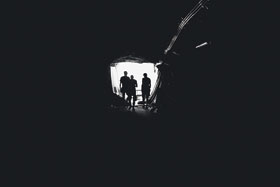 There has been increasing pressure on mining operations to focus on the safety and security of their personnel. This is especially pertinent to underground operations, but is also applicable where processing of minerals and ore takes place. This emphasis has driven the popularity of access control and surveillance systems, together with personnel and vehicle tracking systems.
Charles Coetzee, regional marketing and product manager for Bosch Security Systems, says that access control systems are particularly useful in not only limiting access to registered personnel, but are also used to perform checks on employee health status. In particular, access control systems can be programmed to alert risk managers when an employee's medical certificate is due to expire.
In addition to using technology to enhance productivity in minerals processing plants, surveillance systems are also being increasingly used to establish that a shaft is cleared before blasting commences. Coetzee points out that the growing use of RFID technology is due to its ongoing development as a health and safety aid. A typical example noted by Coetzee is that before employees can move through certain controlled areas, using RFID technology together with access control technology, certain items required within this area will be checked and the employee will either be granted access or denied access.
RFID and wireless technology have a dual purpose on mines, being implemented to ensure that capital equipment operators are made aware of the presence of employees within their safe and unsafe zones. In addition, when installed on the capital equipment, RFID and wireless tracking technology provides alerts on vehicle movement, specifically when a vehicle enters a no-entry zone. Coetzee stresses that in order to achieve maximum success with these systems, it is important to ensure that the communications infrastructure backbone is strong enough to cater for their inclusion.
Another common practice, according to Coetzee, is 'parading'. This entails the miner being subjected to a series of checks that include having the correct, specified safety equipment in his possession, a valid and up to date medical certificate, as well as another other area-specific clearance certificates. The integration of various subsystems, including the typical security modes of access control and surveillance, is playing an increasingly important role in alleviating risks.
Backward compatibility
Gus Brecher, MD of Cathexis Africa emphasises that security technology is not being used as a replacement for employees, but rather to make them more effective and efficient. He says that there is a growing demand for mines to provide a control room environment where technology stimulates actions such as an analysis of information and provides the subsequent actions that need to be performed.
Integration of old technology with new technology is often viewed as a thorny issue. However, with tightening of budgets, mines are often not in a position to replace their legacy systems with what could be considered best practice products. Brecher says that Cathexis has been able to use old DVRs with IP cameras by providing backward compatibility with software. He says that it is important to select products where a clear upgrade path is visible and, if possible, to select an open operations platform to provide both backward compatibility between old and new systems, as well as upgradeability.
On the subject of integration, humans and technology should not be seen as separate elements, but rather as a symbiotic whole, whereby technology is leveraged to enhance safety and productivity. The first step in this human-technology integration is to ensure buy-in from all stakeholders – mine owners, mine managers, risk/security/safety managers, plant managers, IT managers, unions and the employees. Brecher says that any technology is only as good as the operations, processes and people using the system.
Planning and processes
Coetzee concurs with this and says that the introduction of any new technology is always a challenge for management. He adds that it is critical to create a return on investment in terms of safety of employees and this can be achieved by developing a comprehensive roadmap which indicates the integration of humans and technology and provides a clear outline of the benefits that can be derived from this integration.
One of the major benefits includes the ability to use video analytics to monitor predetermined risks that will allow the operator to respond appropriately. After only 20 minutes you can miss 90% of the activity on a screen. Intelligent Video Analysis (IVA) assists by alerting you when predefined alarms are triggered. By smartly combining up to eight IVA rules, complex tasks are made easy and false alarms are reduced to a minimum.
Brecher says that the company has provided a large gold mining group with a system that includes CCTV monitoring, video analytics, event monitoring and automated alarms integrated with third-party systems like access control, alarm panels and weighing scales. This ensures that safety and security risks are immediately flagged and acted on to ensure minimum disruption. The key to successful adoption, he adds, is coordinating all activities between the identified stakeholders. It is advisable to select a product champion who will be responsible for creating an open line of communication between the parties.
Ensuring that all employees are on board, specifically with time and attendance and parading systems, is often problematic, says Coetzee. He advises management to institute comprehensive and interactive sessions with union shop stewards on an ongoing basis. By clearly pointing out the health and safety advantages to the employees of using such technology, the fear of the unknown and the suspicion that the organisation is spying on them, is removed and replaced with a clearer understanding that the system is for their direct benefit.
Integration should not be an end in itself, but should have identifiable benefits for all stakeholders and all systems should be able to communicate seamlessly and effortlessly for maximised results. For systems to work effectively, it is critical to ensure that open lines of communication, which highlight the health, safety and security benefits for all, are upheld between the various parties.
People versus technology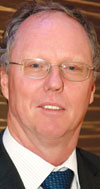 Craig Donald, managing director, Leaderware
Craig Donald, director at Leaderware, says it is absolutely critical to acknowledge that one is dealing with immense numbers of people in a mining environment. The key to cooperation when implementing technology is therefore simplicity of use. He emphasises that any system should be quick and easy to use and should minimise downtime.
The combination of technology and people is always challenging, irrespective of the work environment, but it is a far larger problem with the sheer numbers present on a mine. The theory of strength in numbers comes into play and any new elements need to be introduced as beneficial to, yet with minimal impact on the employees, to guarantee their acceptance.
Donald says that X-ray technology is proving acceptable and popular with mines. Government endorsement of the safety of this technology and communication to employees via union representatives, has ensured that miners see it as an unobtrusive necessity in their working lives.
He adds that the use of access control systems and surveillance cameras has also had a positive impact on worker health, safety and wellbeing, allowing management to better see the status of conditions that workers are faced with. Further, by combining technologies such as installing cameras and possibly video analytics at places such as access points, management is able to eliminate the practice of piggybacking, which has occurred in the past when illegal miners wished to gain entry into the mines along with those who work there.
He reiterates that a consultative process forms the basis of any successful security and safety system implementation. By planning for a sound foundation that emphasises minimal disruption, a non-invasive system based on objective scanning and surveillance, there is a far greater chance that such a large workforce will adjust quickly and cooperatively to technology.
For more information contact Craig Donald, Leaderware, +27 (0)11 787 7811, craig.donald@leaderware.com.
Credit(s)
Further reading:
CCTV surveillance needs are critical in defining types of camera deployment
Issue 1 2020, Leaderware , Editor's Choice
Cameras by themselves do not reduce crime; they need to be implemented as part of a considered strategy of crime prevention and detection.
Read more...
---
Big data operational and management requirements
November 2019, Leaderware , Editor's Choice
Big data offers huge advantages in enhancing or augmenting data, giving it added meaning and context, creating a broader perspective in which to view things, and adding to the value of data.
Read more...
---
Effectively securing large mines
October 2019, Veracitech, Technews Publishing, Dallmeier Electronic Southern Africa , Mining (Industry), Integrated Solutions
The vast areas covered by mining operations present security challenges such as the ability to provide effective perimeter protection and surveillance, while maintaining reliable communications between remote areas and control rooms.
Read more...
---
Improving mining safety through technology
September 2019 , Mining (Industry), Integrated Solutions
There is a strong connection between technology, cybersecurity and the physical safety of mineworkers; the more mining operations automate, the higher the cybersecurity risk.
Read more...
---
Enhanced biometric technology for mines
September 2019, ZKTeco , Mining (Industry), Access Control & Identity Management
Biometric identification and authentication are currently used at various mines in South Africa and in the SADC region.
Read more...
---
Multitude of solutions available for mining operations
October 2019, Axis Communications SA , Mining (Industry), CCTV, Surveillance & Remote Monitoring
Mines need to spend money on security just like all businesses do, and the economies of scale that apply to mining operations make some of the most advanced and expensive technologies somewhat more attainable than in many other applications.
Read more...
---
Improving access in mines
October 2019, Astra Fasteners , Mining (Industry), Access Control & Identity Management, Products
The VP1 controller provides full access control and remote monitoring of intelligent locks without having to wire into a network or install, manage and maintain software.
Read more...
---
Perimeter protection in Ghana
October 2019, AcoustAlert , Mining (Industry), Perimeter Security, Alarms & Intruder Detection
A gold mine in Ghana has erected a dual fence with AcoustAlert PIDS fence detection on both inner and outer fence lines.
Read more...
---
Adding value to mining security
October 2019, Cathexis Technologies , Mining (Industry), CCTV, Surveillance & Remote Monitoring
Cathexis offers users the ability to make key-decisions, based on intelligent information processing and take automated actions.
Read more...
---
Data overkill in control rooms
October 2019, Leaderware , Editor's Choice
New technology offers more information that can boost control room operators' efficiency, but how will this information be added to the control room?
Read more...
---