printer friendly version
Huawei holds Safe City Africa Summit in Cape Town
June 2015 IT infrastructure, Integrated Solutions, Security Services & Risk Management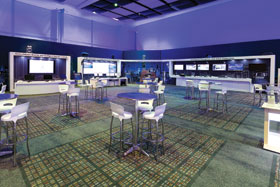 Huawei held its Safe City Africa Summit in Cape Town in April as a platform for more than 400 industry members to share insights, development trends and global success stories on public safety in cities and discuss ways to reduce crime and reinforce city safety through establishing innovative ICT safe city solution. Hi-Tech Security Solutions was privileged to attend the event.
At the Summit, Peng Li, president of Eastern and Southern Africa, Huawei, delivered a welcome speech, expressing that innovative ICT infrastructure is the foundation of building safe smart cities. He said, "In 2015, the 'Year of China' in South Africa, Huawei would like to reiterate our commitment to work hand-in-hand with our partners to provide Africa with innovative one-stop safe city solutions. These solutions will help to build safer and more harmonious urban residential, business and tourism environments to attract investment and increase employment for sustainable economic development."
Li also touched on Huawei's credentials for undertaking such massive projects. He said Huawei is a global information and communications solutions provider, posting sales revenue of US$46.5 billion in 2014 and ranking No. 285 in the 2014 Fortune Global 500 list. "Today, our telecommunications network equipment, IT products and solutions, and smart terminals have been deployed in more than 170 countries and regions worldwide, serving one-third of the global population. For more than two decades, we have been investing at least 10% of our annual sales income in research and development. About 45%, more than 76 000 of our employees, are in research and development. Globally, Huawei holds key posts in 183 standards and open source organisations and communities. By the end of 2014, Huawei had been granted a total of 38 825 patents, ranking No. 5 in the world."
In the eastern and southern Africa region, Huawei has established eight representative offices with over 2000 employees (55% are local employees) in 25 countries of the region. Huawei has also built two training centres, and one executive briefing centre in the region to better suit local market needs and provide customers with quality service. Huawei achieves sustainable growth in the area with CAGR 17%.

Huawei welcomes VIPs from various countries to the Safe Cities Africa Summit.
Accelerating urbanisation
The acceleration of global urbanisation and the proliferation of the Internet will drive the convergence of ICT and urban infrastructure. Countries worldwide are actively formulating plans for the development of safe and smart cities to seize new opportunities generated by global urbanisation. At the Summit, safe city project leaders from many countries including Madagascar, Kenya, Republic of Trinidad and Tobago, and the United Kingdom shared their experience on ICT best practices to enhance public safety with innovative ICT.
Dr Siyabonga Cwele, South Africa's Minister of Telecommunications and Postal Services, noted that a government was responsible for the safety and security of its citizens in their homes, businesses and communities, and it was therefore important to focus on creating safe and smart cities. Part of this incorporated advancing city life and security through the implementation of advanced digital platforms that help authorities deliver the environment everyone is looking for.
Randimbisoa Blaise Richard, Minister of Public Safety of Madagascar, said, "As a multicultural country, Madagascar has gone to great efforts to meet the increasing requirements of economic growth and social stability triggered by the acceleration of globalisation. Our major responsibilities are to maintain social order and combat crime, working to ensure that Madagascar is a safe country to live, travel, and invest in. To this end, we chose to cooperate with Huawei and adopt its safe city solution to protect both the lives and property of our residents."
Cwele and all the other speakers note that a smart city was a goal every city should be aiming for, but the foundation for a smart city is a safe city. Without the security of its people and businesses, a smart city is not attainable.
In his presentation, Richard Chace, chairman of the Global Security Industry Alliance (GSIA), noted that a smart prosperous city was one that incorporated five elements. These included providing for people's basic needs, infrastructure development, quality of life, equality and social inclusion and environmental stability. The hub of the safe and smart city was the local government and its laws and processes that made the five elements a reality (or not).
Chace added, "I'm very focused on how urbanisation trends around the world are driving the specification and implementation of safe city technologies and solutions. I feel very strongly that successful safe city programmes build heavily on well developed public-private partnerships that are designed to be 'win-win'. The best use of technology is the one driven by sound planning that first seeks to define problems and then match the right manageable solutions for the long term."
Making safe smart, and smart safe
Forrester Research Principal Analyst Jennifer Belissent, delivered a presentation titled Making Safe Smart, and Smart Safe, and spoke about the role of ICT solutions in protecting a city's safety and making cities safer and smarter. She went on to explain, "Urbanisation means that a growing population depends on cities to meet their social, environmental and economic needs. Safety is fundamental to those needs, and public safety is a concern of city leaders -- whether it's preventing crime, reducing infant mortality or mitigating the effects of natural disasters. Better access to data and new analytics tools makes that job easier. A safe city not only improves live-ability, but also encourages economic growth and ensures sustainable development. And, that makes safety a key element of any smart city. "
She also highlighted that a safe city was not only necessary for its citizens, but it created a city's unique experience and attracted businesses to the area, which in turn benefits everyone in the city. The building blocks for a smart city (a virtuous cycle), according to Belissent, are:
Awareness: Cameras, sensors, meters etc., that are used to monitor the city and its various critical services – such as hospitals, emergency services and so forth.
Analysis: Data management and analytics, i.e. big data analytics. This can take the form of licence plate recognition and the broad distribution of relevant information to the correct people at the right times.
Alternatives: Business intelligence, dashboards. Inter-agency data sharing and collaboration improves process efficiency, and ultimately intelligent response results.
Actions: Processes and operations, service delivery, policies and programmes. This includes better engagement between all the parties involved.
Open cooperation safe city solutions
With a focus on ICT infrastructure, Huawei innovates with its partners and customers to provide a one-stop safe city solution. Working with leading IT solution providers including Hexagon and SAP, Huawei develops solutions to address actual customer needs. Huawei also provides services to government customers through channel partners including Telkom, MIS, Reutech, IRT and Mustek.
Huawei's Safe City Solution enables complete visualisation of incident handling processes and comprehensive convergence of commands. It seamlessly integrates eLTE broadband trunking, video surveillance, unified communications (UC), and video conferencing systems with a Computer Aided Dispatch (CAD) system to achieve the visualisation of command and dispatch. Leveraging the intelligent video analysis system based on big data, the solution can quickly and precisely extract clues from massive volumes of video data. This facilitates active prevention before incidents, quick response during incidents, and precise retrieval after incidents in public areas. To date, Huawei's Safe City Solution has been deployed in more than 100 cities across 30 countries around the world.
The Safe City Africa Summit featured keynote speeches and breakout sessions, and gathered government administrators, customers, partners, and industry experts, including Dr Siyabonga Cwele, South Africa's Minister of Telecommunications and Postal Services, Mmamoloko Kubayi, South Africa's Chairperson of Telecommunications and Postal Service Committee, Randimbisoa Blaise Richard, Ministry of Public Safety of Madagascar and Yansong Rong, Economic and Commercial Counsellor of the Chinese Embassy of South Africa.
Demonstrating the technology
Rose Moyo, wireless solutions director, Huawei Enterprise Solution Department, Eastern and Southern Africa Region, ended the formal presentations with a demonstration of some of Huawei's technology. The company set up an eLTE network (eLTE is Huawei's enhanced LTE technology, find out more at https://goo.gl/JQzxyQ) and showed how a potential safe/smart city would be able to communicate and resolve situations through the use of technology.
Huawei provides a central command and control management platform that offers APIs to third parties, allowing them to integrate almost any system into the safe city platform. In the demonstration, some of the Huawei technologies that were on display in the exhibition area of the summit were used to communicate, sometimes over radios that offered visual video displays of the incident, linked to a drone flying outside providing aerial coverage.
All the systems were linked via eLTE, which allows cities to implement and manage their own broadband wireless communications. This infrastructure can be used for a variety of communications formats, as the control centre is able to link disparate communications to allow various people with different technologies to communicate in real time – from Tetra radios to smart phones, to landlines and IP phones. This 360-degree communications capability ensures that city and all its services are able to view all they need and keep in contact at all times to ensure all actions are coordinated and effective.
Already in operation in many cities, in July 2014, Huawei was selected as the sole provider of Ethiopia's light rail communication system in Addis Ababa, to implement Africa's first comprehensive commercial eLTE communications infrastructure for urban railways built with its eLTE technology, high-performance storage and high-definition video monitoring.
For more information on Huawei's safer city solutions, please contact Sophia Liu, Huawei, +27 (0) 86 001 8000, sophias.liu@huawei.com, www.huawei.com
Further reading:
Video surveillance multicast networks made easy
Issue 1 2020, Duxbury Networking , IT infrastructure
Many businesses are struggling to realise the full potential of modern video surveillance technology due to limitations of the underlying network.
Read more...
---
Three data protection predictions for 2020
Issue 1 2020 , IT infrastructure
Byron Horn-Botha from Arcserve Southern Africa relates the company's top three data predictions to be on the alert for in 2020.
Read more...
---
An open foundation for 2020
Issue 1 2020 , IT infrastructure
The migration to open hybrid cloud technologies will be the way to go as we head into the new decade.
Read more...
---
Will 5G be the answer to all prayers?
Issue 1 2020 , IT infrastructure
There is a lot of understandable confusion about the role Wi-Fi will play once 5G arrives, and how they might work together.
Read more...
---
So what is 5G?
Issue 1 2020 , IT infrastructure
With all the noise about 5G, Hi-Tech Security Solutions asked Deon Geyser, head of the Southern Africa sub region at Nokia for some insights.
Read more...
---
Looking ahead with mobile access technologies
Access & Identity Management Handbook 2020, Technews Publishing, HID Global, dormakaba South Africa, Salto Systems Africa, Suprema, Gallagher , Access Control & Identity Management, Integrated Solutions
Given the broad use of smartphones around the world and the numerous technologies packed into these devices, it was only a matter of time before the access control industry developed technology that would ...
Read more...
---
From physical security to cybersecurity
Access & Identity Management Handbook 2020, Genetec , Cyber Security, Security Services & Risk Management
Genetec discusses the security-of-security concept as a means to protect cameras, door controllers and other physical security devices and systems against cybercriminal activity.
Read more...
---
Scalable access solution
Access & Identity Management Handbook 2020 , Access Control & Identity Management, Integrated Solutions
Bosch Building Technologies makes access management simple, scalable and always available with Access Management System 2.0.
Read more...
---
Biometrics in identity
Access & Identity Management Handbook 2020 , Access Control & Identity Management, Security Services & Risk Management
With multiple identity providers offering to manage digital identities for the general public, the root identity – the single sovereign trusted identity upon which all others are based – must start with government.
Read more...
---
Securing perimeters of secure locations
November 2019, Axis Communications SA, Modular Communications, Hikvision South Africa, Nemtek Electric Fencing Products, Technews Publishing, Stafix , Government and Parastatal (Industry), Perimeter Security, Alarms & Intruder Detection, Integrated Solutions
Hi-Tech Security Solutions asked a number of companies offering perimeter security solutions for their insights into protecting the boundaries of national key points.
Read more...
---