printer friendly version
Are you not entertained?
April 2018
News
You will notice that your parcel from Hi-Tech Security Solutions this month is a bit larger than normal. In addition to the April issue you will also receive the CCTV Handbook 2018, consisting of 104 pages of insights into the world of surveillance. One of the hot topics in the handbook is cybersecurity, which will come as a surprise to nobody.
Coincidentally, cybersecurity is also a feature in the April edition (again, no surprise) and one of the articles highlights how cameras from one manufacturer put customers at risk. Fortunately, by the time you read this the problems will be fixed.
But this is where the real cybersecurity issue comes into play. The vendor and the security company worked together to sort out the problem quickly, before the news was made public – which is as it should be. Software today is far too complex to never have a problem, so the ability and willingness to deal with issues quickly as they arise is crucial.
However, although we all complain about Microsoft and its regular, horrible updates and bug fixes, surveillance cameras have no auto-update feature. This means it is up to installers and integrators (or the end users themselves) to update the firmware of their systems. So the question is, in an environment where price often makes the sale, will your service providers be paying attention to your installation and making it a priority to come and update your firmware? Similarly, will the end users even be aware that there is an update available, and if they are, will they install it with the necessary urgency?
When you're talking about large installations, things will probably get done, but what about the smaller installations? Will your SME or residential market, for example, be as proactive?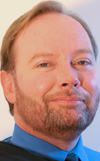 This month we also cover security in the entertainment industry, which we hope is functioning as required, as some of us may need to go and watch a game to forget about all our cyber stresses. Or you could peruse Hi-Tech Security Solutions in the comfort of your own home with a glass of your favourite beverage. The physical magazine doesn't require battery power, won't crack if you drop it and should be free from viruses unless the person delivering it didn't wash their hands after having polony for lunch.
I'll leave the non-South African readers to google what that's all about.
Andrew Seldon
Editor
Credit(s)
Further reading:
ONVIF introduces Profile M Release Candidate
Issue 7 2020 , News
ONVIF has introduced its Profile M Release Candidate for standardising the communication of metadata and event handling of analytics for smart applications.
Read more...
---
T-Systems and Fortinet launch cyber academy
Issue 7 2020 , News
T-Systems South Africa will be introducing cybersecurity education programmes to create a specialised Cyber Security Academy incorporated into the organisation's existing ICT Academy.
Read more...
---
New cyber-insurance offering
Issue 7 2020, Vox Telecom , News
The first-of-its-kind cyber protection solution from Vox and King Price Insurance will alleviate key business continuity risks for SA companies.
Read more...
---
LD Africa partners with Milesight
Issue 7 2020, LD Africa , News
LD Africa is now an approved partner of Milesight's security and surveillance solutions in South Africa.
Read more...
---
Secure cloud VMS in an app
CCTV Handbook 2020, Mobotix , CCTV, Surveillance & Remote Monitoring, News
Mobotix has launched a new cyber-secure cloud video management system that enables complete video management of local cameras via an app.
Read more...
---
From the editor's desk: The more things stay the same
CCTV Handbook 2020, Technews Publishing , News
It is rather redundant to say that the surveillance industry is going through significant changes and that there are some incredible advances in technology happening. You can read about a small number ...
Read more...
---
There's an app for that (your camera)
CCTV Handbook 2020, Technews Publishing , CCTV, Surveillance & Remote Monitoring
In last year's CCTV Handbook we looked at an organisation named Security & Safety Things (S&ST) and its goal of developing an open operating system (OS) for surveillance cameras based on the Android Open ...
Read more...
---
The future of open standards
CCTV Handbook 2020, Milestone Systems, Technews Publishing, Avigilon , Editor's Choice
Despite the many benefits of open standards, some companies still produce proprietary solutions. Are the surveillance and broader security markets still committed to open standards?
Read more...
---
The impact of AI on surveillance
CCTV Handbook 2020, Technews Publishing, Axis Communications SA, Hikvision South Africa, Cathexis Technologies, Dahua Technology South Africa , Editor's Choice
Artificial intelligence is a popular buzzword in the security industry that has us expecting real-life science fiction, but what is its real impact?
Read more...
---
The new operator
CCTV Handbook 2020, Bidvest Protea Coin, Technews Publishing, Leaderware, Rhyco Risk Projects , Integrated Solutions
With technology doing more work in control rooms today, do operators need new skills to be able to add value? Are they still needed?
Read more...
---