printer friendly version
Beyond the hype: tomorrow's surveillance, today's reality
April 2018 Editor's Choice, CCTV, Surveillance & Remote Monitoring, Cyber Security, Integrated Solutions, IT infrastructure, Conferences & Events, Training & Education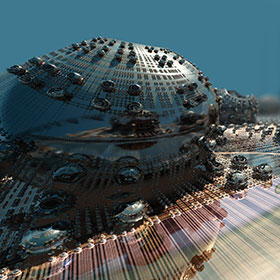 The Crowne Plaza in Rosebank, Johannesburg, was the setting for the 2017 iLegal conference, a joint venture between Dr Craig Donald and Hi-Tech Security Solutions. Once again, the conference lived up to its reputation and saw a host of presenters offering insights and advice into a range of aspects related to the surveillance world.
The title of this year's iLegal was 'Tomorrow's surveillance – today's reality, the social, operational, legal and strategic implications.' The conference examined new and improved applications of surveillance technology and what they offer businesses today in terms of safety and security, as well as the legal and ethical implications we face when using these solutions.
It always feels like somebody's watching me
This keynote speaker was Dion Chang from Flux Trends. His presentation provided insight beyond the security world into how surveillance technologies are being used generally, and how they will continue to become a more integrated part of people's lives going forward, in both a positive and negative sense.
Chang tracked 'a day in the life' of a cyber citizen to illustrate just how dependent we've become on our digital eco systems, which ironically is parallel with our growing concerns for privacy. He covered everything from smart houses to self-driving cars, from convenient payment systems to toys embedded with AI and facial recognition, to the emergence of real robocops patrolling our streets – already a reality in places like Dubai.
He also mentioned how facial recognition and behavioural biometrics is becoming a key area of surveillance, noting how, for example, China is on a multi-year mission to cover several large cities with surveillance cameras capable of recognising people's faces and their unique traits – such as the way they walk and so forth.
While the advance of technology is unstoppable, the security element is something we need to take much more seriously. It's not simply about being hacked or inconvenienced, but as technology gets more personal, a slip in security could expose intimate and sensitive details about our lives. The hacking of baby monitors that allowed strangers to speak to children over the Internet is simply one of the examples of how poor security can be a serious problem. And then there are other issues such as identity theft, hacking your self-driving car and causing it to crash and so on.
Security and human rights
Following Chang, Martin Hood from MJ Hood Associates offered attendees some insights into the human rights implications of surveillance as it relates to the South African constitution. For the security monitoring industry, the Bill of Rights makes it clear that everyone has inherent dignity and the right to have their dignity respected and protected. The right to privacy was also included in this legislation, including the prevention of searching people's person, property and home without legal authorisation.
South Africans also have the right of freedom of expression, which includes the right to assemble and move around freely. Given the history of the country, it is not impossible that people will see security operations as infringing on these rights and in these situations, the security industry should be able to understand the perception and contextualise it in a manner than everyone can understand.
More importantly, however, Hood said the security industry must make sure that its data collection is done in accordance with the law and does not violate any of the above principles (and many more). This is tricky as there are no clear guidelines as to 'acceptable' video surveillance. A rule one can use is that you can't record someone if they are in an area where they have 'reasonable expectation of not being the subject of surveillance.' For example, in changing rooms or in their own homes.
What is clear is that information can not be collected without the knowledge and consent of the subject(s), and this collected data will soon have to be held in accordance with the PoPI regulations, which are strict about what information can be held, where and how it is held, who has access to it, and the right of individuals to ask for and receive data about what information an organisation has about them. Of course, PoPI applies to all sorts of data, not just video.
The next challenge, according to Hood, is how you use or process the information. Hood's final advice if you are not sure your surveillance is 100% legal: "Always take the initiative and pre-empt the issue before it becomes a problem."
CCTV and crowd management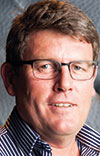 Shannon Patrick.
The next presentation by Shannon Patrick from South Deep Gold Mine took this idea further when he spoke on the realities of crowd management and how to develop strategies for dealing with large crowds. He started by mentioning that crowds are almost an independent lifeform and have unique characteristics from the individuals that comprise them.
Not all crowds are intent on causing harm and they can be formed for a variety of reasons, from people queuing or waiting for something or someone, spontaneous onlookers to an event and the famous one in South Africa, crowds formed in protest marches or demonstrations.
When dealing with crowds, the security operative needs to be prepared for the event. A grade D guard will not handle an aggressive crowd as the unique characteristics of this entity requires experienced personnel to manage them. Patrick says preparation and calm are essential, as is planning your response and making sure minimum force is used.
Part of preparing for crowd management is to ensure your surveillance systems are ready for the event. This could mean placing additional cameras at strategic locations. You need to be able to capture the big picture as well as zone in on individuals in certain circumstances. You also need to ensure that your CCTV operators are aware of their responsibilities in the heat of the moment and have reliable mechanisms to communicate with people on the ground.
The key is information. You need as much information as possible, both before and in real time to ensure your responses are not only reactive and consequently sub-standard, but preferably proactive to void any unpleasant consequences. As always, your reaction to the crowd will be limited by law and security operations should always ensure they work within the boundaries of the law when dealing with crowds.
Know what you're looking for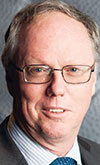 Dr Craig Donald.
Dr Craig Donald was also on hand to offer his insights into the world of CCTV surveillance and the requirements control rooms should have of their operators. We live in a world where we have relied on physical guarding for a long time, but we are in the process of moving to a situation where surveillance technologies are taking some of those manpower jobs over.
Your security, therefore, increasingly rests in the hands of your operators and it is therefore vital that they are trained to do the job properly. This is supported by technology such as workstations and the environment they work in, which should be tailored to get the best performance from your operators. It's a cliché by now, but the best technology is useless unless you use it properly. In a control room environment, best practices should be standard practices to realise a return on your investment.
The standards employed in the design and set-up of your surveillance operation was also a topic of discussion. A best guess is always inferior to a properly analysed, planned and designed solution.
Being an operator is not a matter of simply watching a screen until something happens, Donald says it's a matter of understanding your environment and what people do in that environment in order to be able to identify activities deemed suspicious or out of character, potentially preventing a crime or getting the right response personnel there much faster.
Donald showed the audience some videos to support his arguments. In all of the videos, it was clear (once pointed out to the audience) that certain people under observation were planning something illegal, whether stealing a handbag or robbing a jewellery store. He explained that reading the would-be perpetrator's body language allows for better insights into potential problems, allowing the security team to prevent an event from happening rather than waiting for something to happen before reacting.
The importance of training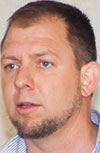 Adriaan Bosch.
Adriaan Bosch, the chairman of ASIS South Africa gave an overview of the importance of effective and relevant training in the security industry. Bosch lamented the fact that while there are many training opportunities in the security industry, covering skills from technical to risk management and best security practices, too few people are taking advantage of them.
The result of this is people who don't understand the full scope of what they are doing and the security operation suffers as a result. Experience in the police force or military is no doubt beneficial in a security context, but there are many additional skills risk and security managers need.
Moreover, despite the large number of unemployed people in the security industry, there is still a lack of talent in this field. Of course, this is not a uniquely South African problem (apart from the ridiculous unemployment numbers). He quoted Harvard Business Review of 2013 which noted that 16 out of 24 leading CEOs listed talent management as their top concern.
Additionally, a Financial Times report titled Baby Boomers Effect, noted that Volkswagen is looking at robotics to cope with a staff shortage caused by retiring baby boomers. While this may not be a South African problem, the concept is not foreign. South Africa has a disturbingly large number of young people unemployed with many of them said to have given up looking for a job.
This brought Bosch to another problem in the security industry, that of the lack of young people (under 40) in the industry. It is not a problem having older people in leading roles as they have the experience to effectively do the job, but what about the succession planning? Who is being coached to take over when the oldies retire?
Of course, Bosch also spoke on dealing with risk and the best practices security operations should take in ensuring they meet the expectations of their organisations, using both public and private security operatives. Issues discussed included the necessity of effective incident management as well as a "crime to court" approach.
Bosch ended his presentation with a look at the security professional of tomorrow. This individual will need:
• A wide range of physical and technical knowledge, skills, and abilities.
• Competency in information systems, project management, communication systems, incident management, investigations and resource management.
• A greater need for communicating and the ability to strengthen relationships with peers in the private and public sector.
Without training and coaching, who will make that grade?
Safe and smart
Just in case anyone was still uncertain about the complexity of managing risk in today's environment, independent consultant Heinrich van Eck was next up. He provided some insights into what really matters and what is necessary when setting up a smart city. In his words, a smart and safe city is "a complex maze of divergence and convergence. It is a multifaceted and complex endeavour."
The full scope of what he was able to convey to the audience is too long for one article, but some of his insights included the need for proper planning. Knowing your environment and what is expected of your final solution is the most important first step.
This allows you to develop a strategy to accomplish all the goals, and will probably mean you require a phased approach. Once you have your strategy mapped out, then is the time to look at what technology will meet the demands of your project.
Van Eck also touched on a project he has been involved with for years. He has managed the development of a local smart city from the first idea to the current stage of the implementation in which everyone travelling on the roads within the city is under constant camera surveillance (from more than one camera), with response teams ready to respond to anything, from someone who is lost to those with criminal intent.
He was clear that technology, although important, is not the end of the story. In this project, many products were tested before the final decision was made as to which brands were to be used. Van Eck said it is crucial to have the right employees on the ground and in the control room, with the right training and paid a decent wage to ensure they make optimal use of the technology. And, of course, he stressed the need for effective integration between products to ensure a seamless security experience.
Technology focus

L to r: Warren Myers, Vanessa Tyne, Brent Cary.
Just before the lunch break, three technology companies were invited to participate in a panel discussion about a variety of technical and operational questions pertinent to the security industry. The participants were:
• Vanessa Tyne from Axis Communications,
• Warren Myers from Myertal Tactical Security, and
• Brent Cary from Genetec.
The questions this panel answered ranged from inquiries on camera technology, such as lenses, low-light functionality, edge analytics and more. Other areas covered included remote monitoring and video management, as well as the all-important question of integration.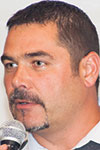 Brendan Cowley.
After lunch, the last three events of the day continued the focus on technology. The first was a panel discussion facilitated by Dr Craig Donald in which local experts provided some insights into thermal cameras and their capabilities, including some end user experiences of what these cameras can do to assist security operations.
The members of the panel were:

Ankia Swart.
• Brendan Cowley, C3 Shared Services
• Ankia Swart, Anglogold Ashanti
• Philip Schmerkovitz, TeleEye SA
• Rob Anderson, Adamastor Consulting

Philip Schmerkovitz.
The discussion included a number of current uses of thermal cameras, including perimeter and other areas, as well as a few insights into what we can expect from these devices in future and the new functionality they will deliver. Needless to say, while there are those who would still like to see reduced restrictions on what type of thermals are allowed to be sold to non-government organisations, but that is unlikely, but the 'permissible' technology is advancing significantly and delivering enormous benefits to users.
Another area in which we have seen significant improvements in terms of thermal surveillance was in the area of video analytics. From detecting fires before they become large and dangerous, differentiating between humans and animals, and everyone's favourite, thermals on drones, thermal cameras have become a standard part of the security and risk management framework. In addition, the use of thermal imaging is being used in different industries with equivalent success rates.
Ankia Swart was able to take the conversation into a more practical space with supplementary information on how her security team makes use of thermals to support its surveillance and security operations.
Come fly with me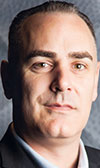 Mark Paynter.
Having briefly mentioned drones (or unmanned aerial vehicles) in the panel discussion, Mark Paynter from Securitas sub-Saharan Africa delivered a presentation looking at what was happening in the world of drones, from what technology is in the air now and what it is being used for, through to what is still to come and the potential for this technology. Paynter focused primarily on the security industry, but as with so many technologies, he mentioned other industries and markets where drones are also having an impact – and there are many.
Getting the boring stuff out of the way first, Paynter provided some information about the legal aspects of using drones, laws that make the legal use of these devices quite cumbersome. While recreational use has less legal burdens, commercial drone use is subject to a range of regulations companies and their pilots must adhere to.
Thereafter, Paynter provided an overview of the main types of drones around today: single- or multi-rotor, fixed-wing and helicopter UAVs (and also tethered drones which seem to fall into a legal loophole). He also mentioned where these are best used and their capabilities, such as the height they can reach, cost, stability, power issues and speed. He then touched on the challenges and risks of using drones, focusing on the privacy aspect in particular.
Paynter also looked at some real-world scenarios where drones are in active use today, including in commercial, policing, military and other areas. And if you are worried about a drone invasion of your privacy, he also mentioned some anti-drone technology you can make use of – including birds of prey.
Security is cyber, cyber is security
The final presentation of the day was delivered by Bernard Senekal, MD of Naxian. He delved into the world of cybersecurity and IoT, noting how these issues are not something to be left to the 'IT guys', but are integral to the physical security function today – and will be infinitely more important in the future as we fully enter the world's fourth industrial revolution.
Senekal went on to describe what the Internet of things (IoT) is and why it is important. He also made the point that even though technology is improving and things are getting smarter, this has not meant smarter in terms of security. We are seeing an increased speed of change in terms of technology, more devices doing things that were unheard of a few years ago and many offering 'free' applications, but security has been the last consideration for everyone.
To back up his statements of how things have become smarter but not necessarily more secure, Senekal showed a video demonstrating how easy it is to compromise a company, its people, its data and its future by ignoring cybersecurity issues in seemingly irrelevant devices like a printer.
iLegal 2017 was a great success and the overall impressions of the delegates was that the event was relevant and insightful, offering real and valuable information for security decision makers and operations personnel. Hi-Tech Security Solutions would like to extend our thanks to the delegates for taking the time to attend the conference as well as to the speakers who spent a significant amount of time preparing their presentations and delivering them on the day.
iLegal will be back in early 2019, keep an eye in www.ilegal.co.za for more details.
Credit(s)
Further reading:
TAPA: The role of an effective treasury function in business risk management
June 2019, Technews Publishing , News
Neil Le Roux, the Founder of Diligent Advisors will speak at the TAPA SA (Transported Asset Protection Association) annual conference on 26 July 2019.
Read more...
---
Platforms are us
September 2019, Technews Publishing , News
A conversation I had at the recent Residential Estate Security Conference Hi-Tech Security Solutions hosted in August (which will be reviewed in the October issue) got me to thinking about the security ...
Read more...
---
Shorten your checkout lines to enhance customer experience
September 2019, Hikvision South Africa , Retail (Industry), CCTV, Surveillance & Remote Monitoring
Hikvision's queue detection technology is purpose-built to offer cutting-edge flow analysis to retail outlets and any situation where waiting to pay is required.
Read more...
---
Constructive CCTV contributions to research
September 2019, Leaderware , Editor's Choice, CCTV, Surveillance & Remote Monitoring
Study leads to understanding that we need more recognition and reward for constructive participation in society.
Read more...
---
TAPA conference 2019 explores layered approach to security
September 2019, Technews Publishing, TAPA (Transported Asset Protection Association) , News, Transport (Industry)
The Transported Asset Protection Association (TAPA) held its annual South African conference at Emperors Palace in Johannesburg on 26 July 2019.
Read more...
---
Managing staff effectively
September 2019, dormakaba South Africa, iPulse Systems , Integrated Solutions, Access Control & Identity Management
Workforce management solutions allow organisations to track the relationship between productivity and the cost of employment, incorporating issues such as health and safety, T&A, rostering and more.
Read more...
---
Ensuring a seamless ultra-wideband ecosystem
September 2019 , Editor's Choice, IT infrastructure
FiRa consortium ensures an interoperable ultra-wideband technology ecosystem across chipset, device and service infrastructure through standards and certifications.
Read more...
---
New Africa sales manager for Axis Communications
September 2019, Axis Communications SA , News, CCTV, Surveillance & Remote Monitoring
Axis Communications has appointed Brendon Hall, previously the founder and MD of Pentagon, as its new sales manager, Africa.
Read more...
---
Check Point appoints new regional director for Africa
September 2019 , News, Cyber Security
Check Point Software Technologies has appointed Pankaj Bhula as regional director for Africa.
Read more...
---
ISO standard for protecting personal data
September 2019 , News, Cyber Security
Tackling privacy information management head on: first ISO standard for protecting personal data has been published.
Read more...
---