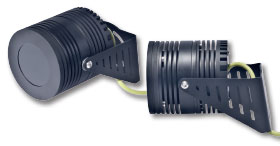 Local is illuminated
April 2018, This Week's Editor's Pick, Products
Local surveillance lighting company, Green Illumination Systems (GIS) has launched the latest in its line of locally designed and manufactured lighting products. The new Enlighten range of eco-friendly lights has been through a three-year cycle of development to get the design and manufacturing right for the local environment.
Roston Sadie, MD of GIS says the goal in designing the new range was not simply to provide another light for the surveillance market, but to focus on the functionality and ability to ingrate the systems with different products.
Machined from pure technical grade aluminium and fitted with Double Stack Osram LEDs and adaptable optics (infrared is also available), Sadie says the Enlighten range of products are durable, upgradable and serviceable. The lights have also been designed for tough African conditions and are IP67 rated with a 5-year warranty. The lens is also vandal-proof and has a 30-year guarantee against cracking or fading.
Because they are manufactured locally, repairs and spare parts are easily available (and 99% recyclable), and will be cheaper in the long run than sourcing parts from overseas suppliers. GIS promises a maximum of 2-weeks fix-and-return for any repairs. Moreover, the products were designed for longevity and can be upgraded to newer versions without having to discard the housing.
To ensure maximum environmental efficiency the systems' internal power supply operates at 97% efficiency and operates on 12 V or 24 V solar batteries. Sadie says this makes it the optimal solution for solar powered lights out in remote areas.
In addition to focusing on the hardware, GIS has also made the Enlighten range more user-friendly and they can be integrated with various management systems via the GIS API or via standard contacts. To make is as simple as possible, the lights are easily wired into an existing surveillance setup and can be switched on or off, dimmed or a flashed as required.
After a long process of getting the design and materials right for the local environment, Sadie says the Enlighten range is now available.
For more information, contact Green Illumination Systems, +27 (0)71 560 4151, roston@gis-sa.net. www.gis-sa.net.