printer friendly version
Making smart cities see
CCTV Handbook 2018 CCTV, Surveillance & Remote Monitoring, Integrated Solutions, IT infrastructure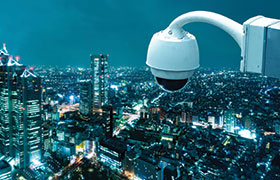 A smart city is an urban environment that integrates information and communication technology (ICT) with Internet of Things (IoT) technology in a secure fashion to manage a city's assets. Cutting-edge technology is required to make a city like this work, and video management software plays an important role in making the establishment of a smart city a success, but not only for the obvious reasons such as securing assets and people. The visual data gives so much more information to the city's management, as they gain accurate situational information just by looking at the video feeds.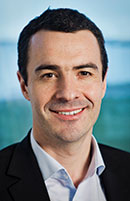 Christian Ringler.
Global City Surveillance Market Forecast to 2022, new research from Frost & Sullivan's Security Growth Partnership Subscription, finds that spending will increase across the city surveillance industry due to decreasing Internet Protocol (IP) network camera prices and continued improvements in analytics, video management software (VMS), and smarter storage technologies.
A smart city needs to see
Large cities like Singapore are ready to harvest the benefits of intelligent video. In its ambition to become the world's first smart nation, Singapore has identified five domains in which technology will have an impact: transport, home & environment, business productivity, health and enabled ageing, and public-sector services.
Like Singapore, Dubai also launched a Smart City initiative with a boldly stated goal: "We are making Dubai the happiest city on earth by embracing technology innovation, making Dubai a more seamless, safe, efficient and personalised city experience for all residents and visitors."
Led by the Smart Dubai vision, over 100 smart initiatives and more than 1000 smart services by two dozen government departments and private sector partners were delivered in less than three years. This year, the government of the UAE announced a Strategy for Artificial Intelligence and appointed a Minister for AI. According to H.H. Sheikh Mohammed: "AI is the new wave after the Smart Government upon which all our services, sectors and future infrastructure will rely."
The key to manage smart cities
Video plays an important role in the smart city concept. And the amount of digital video to keep citizens safe and protect city assets is rising sharply. Data from sensors and alarms are being added, in order to give better evaluations from the systems. With all this happening, we need to scale out – and more operators are not the way.
Video intelligence will save time and money
The big question is – how do we handle all this data securely and intelligently to help us make optimal decisions? At the same time, we need to improve safety levels and react faster. The only way to deal with all the visual data is to get help from intelligent video management systems that enable the operators to take better decisions more quickly and proactively avoid incidents. The ability to react faster to any incident will limit the impact and the cost of handling the incident. The ability to ward off incidents with predictive abilities in the VMS would be even better. Luckily this is actually the next phase in the digital video evolution that the Milestone Systems open platform architecture has started.
Learning systems in the future
Intelligent learning technologies are now advancing video content analysis far beyond the capabilities of legacy, rule-based analytics systems. Today, rather than just evaluating a few pre-defined situations, intelligent video technology can learn directly from the video about objects and their normal relations and behaviour. The system will then alert the operator to unusual activities with a qualified recommendation. This leads to better-informed decisions and higher efficiency.
In the longer term, we believe these learning abilities will lead to predictive systems alerting the operator before an incident might happen. This will be a major time saver. But the VMS has to be prepared for the onrush of data in order to respond fast enough. This means deploying hardware acceleration to a high degree and integrating intelligent learning systems. This is happening right now with our VMS software.
The next steps are steps we take together
This step into the world of intelligent video is not a step any VMS manufacturer can take alone. There is a need for highly specialised knowledge, and new specialised services. This can only be achieved in a community context. For us there is no doubt that the Milestone community of alliance partners will bring the needed functionality, devices and infrastructure to boost intelligent video solutions. This will give our integration partners new possibilities for delivering innovative solutions today for the cities of tomorrow.
Future cities are cities with vision
Future smart cities will also contain smart, intelligent buildings with their own micro-infrastructure connected to sensors around the city. And the potential is vast as we are most likely to see an increase in the connectivity between water sensors, heating sensors and electricity sensors with video management software, cameras and data centres – which is basically what constitutes the infrastructure of a smart city.
Smart city buildings will be sensors and at the same time clients in the city's information infrastructure. This could enable buildings to collaborate. One example of this is parking – one building could rent free parking space to another building, where a large meeting is taking place. Open platform video management software and its ability to integrate with other technologies will be a prerequisite for ensuring smoother and more efficient operations once transportation, public information systems and law enforcement are truly connected.
A couple of other examples of how video management software can be used smartly – and way beyond security – is to increase efficiency in public operations. Thailand's largest state-owned power producer is now using Milestone's scalable and cost-efficient open platform video management software to cut labour costs by 35 percent and improve safety and security.
Video management software could and should play a vital role in the technological community that forms the basis of smart cities and nations, so if the security industry wants a slice of the cake, it's time to start thinking far beyond traditional applications.
For more information contact Milestone Systems, +27 (0)82 377 0415, arms@milestonesys.com, www.milestonesys.com.
Credit(s)
Further reading:
Mitigating the human risk
Issue 5 2020, Managed Integrity Evaluation, Technews Publishing, iFacts , CCTV, Surveillance & Remote Monitoring
Hi-Tech Security Solutions asked Jennifer Barkhuizen and Jenny Reid for some information around background screening and vetting of potential new hires.
Read more...
---
XProtect available on AWS
Issue 5 2020, Milestone Systems, Technews Publishing , Editor's Choice
Milestone recently announced the availability of XProtect on Amazon Web Services. Hi-Tech Security Solutions asked Keven Marier for more information.
Read more...
---
The evolution of security in residential estates
Residential Estate Security Handbook 2020 , Editor's Choice, Integrated Solutions, Security Services & Risk Management
Two large estates discuss their security processes and the ever-expanding scope of responsibilities they need to fulfil.
Read more...
---
Home-grown, cloud-based safety and security solutions
Residential Estate Security Handbook 2020 , IT infrastructure, Integrated Solutions
BeSecure has taken security and communications technologies and turned them into what is best described as care and safety solutions for the estate community in South Africa.
Read more...
---
Teaching old cameras new tricks
Residential Estate Security Handbook 2020, Deep Data , CCTV, Surveillance & Remote Monitoring
Dr Jasper Horrell and Mark Smuts from DeepAlert reveal how estates can upgrade their existing surveillance infrastructure to include the latest AI-enhanced analytics, without buying new hardware.
Read more...
---
Thermal continues to evolve
Residential Estate Security Handbook 2020, Technews Publishing, Axis Communications SA, Bosch Building Technologies, Dahua Technology South Africa , CCTV, Surveillance & Remote Monitoring
Thermal cameras have made an enormous impact to perimeter security, with more to come as artificial intelligence enhances analytics.
Read more...
---
Automated estate protection
Residential Estate Security Handbook 2020, Axis Communications SA , CCTV, Surveillance & Remote Monitoring
Marlenique Estate makes use of an end-to-end Axis Communications solution, installed by Energize Technology Africa for automated security. Automated estate protection.
Read more...
---
Integrated security management system
Residential Estate Security Handbook 2020, Protoclea Advanced Image Engineering , Products, CCTV, Surveillance & Remote Monitoring, Integrated Solutions
Phorcas is a security information system developed by Protoclea designed to integrate multiple sub-systems into a powerful crime fighting solution.
Read more...
---
Serverless ANPR solution
Residential Estate Security Handbook 2020, XtraVision , CCTV, Surveillance & Remote Monitoring, Products
Serverless ANPR automatically controls the movement of up to 1000 listed cars through barriers and provides carpark management information.
Read more...
---
Bosch launches a fully open camera platform
Residential Estate Security Handbook 2020, Bosch Building Technologies , Products, CCTV, Surveillance & Remote Monitoring
Bosch has announced the launch of INTEOX, a new camera platform designed to modernise the security and safety industry.
Read more...
---