printer friendly version
Lighting up thermal imaging
CCTV Handbook 2018
CCTV, Surveillance & Remote Monitoring
Thermal cameras are old school in the commercial environment now, thanks to the dramatic lowering of their costs over the past few years. That's not to say thermals are cheap, but they are more attainable for security conscious environments.
And while many companies are selling thermals, the old adage of making sure you get the camera that can do the job still applies. In the thermal market, arguably, cheaper can mean an even bigger problem than in optical cameras. This applies specifically to the analytics that take a thermal image and make something of it – an area that is becoming more important as software developers deliver better solutions than ever before.
To find out what is happening in the thermal industry, Hi-Tech Security Solutions put some questions to two companies. The answers are provided by:
* Brendon Cowley, business development director, C3 Shared Services, and
* Laurence Smith, director, Graphic Image Technologies.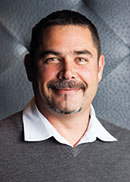 Brendon Cowley.
Hi-Tech Security Solutions: How have thermal cameras advanced over the past few years?
Cowley: The thermal imaging market has drastically improved.
Thermal camera applications have now become broadly available in the commercial market and not just being used for military and defence organisations anymore.
The following technical aspects have also improved:
* Resolution.
* Better image processing.
* More video and communication protocols.
* Various lens options for the cameras.
Laurence Smith.
Smith: There has been a strong drive for analytics at 'the edge'. In the past, the thermal image was the most critical aspect and there was a curiosity about the products and the performance, seeing in the dark and in most weather conditions. In recent years there is often a demand for using the thermal camera as a detector with built in analytics, the performance of the analytics has become a focus and FLIR has invested heavily in this area of development. In addition, the ability to work with specialised third-party analytics companies is important.
Hi-Tech Security Solutions: What further changes can we expect to see in the next two to three years?
Cowley: In the next few years, we will see higher resolution of XGA (Extended Graphics Array) as a standard so we will get a wider FOV (field of view) for the same ranges. The cooled technology is improving to provide lighter solutions and longer MTBF (mean time between failure). We work today on technology that can see through fog.
Smith: The prices of bullet-style thermal cameras seem to have reached their lowest level with current technology, given the acceptable performance level. The cost of components currently available determine the price level. The advancement of technology will see further changes in the price position. But the competitive nature of the volume thermal market at the moment has created a market price more or less for bullet cameras. However, in the future there will be a continued focus on price reduction through technology enhancements and higher volume.
There is also a strong focus on cybersecurity; some customers are considering the security of their cameras and network as being the greatest risk. Many consider who may have access to their network and may provide future risk to the systems.
Hi-Tech Security Solutions: Can one use video analytics with thermal cameras? If so, what analytics are reliable these days?
Cowley: Besides face recognition, thermal imaging supports all the different video analytics, and yes, there are algorithms that can distinguish between a human and an animal.
Smith: FLIR have products such as the FC-ID and FB-ID which focus on thermal technology with built in analytics. The analytics will discriminate between animals and humans, this is becoming a determining factor in many customers deciding the thermal solution that best suits the needs. In addition, we have standalone analytics products that can be added to existing cameras (both thermal and visual) that add the analytics functions to these cameras. There also is the option of using server-based analytics where the VMS manages the analytics function.
Hi-Tech Security Solutions: How will thermals fit into the IoT world?
Cowley: They are already in. All kinds of safe city (smart city) projects that are based on IoT already use thermal cameras, today mainly for security, but I believe it will be in use for other applications in the future. All kinds of analytics that can be taken from thermal imaging and can be used for decision making will be considered as part of the IoT. For example, a thermal camera that measures the temperature of the plant and initiates the spraying system automatically from a central command and control centre of a city.
Smith: Thermals have the ability to 'see in the dark' - as such they could become an extension of your sensing systems, so if you are looking to turn on lights or other functions using an IoT device, the thermals could be one of the sensing devices that you use.
Hi-Tech Security Solutions: What are your latest offerings in the thermal market?
Cowley: There are many projects we are working on currently:
* Defence.
* Security.
* Aviation.
* Gas leak detection.
* NDT (non-destructive testing).
* Cameras for mobile phones used by physicians, plumbers and electricians.
* And more.
Smith: FLIR launched the FB-Series in Q1 2018 with variants without and with analytics built in. The FB-Series thermals offer the same thermal sensor technology used in FLIR's existing cameras, but at a reduced cost. We have also introduced the FLIR PT-Series HD which has an advanced dual-sensor security system, combining a cooled or uncooled 640x480 resolution thermal sensor, a 1080p high-definition visible-light imaging sensor, and a high speed, precision pan/tilt system. The PT-HD multi sensor has a variety of thermal options with fixed lens and HD visible camera. We have also released a version with continuous zoom.
FLIR is also planning to introduce a new generation of products to be launched in Q4 which will address new markets and also develop and extend traditional markets.
For more information, contact:
* C3 Shared Services, +27 (11) 312 2040, [email protected], www.c3ss.com.
* Graphic Image Technologies, +27 (0)11 483 0333, [email protected], www.git.co.za.
Credit(s)
Further reading:
Mount Nelson opts for cloud surveillance
CCTV, Surveillance & Remote Monitoring Entertainment and Hospitality (Industry)
IOT Revolution Technologies, in partnership with MeyCom, will be implementing over 250 cloud driven Verkada cameras at the Belmond Mount Nelson Hotel.
Read more...
---
Avoiding human error at ports
LD Africa Transport (Industry) CCTV, Surveillance & Remote Monitoring Products Logistics (Industry)
LD Africa introduced a local port to the AxxonSoft Port Security System ,a solution that helps overcome the element of human error and eliminate paperwork.
Read more...
---
Compact, lightweight bullet cameras with support for analytics
Axis Communications SA Products CCTV, Surveillance & Remote Monitoring
Axis Communications announced two new outdoor-ready bullet-style cameras featuring deep-learning processing units for analytics based on deep learning on the edge.
Read more...
---
Numerous challenges for transport and logistics
Transport (Industry) CCTV, Surveillance & Remote Monitoring Security Services & Risk Management Logistics (Industry)
Operators are making significant investments in automation and digitalisation in order to address security concerns, improve loss prevention as well as efficiency, and reduce unit order costs.
Read more...
---
A key to urban transport challenges
Axis Communications SA Transport (Industry) CCTV, Surveillance & Remote Monitoring Integrated Solutions Logistics (Industry)
There are many enabling technologies that can impact transportation in South Africa, but a good place to start is by considering the applications for smart physical technology with the ability to collect and respond to data.
Read more...
---
Hikvision aims for solutions
Technews Publishing Hikvision South Africa Editor's Choice CCTV, Surveillance & Remote Monitoring News Integrated Solutions Conferences & Events
Hikvision recently held a roadshow titled Industry X, where the company highlighted its latest products and solutions, supported by partners and distributors.
Read more...
---
Reliable, low-maintenance video appliances
Technews Publishing Editor's Choice CCTV, Surveillance & Remote Monitoring News IT infrastructure Products
Symetrix, part of the Agera Group, has added the AES range of video recording servers, storage appliances and workstations to its portfolio.
Read more...
---
A new full-colour era
Dahua Technology South Africa CCTV, Surveillance & Remote Monitoring
Traditionally, there have been two options for using surveillance cameras in the dark: flooding the scene with visible light, or alternatively using infrared (IR) illumination.
Read more...
---
AIoT delivers dynamic digital platforms
Hikvision South Africa CCTV, Surveillance & Remote Monitoring
Many stadiums or venues are seeking new, smart solutions that can help venue operators to stay on top of real-time situations dynamically on digitally driven platforms, and to achieve more efficient and sustainable venue management.
Read more...
---
Upgraded security and AI monitoring at upmarket estate
Watcher Surveillance Solutions Editor's Choice CCTV, Surveillance & Remote Monitoring Integrated Solutions Residential Estate (Industry)
Estate upgrades and enhances its security through a partnership between surveillance specialist Watcher and the incumbent guarding company.
Read more...
---