printer friendly version
Fire industry over regulated?
February 2015
Fire & Safety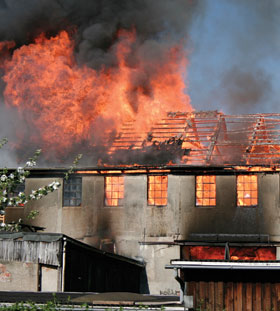 The fixed fire systems industry is currently not regulated by any government body. The industry has therefore chosen to self-regulate itself over the years, with ASIB (Automatic Sprinkler Inspection Bureau) successfully doing this for over 20 years.
The fire detection and gas suppression industry has grown to accept the FDIA (Fire Detection Installers Association) as the leading body in this industry, which has been managing its member companies for 15 years. The later introduction of the SAQCC Fire (South African Qualification Certification Committee) which provides registration of technicians working in the gas suppression and fire detection industries as 'authorised persons', adds to the regulation in the industry. Registration with PSIRA is also a legal requirement for fire detection companies.
There are rumblings throughout the industry that over regulation costs too much without full appreciation of why this regulation has become necessary. Persons in this industry may be installing a life safety system for a hospital, or a gas suppression system working up to 300-bar pressure that can kill people if things go wrong. There have been several recorded deaths in the industry due to gas discharges and for this reason we cannot leave this type of work to unqualified persons.
The low standard of knowledge and implementation of fire detection and gas suppression systems has been proven by an average pass rate of only 10% of systems inspected by the FSIB (Fire Systems Inspection Bureau). The number of systems inspected to date is approaching 1000 country-wide.
This is further enhanced by results issued from the first round of SAQCC Fire competency testing of applications for authorised persons applying at all levels. Fire detection applicants produced a 30% average pass rate and applicants for gas suppression averaged at 15%. These are levels that applicants believe they are competent in, or actually currently working at.
There are many organisations including architects, consulting engineers, rational fire designers and end users who ignore the registration bodies without full understanding of the protection they can offer.
Fire Detection Installers Association (FDIA)
The FDIA provides registration of companies which meet certain standards. The FDIA provides a facility for end-users, architects, specifiers and consultants to select contractors and suppliers for particular projects.
The FDIA vets, checks and monitors member companies to provide end-users/consultants with the confidence of knowing these organisations have the training, experience and safety requirements to fulfil such projects.
The contractors and suppliers have their personnel registered at the various levels at the SAQCC Fire as authorised persons. Technicians have had training on the national standards, product training from the relevant suppliers and have been tested as competent by the SAQCC Fire.
FDIA contractors have their installations checked by a third-party inspection body. All of whom have safety files on hand and have technicians who have undergone medicals and safety induction procedures, meaning the registered companies are equipped for any size fire detection or gas suppression installation.
The FDIA vets contractors' credentials and provides the consultant and/or end user the confidence of selecting a proven and reliable contractor.
FDIA contractors may not be the cheap solution but can remove the hassle of dealing with an unknown entity.
Suppliers
The FDIA registered distribution companies who supply fire detection and gas suppression equipment into the industry have trained their staff on the national standards and have staff registered with SAQCC Fire.
This ensures these suppliers have the correct level of expertise to provide technical advice and assistance to consultants, end users and contractors with regard to application of their products, as well as having the correct level of expertise at technical support level to assist should technical problems arise.
South African Qualification and Certification Committee (SAQCC Fire)
SAQCC Fire is the registration authority for the fire industry appointed by the Department of Labour for the registration of authorised persons working in the fire industry.
The SAQCC Fire receives affidavits from employers regarding the competency of each person registering as an authorised person. Each authorised person signs a code of conduct related to his job performance.
Registered authorised persons have to undergo an assessment test at the level he wishes to be registered. He has to achieve an 80% pass rate before being issued a registration card. Each person will then have to undertake an annual test to maintain Continuous Professional Development.
SAQCC Fire has a disciplinary process in place for persons not maintaining a high level of performance or those that stray outside of the requirements of the national standards. SAQCC Fire registration is not voluntary, but is a compulsory requirement for all persons working on fire detection and/or gas suppression systems.
Benefits
The registration of both technicians and installation companies provides protection for all players in the industry. The following examples explain:
Contractors
SAQCC Fire registration can be considered a back-up for installation company owners if any accident occurs or damage is caused by their technicians. In the event of death, the Department of Labour will check the certification of that technician to ensure he was qualified to undertake the allocated task. His registration with SAQCC Fire provides proof that the business owner has ensured the competency of his staff for the relevant task. Failing to use registered persons could result in the business owner being held liable for any damages or injuries.
When recruiting new staff, an SAQCC Fire registration proves the candidate has achieved a level of training and competency at the required registration level. The FDIA contractor does not always receive direct benefit from his registration at the association (as he does not receive a T shirt, cap or fancy pen), but he will be kept informed of all industry and standard changes.
By listing with the FDIA installers become known as an organisation that cares about the standard and quality of work that is produced. A code of conduct is signed, national standards are abided by, thus indicating to consultants and end users the stamp of a reputable company.
FDIA registration becomes a pre-requisite for tenders from large corporate companies, quasi-government organisations and insurers.
Consultants/Developers
Consultants who appoint contractors leave themselves open to interrogation if they employ installers with technicians who are not registered with SAQCC Fire and there is an accident on site. The following question will be raised, "Why were unskilled persons appointed to conduct the works?"
By selecting an FDIA-listed contractor, a consultant knows the company's technicians are authorised persons and have been trained on relevant standards and supplier equipment. They are also prepared to have their installations checked for compliance by a third-party organisation. These contractors have safety files in place and are conversant with requirements for safety, medical and induction procedures
By appointing an FDIA company, the consultant's risk is reduced, as there is a backup available. By selecting a company that offers the cheap solution and is answerable to nobody, the consultant is out there alone if things go wrong with an unlisted company.
End-users
To fall in line with the OSH Act, ensure your appointed gas suppression contractor employs staff that are registered with the SAQCC Fire, as this is a requirement laid down by the Department of Labour. This ensures the technicians used on your site are registered and proven competent to conduct the work.
In order for a fire detection or gas suppression system to be installed to a satisfactory standard and meet national standards as well as providing the correct level of technical support from the equipment supplier it is advisable to utilise companies that takes its work seriously.
By appointing an FDIA installer it is evident that the technicians who will work on your site will be registered as authorised persons, who are trained and understand safety standards. They will also be available for continued support after the installation for the years to come.
By using products that have come from a registered FDIA supplier for your installation the relevant level of technical expertise is guaranteed, approved products are offered and technical support will always be available.
For more information contact Fire Systems Training, +27 (0)82 444 1776, admin@firesystraining.co.za
Credit(s)
Further reading:
Avenar fire alarm panels
Issue 7 2020, Bosch Building Technologies , Fire & Safety
Avenar panel 2000 and 8000 are new fire alarm panel platforms offer connectivity and scalability from small to large-sized installations.
Read more...
---
Linear heat detection under difficult conditions
Issue 5 2020, Technoswitch , Fire & Safety
Securiton's SecuriHeat ADW535 linear heat detector prevails where conventional fire detectors reach their physical limits.
Read more...
---
High-precision aspirating smoke detectors
Issue 5 2020, Technoswitch , Fire & Safety
The SecuriSmoke ASD range by Securiton offers three VdS approved models and makes the lightning-fast detection of fires both scalable and cost-effective for any area.
Read more...
---
Competency in the fire industry
Issue 5 2020, FDIA (Fire Detection Installers Association) , Fire & Safety
Persons who design, commission, install or service fire protection equipment or systems should have the required level of competence for the task they perform.
Read more...
---
Public address/voice alarm partnership
Issue 5 2020, Johnson Controls Global Products , Fire & Safety
Johnson Controls customers now have single-source access to a complete line of fire detection products, including high-quality PA/VA systems.
Read more...
---
Hochiki Europe's L@titude system distributed by XtraVision
Issue 5 2020, XtraVision , Fire & Safety
Hochiki Europe's L@titude range of fire alarm control is both sophisticated, yet simple to use.
Read more...
---
Hochiki shines a light on luxury
Issue 5 2020, XtraVision , Fire & Safety
Luxury hotel chooses fire safety equipment from Hochiki as part of extension and restructuring works.
Read more...
---
Self-test for fire alarms
Issue 4 2020, Johnson Controls Global Products , Fire & Safety
Johnson Controls notification appliance self-test technology receives UL Verification Mark.
Read more...
---
New FireClass addressable fire alarm panels
Issue 4 2020, Johnson Controls Global Products , Fire & Safety
Johnson Controls has introduced two new FireClass addressable fire alarm panels, the FC702 and FC708, to its range of fire detection solutions.
Read more...
---
University of Sudan tackles heat and dust with life safety solutions
Issue 4 2020, Hochiki Europe , Fire & Safety
To guarantee the safety of students, staff and visitors, Sudan University chose fire safety devices from Hochiki with the ability to withstand the harsh Sudanese environment.
Read more...
---