printer friendly version
Five ways service integration drives business success
February 2015
Security Services & Risk Management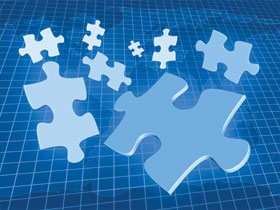 There's been quite a bit of buzz in the industry over the past couple of years about an approach to workplace management referred to as integrated services. While the phrase may sound impressive, there is very little clarity about what it means and, more importantly, how it creates business value.
The concept of integrated services is based on a simple premise: By creating stronger ties between an organisation's real estate portfolio, its business goals, its people and its workplace, stakeholders can have a direct and more significant impact on business performance. In practice, that means closer collaboration between real estate, facilities management and other functional units within the organisation – such as human resources and information technology – to support the goals of the business. When cross-functional teams emerge from their silos to share data and coordinate efforts, successful business outcomes follow.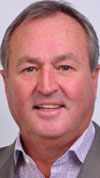 Phil Gregory
Phil Gregory, senior regional executive, Johnson Controls Global WorkPlace Solutions says: "To take advantage of the opportunities presented by integration, organisations and their service providers need to think differently about building value. The building or portfolio of buildings must no longer be considered merely a financial asset, but rather an enabler of the business."
Lynn Kious and Martin Chapman, responsible for real estate services at Johnson Controls, reveal five ways your organisation may benefit from service integration:
1. Reduced total occupancy costs
Every organisation wants to reduce occupancy costs, and with good reason. Total occupancy cost (TOC) is typically the second highest operating expense for any organisation. Companies that successfully reduce TOC have one thing in common: They understand that the true cost of occupancy involves much more than rent and depreciation.
TOC includes consideration of costs such as:
• Rent and depreciation
• Capital replacement and renovation
• Maintenance
• Utilities
• Housekeeping
• Security
• Project management
Once a truer cost-of-occupancy picture begins to take shape, one of the most effective ways you can reduce TOC is to coordinate efforts across functional units within the organisation. For example, one global real estate team thought it secured a great deal on a building in Singapore only to discover that the money saved by signing a low-cost lease was far outweighed by the facility's high energy and operational costs.
2. Improved utilisation
An integrated approach can also help to ensure you make the most efficient use of space in today's rapidly changing workspace environments. As offices, cubicles and desks are replaced by collaborative workspaces and technologies that allow employees to participate remotely, you need sophisticated ways to measure utilisation. Facilities management tools such as occupancy sensors, for example, can detect heat and movement to determine if and when a space is being occupied. With a clear and complete understanding of the use of space, you can make well-informed decisions about issues such as service delivery or whether spaces should be expanded or downsized.
3. Enhanced talent recruitment, productivity and retention
Creating positive, productive work environments is essential to attracting and retaining valuable employees. Some individuals need quiet private space. Others need collaborative space. Still others may choose to work from a variety of environments as long as they have connectivity. To stay relevant and competitive, you must be flexible, and that means teams within your organisation must commit to working collaboratively – across functional units such as HR, IT and CRE – toward the common goal of creating productive work environments.
4. Better customer experiences
Almost all global organisations have customer-facing spaces within the real estate portfolio. By taking an holistic view of the spaces and the services delivered within your organisation, you can put your best foot forward and create positive, memorable customer experiences. This means facilities managers need to understand your clients as well as those in sales or business development, so that everyone from reception to catering collaborates on a customer-focus that is communicated through your workplace.
5. Reduced carbon footprint
One of the most overlooked benefits of an integrated approach to workplace management is the positive impact it can have on your organisation's sustainability efforts. For example, data mapping and other technologies typically associated with human resources can help your real estate teams zero in on sites with optimal access to public transportation. Cross-functional efforts like this – and the adoption of flexible work policies – can go a long way toward meeting sustainability goals and creating a positive public image.
Leverage the benefits of integration
Integration clearly creates business value. Yet for many large organisations close collaboration between real estate, facilities management and other functional units may seem an unattainable goal. One way to achieve this successfully and leverage the benefits is to partner with a service provide that has expertise in and understands the value of service integration.
What to consider when choosing an outsourcing partner
Get objective advice: Work with a partner who understands that workplace success is measured not by the value of a real estate transaction, but by the ability to deliver successful business outcomes; one who will help you make decisions that are right for your business. Sometimes the best deal is the one you decide not to make. Staying in place and better utilising existing space is often a better solution.
Demand broad expertise: Just as an integrated approach requires collaboration across functional units within your organisation, it's equally important to partner with a real estate and facilities management provider that offers a wide, yet coordinated range of expertise across functional areas – as well as sourcing and contract management expertise – to help you drive business performance.
Integration represents a fundamental shift in the approach to real estate and facilities management which can deliver many benefits – if done in the right way.
For more information contact Johnson Controls, +27 (0)11 921 7141, neil.cameron@jci.com, www.johnsoncontrols.com
Credit(s)
Further reading:
Industrialisation or imperialism?
Issue 7 2020 , Security Services & Risk Management
4IR has to be a matter of national agenda; national economic and political sovereignty and national security - necessitating commensurate prioritisation.
Read more...
---
PCI DSS can be your PoPIA security blueprint
Issue 6 2020, Galix Group , Security Services & Risk Management
Some of the requirements of PCI DSS can also be used to comply with PoPIA, South Africa's data privacy law.
Read more...
---
Monopoly: AI edition
Issue 6 2020 , Security Services & Risk Management
Due to the inherent nature of artificial intelligence (AI), AI-powered industries naturally tend towards monopolisation.
Read more...
---
eVisa solutions for Botswana
Issue 6 2020 , Security Services & Risk Management
Travelers to Botswana will soon be able to complete visa applications online and ease their entry into the country.
Read more...
---
Three steps to kick-start POPIA compliance
Issue 6 2020 , Security Services & Risk Management
Complying with data privacy, security laws and regulations can be a daunting task for any organisation.
Read more...
---
Digital evidence handling in the cloud
Issue 5 2020 , Security Services & Risk Management
Investigate Xpress is a free, cloud-based digital evidence management solution designed to make police forces more efficient and productive.
Read more...
---
The evolution of security in residential estates
Residential Estate Security Handbook 2020 , Editor's Choice, Integrated Solutions, Security Services & Risk Management
Two large estates discuss their security processes and the ever-expanding scope of responsibilities they need to fulfil.
Read more...
---
Bang for your security buck(s)
Residential Estate Security Handbook 2020, Alwinco , Editor's Choice, Security Services & Risk Management
Hi-Tech Security Solutions asks how estates can maintain a good security posture in the time of the ever-shrinking budget.
Read more...
---
More efficient guarding through the effective use of technology
Residential Estate Security Handbook 2020, Technews Publishing, OnGuard, Stallion Security, Active Track , Security Services & Risk Management
Technology in its many forms can be used to optimise the efficiency and performance of on-site guarding.
Read more...
---
Range of grid-independent power systems
Residential Estate Security Handbook 2020, Specialised Battery Systems , Products, Security Services & Risk Management
SBS Solar has a range of solutions to provide power, save on costs and above all provide peace of mind.
Read more...
---