printer friendly version
Securing inner city areas
February 2015
CCTV, Surveillance & Remote Monitoring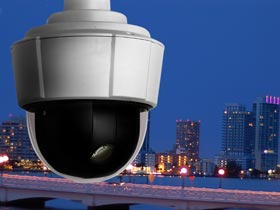 There is an increasing focus on securing CBD and inner city areas. While the adoption of some form of proactive surveillance is advised, it must be noted that there is no silver bullet. Each project needs to be viewed in an individualistic manner, with a unique set of parameters and procedures adopted to suit that specific environment.
Safe City counters criminal activity
Safe City Msunduzi in Pietermaritzburg is a classic example of getting CBD surveillance right. Lucas Holtzhausen, who heads up this Msunduzi Municipality entity, says that since its implementation, the initiative has seen a drastic decrease in all forms of crime within the city limits.
He cites statistics between July 2013 and June 2014 as typical of the positive impact Safe City has had on monitoring and deterring criminal activity. In this period, 5318 incidents were detected. This includes vehicle accidents, robberies, vandalism and similar issues. The SAPS responded to 1762 incidents. While this may seem strange based on the total number of incidents, Holtzhausen says that not all incidents require response, hence the discrepancy. On average, the SAPS response time was six minutes.
The municipal traffic department responded to 103 accidents and municipal security responded to 346 bylaw infringements. A total of 194 arrests were made during this period and to date 119 dockets have been sent to the Magistrate's Court.
Another interesting point is that the public address system, installed at seven hotspots, was used 571 times during the last year. Holtzhausen explains that Safe City decided to install the PA system alongside CCTV cameras in areas associated with criminal activity. The system is used to warn the public, especially in instances where fraudsters have been targeting vulnerable citizens like the elderly.
The announcements are made in English and isiZulu and have been a great deterrent. "We track known criminals and when they are spotted in a hotspot we announce our awareness of their presence. They quickly hightail it out of the CBD as they know we are monitoring their movements."
The PA system, which resides on the existing fibre optic backbone, has been so successful that Safe City will be adding a further six sets at additional hotspots. Safe City also deploys 70 CCTV cameras, including 10 with infrared capabilities. Holtzhausen points out that a further six fixed cameras are on order and will be installed below cameras which operate on 17 preset movements. Criminals have discovered that these cameras rotate at fixed intervals, so they wait until the camera has swung away from them and they commit offences outside the line of camera vision. The new fixed cameras will eliminate this.
Camera downtime is at a very low 0.96% and is achieved through a concerted maintenance programme. According to Holtzhausen, Safe City has sent all its maintenance employees for full training on the surveillance cameras, DVRs, PA systems and control room equipment. In addition, all consumables and spare parts are imported directly, so any repairs are conducted quickly and efficiently.
Training also plays a large role in the high competence levels of the control room operational staff. As a further incentive to enhanced performance, Safe City has registered all its employees with private medical aid schemes to ensure high levels of medical service.
Success, Holtzhausen says, can be fostered through the development and nurturing of stakeholder relationships. A member of the SAPS is present in the control room at all times. This ensures that correct procedures are followed when events occur. By implementing the correct chain of evidence, the likelihood of achieving a criminal conviction is greatly increased. Regular meetings between Safe City personnel, the Msunduzi Municipality management and the SAPS, further enhances the prospect of successfully deterring crime.
The one bugbear that Holtzhausen mentions is that often members of the community are not prepared to follow through with laying charges and supporting the prosecuting of criminals when they are apprehended and arrested. He credits this reluctance to a number of factors, primarily a lack of faith in the justice system and the disinclination to spend extended periods of time sitting in court when there is a possibility that the criminal could walk away scot free. He urges community members to commit themselves to assisting the authorities wherever possible to remove criminals from the streets.
The Safe City programme has been so popular that two residential suburbs have approached the municipality with a request to implement a similar surveillance system at the exit and entrance points to their areas. He cautions private security companies who set up surveillance systems in residential areas that without the appropriate approval from local authorities, they are contravening privacy legislation that disallows monitoring of public spaces unless one is mandated to do so.
He continues that Safe City has been mandated to investigate the monitoring of these two suburbs through their existing control room. Cameras will be paid for by the residents and Safe City will implement the system once the legalities have been finalised.

eThekwini upgrades its surveillance system
An ageing analogue system and lack of coverage in certain key ex-CBD areas prompted the eThekwini Municipality in Durban to consider the complete overhaul of its existing surveillance system.
Vincent Ngubane, head: disaster management & emergency control unit at eThekwini Municipality, says that the system suffered from the malady that plagues many older analogue systems – it could not be integrated into other municipal systems or into newer IP cameras.
Ngubane explains that since the municipality had already decided to increase its surveillance reach into previously unmonitored areas such as KwaMashu and Newlands, it was critical to consider whether the current system of 263 cameras could be upgraded or would need to be completely replaced.
Budgetary constraints dictated the adoption of an upgrade and liaison with the camera suppliers in the UK was immediately undertaken to ensure a timeous and seamless solution. For the interim, the nine analogue cameras on the Durban beachfront, which are very durable in spite of their other limitations, have been altered to allow them to integrate with the new IP cameras planned over the three-year rollout. The 60 analogue cameras in the CBD will remain as they are until the budget allows for them to be upgraded or replaced.
A task team visited a number of CBD and urban surveillance installations throughout the country, taking careful note of best practice and adjusting expectations to meet the reality of their own situation. The result was a workable plan that would incorporate the existing analogue cameras, the placement of additional IP cameras in both existing and unmonitored areas, and the addition of video analytics.
Ngubane says there is a huge attraction in the IP cameras, with full scalability, as well as reduced maintenance and installation topping the list. A total of approximately 50 additional cameras are planned during the project programme and to date eight new cameras, including Axis thermal cameras, have been installed in the KwaMashu/Newlands area. Ngubane is impressed with their zoom capabilities and their ability to detect the presence of people even in extremely poor lighting conditions. He says the success of the cameras can be measured by the fact that they have led to a number of apprehensions since their installation earlier this year.
A tender was issued for the supply of the remaining cameras and implementation started early in 2015. An external installation company will be employed and progress will be measured by the municipality's in-house technical team. All system design is conducted by an external team in collaboration with the municipal specialists. The installation will be subject to close monitoring to ensure that it meets the stringent specifications of eThekwini Municipality. The municipality's operators are currently undergoing training to ensure a smooth handover process and ongoing ease of maintenance of the system.
A number of benefits will accrue to the municipality. Not only will the foremost goal of deterring and reducing crime be achieved, but other departments within the municipality will reap the rewards. These include the Traffic Department, which has a mobile control centre that allows them to monitor faulty traffic lights and accident-prone areas. In addition, in a number of cemeteries, where vandals had desecrated gravestones, the problem has now been resolved with the inclusion of surveillance cameras. Feedback and support for the system from the community has been overwhelming.
Constant analysis of the system will ensure that the phased rollout is targeted and sustainable. By undertaking extensive groundwork prior to implementing the system and by adjusting as needs change, the municipality is confident that the return on investment will be high. Ngubane cautions municipalities considering a similar project to carefully do their homework in terms of current technology and to find a solution that works for their specific set of circumstances.
"The bottom line is that by monitoring criminal activity in our environs, we are able to achieve our goal of urban improvement. We have a mandate to ensure that our citizens and their property are safeguarded. This is much easier to achieve when a high quality, user-friendly security system is in place," Ngubane concludes.
CCTV cameras installed at Redhill Cemetery
In an effort to beef up security and ensure the safety of all citizens, the eThekwini Municipality has installed 14 infrared high-resolution IP CCTV cameras at the Redhill Cemetery.
The installation of the high-tech cameras comes after community members of Redhill complained about gun-fire salutes and other illegal activities taking place at the cemetery during funeral proceedings and at night. The cameras provide coverage for the entire cemetery and are monitored from an LCD screen at the cemetery.
Vincent Ngubane says that the IP technology used is of higher quality and is less labour intensive than the traditional analogue versions used in previous years. The system has a programme that enables it to detect any physical movement that happens within the cemetery. It can be set to activate an alarm to alert the operator when there is movement in a demarcated area.
The installation of the CCTV cameras is a pilot project which the municipality hopes to roll out to other municipal facilities.
Tips for implementing a city surveillance programme
Lucas Holtzhausen believes that there is no one single system that will serve the needs of a multitude of applications. Below he outlines what he feels are non-negotiable items in the success of any city surveillance system.
* Firstly, address the project operational requirements. These are: determine the threats and vulnerabilities, and decide which assets (property, goods and/or people) you wish to protect. Then define the equipment, procedures and people required to undertake the project. This is a systematic approach for success and sustainability.
* Follow the same process for each site within the project that you wish to monitor and protect.
* It is advisable to employ the services of a consulting engineer to assist in all of these steps. He will be able to identify the correct equipment to use in each instance in terms of the threat analysis.
* Develop a rough estimate of the costs that will be involved.
* Issue a tender to obtain an equitable overview of what the actual costs will be.
* Base your final decisions not only on costs, but on what will best fulfil the parameters and specifications of the project.
* Employ exemplary people as they will be in a position of trust. Look after them by investing in their wellbeing through, for example, medical aid packages and ongoing training. Focus on compliance with the Labour Act.
* Try to have a full-time SAPS member in your control room, working alongside your operators.
* Develop and nurture an ongoing relationship with local authorities in order to ensure a sound chain of evidence.
* Remember that city and CBD surveillance is not static and has no end date, since the environment in which it operates is dynamic. Be flexible and adapt to change.
Further reading:
Efficient storage for security
Issue 7 2020, Dell EMC , CCTV, Surveillance & Remote Monitoring
There is a dramatic increase in the amount of storage and computing power required to support today's safety and security systems.
Read more...
---
Safe restaurant reopening technology
Issue 7 2020, Dahua Technology South Africa , CCTV, Surveillance & Remote Monitoring
Denmark's Arkaden Food Hall makes use of Dahua People Counting and Flow Control solution for safe reopening.
Read more...
---
Forbatt SA invests in South Africa's security industry
Issue 7 2020, Forbatt SA , CCTV, Surveillance & Remote Monitoring
Forbatt SA is set to offer an improved service to the industry by making sure it has the products and solutions the industry needs, as well as a new showroom.
Read more...
---
Analytics with your existing cameras
Issue 7 2020, Secutel Technologies , CCTV, Surveillance & Remote Monitoring
With SecuVue from Secutel Technologies, it is possible for any business to monitor their offices, warehouses or stores remotely, from any part of the world.
Read more...
---
Consolidating control rooms and service delivery within a COVID-19 environment
Issue 6 2020, Leaderware , CCTV, Surveillance & Remote Monitoring
It is essential to have informed, coordinated and professional responses within control rooms at this time of increasing turmoil.
Read more...
---
Technology driving the healthcare industry
Issue 6 2020, Duxbury Networking , CCTV, Surveillance & Remote Monitoring
Seeing cameras as sensors opens up new possibilities, and each one of them responds to typical demands inside a hospital, clinic or nursing home.
Read more...
---
Turn cameras into traffic sensors
Issue 6 2020, Duxbury Networking , CCTV, Surveillance & Remote Monitoring
Safer communities and cities are achieved through a mixture of technology and human resources, working together in a holistic manner.
Read more...
---
Mobotix thermal technology increases security
Issue 6 2020, Duxbury Networking , CCTV, Surveillance & Remote Monitoring
Installations, machinery, equipment and material available on company premises require effective and cost-efficient protection. In addition, operational safety, optimisation of workflows and protection ...
Read more...
---
Getting a visual on Covid-19 screening
Issue 6 2020, Graphic Image Technologies , CCTV, Surveillance & Remote Monitoring
Should organisations be investing in thermal camera technology to simply contain and limit the spread of the virus?
Read more...
---
Flexible temperature screening options for challenging times
Issue 6 2020, Hikvision South Africa , CCTV, Surveillance & Remote Monitoring
A thermal imaging camera is an effective screening device for detecting individuals with elevated skin temperature. This type of monitoring can provide a rapid screening approach in high-traffic areas.
Read more...
---