printer friendly version
An international perspective on SA
January 2015
News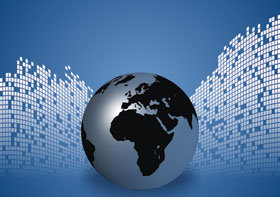 With crime at its highest level in years and the recession still firmly gripping South Africa, are international companies exhibiting any confidence in the country? Hi-Tech Security Solutions spoke to local representatives of two international security solutions companies about what the future holds.
Deon van Rensburg of ViRDI South Africa says that for the first time in 18 years, instead of petro dollar investment being made into South Africa, it is actually being withdrawn. This will impact economies in general due to less capital being available, but specifically emerging markets such as South Africa. This also means that fast growing countries like Angola and Nigeria will see a slowdown due to their reliance on oil sales. As a result, the company is concentrating much of its efforts on expanding its penetration into sub-Saharan Africa, specifically Mozambique, Zimbabwe, Botswana and Zambia.
He says that while some people are speculating that there will be more investment from Chinese businesses, he does not believe that they would take this risk unless they identify a really strong and viable opportunity.
Roy Alves, Axis Communications.
Roy Alves from Axis Communications, says that the depressed economic situation is exacerbated by the challenges with a fluctuating power supply from Eskom, ongoing unrest in the mining sector and the continually rising crime rate. However, he stresses, we need to acknowledge that we are a positive benchmark for the rest of Africa and we will therefore grow technology into those developing countries. He adds that there is an ongoing investment in, for example, shopping centres where high quality images are an important requirement.
With regard to international manufacturers investing in South Africa through a presence and direct involvement with the market, he is optimistic that we will continue to be viewed as a hub for African IT and security technology. While he acknowledges that the current growth trend in South Africa is somewhat more retarded than in other African countries, he feels that we will not become stagnant, but will attract investment from those companies who do not want to lose the presence they have already acquired here.
Alves points out that many larger corporates and a number of end users want to meet directly with representatives from the manufacturers, rather than with distributors. This will endorse the philosophy of having a direct South African presence. Clients want permanent presence and technology specialists who have a thorough understanding and knowledge of the local market.
Focus on integration
Van Rensburg does not foresee the introduction of any major new technology or ground-breaking products during 2015. The focus will be on providing solutions and moving towards more complete integration of CCTV, access control, alarm systems and building management systems. Biometrics will become multi-modal with two or more biometric technologies integrated into one device for a more comprehensive solution.
He says that ViRDI will be launching a door controller that is aimed at providing SMMEs with a solution geared around integration into building systems such as lighting, air-conditioning and intruder alarms. In addition, the company will be launching a multi-modal (fingerprint and facial recognition) terminal that will provide quality with a cost effective price tag.
A mobile device optical reader will contain multi-spectral response imaging technology that looks under the top layer of skin for identification verification. This is already being rolled out in Chinese smart devices and will hopefully be adopted by South Africa. He says the company's time and attendance systems are growing and are becoming increasingly important for companies wishing to keep a tight rein on their finances by calculating exact hours worked by employees.
Alves says that there will be an ongoing focus on analytics. As the number of CCTV cameras increases, so the need for intelligent software or analytics to discern important information will increase. He believes that this will promote remote surveillance and monitoring as a service, whereby companies and consumers will rent equipment from service providers.
Another trend he says is growing is the analysing of event driven data rather than just total data. This will result in more efficient service and a reduction in the number of false alarms. It will have positive cost benefits for users and will remove security as a capital expense from financial statements.
Axis Communications will continue to build cameras that provide better quality imaging and less noise. Alves says this is critical since data needs to be able to stand up as evidence in a court of law. Cameras should be able to handle difficult lighting conditions. This is relevant to both bright light conditions and low or absent light conditions. The company's Lightfinder technology addresses the issue of low light environments.
The company will be launching a number of new cameras, specifically UHD and a number of thermal imaging cameras. In all instances, customer-centricity will focus on solution driven systems rather than mere products.
Contact Axis Communications: www.axis.com
ViRDI South Africa: www.virditech.co.za
Credit(s)
Further reading:
New hires at iPulse
Issue 7 2020, iPulse Systems , News
iPulse has welcomed two new employees into its ranks. Shai Weil has been appointed as operations director, while Corneli Botha is the new customer sales liaison.
Read more...
---
HID Global acquires Access-IS
Issue 7 2020, HID Global , News
HID Global acquires provider of miniaturised reader devices that combine key technologies for mission-critical markets.
Read more...
---
Securing digital transformation
Issue 7 2020 , News
Schneider Electric partners with Fortinet to strengthen ability to secure operations across the business lifecycle and unlock the advantages of a secure IIoT.
Read more...
---
Suprema integrates with Paxton's Net2 access control
Issue 7 2020, Suprema , News
Suprema has announced it has integrated its devices with Paxton's access control system, Net2.
Read more...
---
Free cybersecurity courses
Issue 7 2020 , News
Check Point Software partners with Harvard and MIT-founded edX to deliver free online courses to help close the cybersecurity skills gap.
Read more...
---
Fidelity partners with Auto & General Insurance
Issue 7 2020, Fidelity Security Group , News
Fidelity Services Group in partnership with Auto & General Insurance has launched Fidelity InSure, a comprehensive vehicle, home, and building insurance offering.
Read more...
---
More apps for open camera OS
Issue 7 2020 , News
The App Challenge will result in 21 new apps running on the Security & Safety Things' camera OS, based on the Android Open Source Project.
Read more...
---
Milestone Systems announces Thomas Jensen as new CEO
Issue 7 2020, Milestone Systems , News
Milestone Systems announced that its board of directors has appointed Thomas Jensen as chief executive officer. Jensen will assume the role on October 1, 2020.
Read more...
---
Suprema announces its first virtual event
Issue 7 2020, Suprema , News
Suprema will be hosting its first virtual event, Suprema Connect 2020, which is scheduled to take place over one month from September 15.
Read more...
---
From the editor's desk: Waiting for PoPI
Issue 7 2020, Technews Publishing , News
A while ago we heard of yet another cyber breach, this time from Experian.
Read more...
---