printer friendly version
Convergence the key for local distributors
January 2015
News
There is an apparent drive towards IP convergence within the South African security technology sector. Local distributors of international products agree that standalone security systems are no longer the norm and IP will continue to grow in popularity as the synergy between security and IT systems becomes more apparent.

Mel Labuschagne, Reditron.
Mel Labuschagne of Reditron says that the trend now is to incorporate IP security into the overall IT plan. Early adoption came from the banking sector, which relies very heavily on IT infrastructure for its operation. The main concern is the demand for products that function optimally on lower bandwidth, which is now being effectively addressed through products like Dahua's Eco-Savvy network camera series. This goes hand in glove with storage demands and the need for faster processing. He adds that edge processing in cameras provides logical storage of footage that can be quickly and readily accessed.
According to Labuschagne, a sideline trend that has recently appeared is the resurgence of analogue technology. Analogue product suppliers have developed entry level to mid-tier HD cameras at a fraction of the price of similar IP products. A recent success story is that of Dahua HDCVI.
Reditron will be launching Pelco's thermography cameras with built-in thermal analytics, as well as a new immersive video technology, which is an advanced fisheye video technology with up to 12 MP resolution. In addition, the company will present Dahua's significantly improved mobile video technology, with remote storage capability.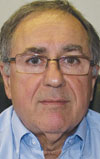 Jack Edery, Elvey Security Technologies.
Elvey Security Technologies' Jack Edery highlights the drive towards visual verification and the ongoing movement for integration of security and business systems. He believes that an accelerated uptake of current trends such as video verification, IP video solutions and management software will define the market for 2015. As users become more comfortable with technology and as products become more reliable, they will be more readily accepted.
This is evident from manufacturers such as DSC and Risco who offer IP technology in many of their standard products as well as video verification and cloud services which has shown a sharp uptake. IP product advances from the likes of Arecont where cameras offer up to 40 MP provide superior picture quality and complete 360° views. Couple that with software from Cathexis that integrates DSC, Impro, Arecont and Elvey's VisionLine IP cameras and you have a strong solution for almost any requirement.
Economic woes
The economy will continue to be under strain with the weakening of the rand, Eskom issues and continued unrest amongst unions and workers. Edery comments that because of the spiralling crime rate, more people seek out solutions that will protect their material and human assets. He continues that the situation is a bit of a double edged sword since the man in the street has less disposable income and higher levels of household debt, while the one way in which he can protect his income and possessions is by employing more stringent security measures – which cost money.
Labuschagne adds that on the business side, Tier 1 solutions are very popular. Crime is becoming more sophisticated and he says that one of the company's clients has seen a 50% increase in hijackings. This forces them to upgrade their security portfolio, with the added benefits and features that come with new technology. The addition of integrated management tools is providing clients with a more effective return on investment (ROI) as their security system is no longer a standalone entity, but rather a tool for increasing efficiency and productivity.
He continues that remote surveillance is growing as a result of specific demands from clients, coupled with the availability of suitable technology. Together with an upsurge in sales, specifically in the higher value end of the market, is an increased demand for finance as well as extended warranties to cover the shortfall period of two years between the standard end of warranty and the five-year leasing period.

Marelize Campbell, Security & Communication Warehouse.
Marelize Campbell of Security & Communication Warehouse (SCW), says that where companies previously concentrated on protecting their assets, they are now being challenged to safeguard their business. This trend requires a more analytical understanding of what security is needed to assist them to function properly, while remaining secure. The emphasis is on protecting the overall endurance of the business, rather than just specific assets.
She says that surveillance will continue to play a big role in the security market and alarms and fire detection and monitoring are becoming focus areas due to the new COC legislation that will be coming into place very soon. Identify fraud is on the increase and biometrics will effectively assist with this common crime.
Companies remain cautious about how they spend their money due to the economic difficulties which are aggravated by power blackouts, intermittent water supply and constantly rising fuel costs. Financing security equipment will consequently free up capital and ensure a steady cash flow in most instances, which encourages spending and ensures healthy economic growth.
SCW recently signed the deal as the South African distributor for Napco, a leading brand of alarm and fire equipment. This effectively rounds out the company's security offering. SCW opened its first branch in June 2014 in Linbro Business Park in Johannesburg, with other branch openings to follow in the near future.
Product variety and quality
Edery says that manufacturers will continue to have feet on the ground in South Africa with the purpose of achieving easier entry into Africa. Growing sales with their appointed distributors in SA will also be a key driver for manufacturers. Distributors that have a footprint and can effectively reach the market will be sought after by manufacturers. He points out that distributors are under increasing pressure to perform and the days of appointing a sole distributor are virtually non-existent as manufacturers prefer to spread their risk.
Elvey has over the last 12 months brought to market many new and exciting products ranging from intrusion to CCTV, access control and fire and Edery says there is more to come. The focus will be on quality product with leading features and innovation to best serve a diverse customer base.
Labuschagne says that the revised tougher immigration policy on entry into SA is negatively affecting the market in terms of manufacturer presence. Entry visas are hard to acquire and are limited to 30-day periods. Successfully established companies like Dahua, Hikvision and Pelco will continue to appoint more local people to bring the market understanding into play as a selling tool. Likewise, distributors will continue to play an important role in South Africa and will help to launch international products into the cross-border markets.
Contact Reditron: www.reditron.co.za
Elvey Security Technology: www.elvey.co.za
Security & Communication Warehouse: www.securitywarehouse.co.za
Credit(s)
Further reading:
TAPA: The role of an effective treasury function in business risk management
June 2019, Technews Publishing , News
Neil Le Roux, the Founder of Diligent Advisors will speak at the TAPA SA (Transported Asset Protection Association) annual conference on 26 July 2019.
Read more...
---
Platforms are us
September 2019, Technews Publishing , News
A conversation I had at the recent Residential Estate Security Conference Hi-Tech Security Solutions hosted in August (which will be reviewed in the October issue) got me to thinking about the security ...
Read more...
---
TAPA conference 2019 explores layered approach to security
September 2019, Technews Publishing, TAPA (Transported Asset Protection Association) , News, Transport (Industry)
The Transported Asset Protection Association (TAPA) held its annual South African conference at Emperors Palace in Johannesburg on 26 July 2019.
Read more...
---
Hennie Lategan joins Centurion as head of exports
September 2019, Centurion Systems , News, Access Control & Identity Management
Centurion Systems has announced the appointment of Hennie Lategan as the head of the company's exports department.
Read more...
---
New Africa sales manager for Axis Communications
September 2019, Axis Communications SA , News, CCTV, Surveillance & Remote Monitoring
Axis Communications has appointed Brendon Hall, previously the founder and MD of Pentagon, as its new sales manager, Africa.
Read more...
---
Check Point appoints new regional director for Africa
September 2019 , News, Cyber Security
Check Point Software Technologies has appointed Pankaj Bhula as regional director for Africa.
Read more...
---
ISO standard for protecting personal data
September 2019 , News, Cyber Security
Tackling privacy information management head on: first ISO standard for protecting personal data has been published.
Read more...
---
Hikvision helps secure African Union Summit
September 2019, Hikvision South Africa , News, CCTV, Surveillance & Remote Monitoring
Hikvision established a complete intelligent video solution to ensure the security of the thirty-third African Union (AU) Summit held on 7 July in Niamey, the capital of Niger.
Read more...
---
The hunt for the Carbanak group
September 2019 , Editor's Choice, Cyber Security, News
Tomorrow Unlocked has released a free four-part documentary that tells the story of the notorious Carbanak APT group and its $1 billion bank heist.
Read more...
---
Rockwell Automation a founding member of ISA Global Cybersecurity Alliance
September 2019 , News, Industrial (Industry)
To better secure today's complex and often vulnerable production operations, the ISA Global Cybersecurity Alliance recently announced Rockwell Automation as a founding member.
Read more...
---