printer friendly version
Verifying employee information for fraud prevention
November 2014
Security Services & Risk Management
Over 8.6 million people are employed in South Africa and very few of these employees have been subjected to any verification processes prior to or during their current employment. Given the ongoing economic recession and high threat to sustainability, companies should be investing short-term capital into employee verification for long-term gain.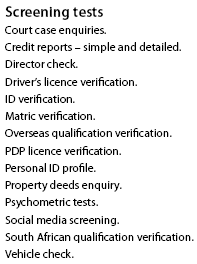 Hi-Tech Security Solutions spoke to industry specialists to find out which verification processes are currently available and which ones are actually taking place. While there is a list of approximately 15 available verification procedures available (see box for details), only criminal record checks, credit checks, South African tertiary qualification and personal ID checks are commonly used. Other items from the list are added when budgets permit.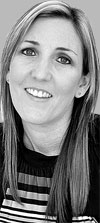 Kirsten Halcrow, MD of Employers' Mutual Protection Service.
Incredibly, according to Kirsten Halcrow, MD of Employers' Mutual Protection Service (EMPS), a staggering 35.78% of all applicants with a criminal record are repeat offenders, with 3.01% having committed 10 or more offences, whilst fraud has increased by 3% in the past year (information from EMPS' Annual Screening Report for 2013). These are very telling facts and are very disturbing considering that only 50% of companies undertake criminal checks on their employment candidates.
Given the fact that 20% of people checked have negative credit information against them, 6% (10% in EMPS' experience) had criminal records and 7% (15% in EMPS' experience) of matric certificates were invalid, together with 25% of directorship details checked being invalid, 8% of both driver's licences and PDP licences being invalid as well as 24% of international qualifications being falsified*, it is easy to imagine how many other misrepresentations of information are slipping through the employment gaps. (*Information provided by iFacts.)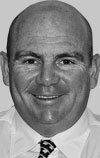 Kyle Condon, MD at D&K Management Consultants.
Identity verification is another hot potato, with at least 10% of documents being unverifiable. Reasons range from the ID number never being issued, through to the number not matching the name or surname, the holder being deceased, the ID not yet being verified and the ID holder having emigrated. Kyle Condon, MD at D&K Management Consultants says that illegal immigrants have been known to purchase falsified ID books to secure employment. However, when they are fingerprinted, AFIS (Automated Fingerprint Identification System) cannot match the ID holder to the identity number.
Falsification of local qualifications is high at up to 15% for matric certificates, 12% for sub-Saharan qualifications and 8% for trade certificates. At least 3% of tertiary qualifications and 7% of professional association memberships are also falsified.
Pre- employment vs post-employment screening
Halcrow says that the screening of employees is related to the individual company's policies. She points out that reputable security companies tend to recheck their employees on an annual basis, while some companies do not even bother with pre-employment screening. The gold standard is to check every shortlisted person you are looking at employing. Sadly, this generally does not happen and when they are used, most recruitment companies depend on the go ahead from clients to undertake screening tests.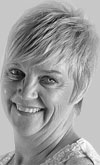 Jenny Reid, director of iFacts.
Jenny Reid, director of iFacts, says that not only are not enough companies utilising the services of verification companies, but most companies are screening their employees only once they are already employed. This very reactive modus operandi leads to a number of issues. Firstly, one has no benchmark against which to measure their status, leading to a skewed result. Morale will likely be negatively affected should an employee be asked to undergo a verification process when no previous testing has taken place.
This leads to the issue of rescreening of current employees. Only a small number of companies undertake re-verification of employees, preferring to trust them based on previous screening results. This is a shortsighted approach to employee relations, since the criminal or credit status of an employee can change over time. According to Halcrow, pre-employment screening reduces the risk of a bad hiring decision, while post-employment screening minimises the risk to which a company is exposed over the long term.
Is it really necessary?
Condon points out that the majority of blue collar workers are brought into employment via labour brokers who generally perform only the most basic verification processes. When previous employment history and credit checks are eliminated, there is a higher risk of fraud occurring. Similarly, some higher-level position checks are often left to the discretion of the HR department staff who are usually not qualified to implement the complex verification processes.
Reid is adamant that any company serious about its growth and sustainability should be subjecting prospective and current employees to screening tests. She clarifies that business management should carefully and clearly identify the risks in their business environment and match the specific verification processes to these risks. Integrity checks are becoming increasingly popular and will ensure that risks are minimised.
Condon adds that integrity testing is based on the successful models that have been instituted overseas and are complemented by polygraph testing. He says that while polygraph tests are fallible, they still form an important arsenal for any company, but companies should be cautioned to ensure that the person who is conducting the test is qualified to do so.
He advises companies to take the extra time needed to visit companies listed on CVs as previous employers. This will eliminate fraud and allow the new employer to acquire a more comprehensive overview of the capabilities, characteristics and integrity of the prospective employee. On the entry-level domain, he cites the example of the high percentage of forklift driver applicants who hold fraudulent competency certificates.
On the higher levels he says that more comprehensive screening is required and could include credit checks, qualification verification, CV checks, psychometric tests and information on whether the applicant is involved in any ongoing court cases. A known 9.5% of people employed at higher levels have lied about their qualifications.
Credit checks are generally implemented for employees who hold positions of trust within an organisation, for example those who are handling money or assets. It is critical that employers and recruiters adhere to the restrictions of the National Credit Act when undertaking credit checks. Further requirements include obtaining consent from the applicant, with transparency of results through the sharing of the results and their consequences, with the applicant.

Ina van der Merwe, CEO of Managed Integrity Evaluation.
Screening trends
According to Employment Screening Resources' Top Ten Background Check Trends for 2014, employers need to exercise due diligence in hiring while complying with the complex legal environment regulations. Failure to perform proper background checks or failing to do them right could lead to increased legal action.
Halcrow says that there has been an increase in the number of companies requesting psychometric and competency-based testing, especially in the higher ranks in companies. The tests will measure the integrity of the person, their managerial competency and their leadership qualities.
However, this is not endemic just to the higher salary earners, but likewise to entry-level personnel. Companies are seeing that securing high quality candidates at entry level is important as these employees influence the culture of an organisation and may eventually move through the ranks of the organisation to managerial positions. In addition, it is important that they are a good fit with the rest of the team they will be working with, to ensure all-round productivity.
Using AFIS, which is integrated with the SAPS database, for fingerprint checking has superseded name and identity document checking for all criminal record verification. Halcrow says this is quickly and easily expedited. iFacts recently launched an online biometric criminal check which can verify driver's licences, CVs, fingerprints and other critical information.
Social media checks, which were very popular in recent years are losing ground as a screening tool. Halcrow advises companies that do rely on information garnered from social media to be very cautious about the manner in which this information is used and to ensure that applicants are not discriminated against based on this personal information.
While budgetary constraints dictate the extent of verification checks employed by companies when checking out prospective employees and/or screening existing employees, it is important for organisations to embrace the screening technology available. If the statistics act as a barometer of honesty and integrity, then companies need to eliminate emotion from the equation and rather apply logic. Experienced verification/screening companies have access to extensive databases and technology that allow them to provide accurate and valuable employee information which could impact on the future of an organisation.
Credit(s)
Further reading:
Meeting compliance obligations
Issue 7 2020 , Security Services & Risk Management
Helping businesses in SA understand and meet their compliance obligations to local regulations.
Read more...
---
Industrialisation or imperialism?
Issue 7 2020 , Security Services & Risk Management
4IR has to be a matter of national agenda; national economic and political sovereignty and national security - necessitating commensurate prioritisation.
Read more...
---
Password vulnerabilities in South Africa
Issue 7 2020, Kaspersky , Security Services & Risk Management
Research from Kaspersky has shown that people are putting their online safety at risk by making bad password decisions and simple password mistakes that may have far-reaching consequences.
Read more...
---
The greatest crime-fighting weapon is predictably
Issue 7 2020 , Security Services & Risk Management
Predictability fuelled by artificial intelligence (AI) and big data has the ability to reduce violent crimes by 25% by 2023 according to Aura.
Read more...
---
PCI DSS can be your PoPIA security blueprint
Issue 6 2020, Galix Group , Security Services & Risk Management
Some of the requirements of PCI DSS can also be used to comply with PoPIA, South Africa's data privacy law.
Read more...
---
Monopoly: AI edition
Issue 6 2020 , Security Services & Risk Management
Due to the inherent nature of artificial intelligence (AI), AI-powered industries naturally tend towards monopolisation.
Read more...
---
eVisa solutions for Botswana
Issue 6 2020 , Security Services & Risk Management
Travelers to Botswana will soon be able to complete visa applications online and ease their entry into the country.
Read more...
---
Three steps to kick-start POPIA compliance
Issue 6 2020 , Security Services & Risk Management
Complying with data privacy, security laws and regulations can be a daunting task for any organisation.
Read more...
---
Leaders in risk and security: As long as there are people, there will be risk
Issue 5 2020, iFacts, Technews Publishing , Editor's Choice
Jenny Reid is a self-made success, focusing on people, the risks they create and the potential they have.
Read more...
---
Mitigating the human risk
Issue 5 2020, Managed Integrity Evaluation, Technews Publishing, iFacts , CCTV, Surveillance & Remote Monitoring
Hi-Tech Security Solutions asked Jennifer Barkhuizen and Jenny Reid for some information around background screening and vetting of potential new hires.
Read more...
---