printer friendly version
Creating synergistic guarding support
November 2014
Security Services & Risk Management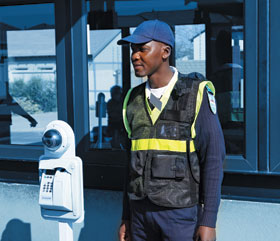 The private security sector in South Africa employs more than 445 000 people in more than 9300 registered security businesses. With such large numbers of both certified and non-certified security officers, armed with varying skill levels, it is imperative that companies employ some form of support and management to ensure that the security officers are physically protected and that they are effectively protecting the assets they are employed to safeguard.
Hi-Tech Security Solutions spoke to three industry champions about the technology currently available to streamline guarding operations whilst providing support for the function, and efficiently managing personnel.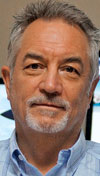 Keith Lawrence, CEO of BetaTrac Telematic Solutions.
Keith Lawrence, CEO of BetaTrac Telematic Solutions, says that guarding management solutions should allow and offer the asset owner the option to assess and evaluate the performance of the guarding company. At the same time it should give the guarding company better tools to monitor the performance and effectiveness of its guards. All of these should be in real time, including autonomously generated daily reporting to assess the individual performance of each guard. Additionally, these reports can be used for disciplinary hearing, dismissals, CCMA and court appearances.
Richard Frost, CEO of Astute Electronics, says the type of management system depends on the function that the security officer is performing. If the guard function is a static one, then they require a product that keeps them awake and alert. A patrolling guard requires a product that will not only keep them alert but which also provides them with a checklist for various checkpoints in a facility. He references his company's OnGuard products for use in the field.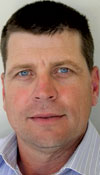 Bernard Slabbert, CEO of Bloodhound Technologies.
Bernard Slabbert, CEO of Bloodhound Technologies, says that it is important to understand the value of data derived from guard management solutions. Criteria for best practice in guarding support and management solutions vary, depending on the environment in which they operate. He adds that in the past, systems were in place to merely track the movements of the guards, whereas now they have evolved into solutions that monitor specific activities against predetermined tasks and checklists. This value added element allows the client to ensure that the service they are paying for is being delivered.
Measurable criteria
He continues that clients need to receive measurable criteria on the performance of their service providers. Bloodhound's flagship product Observer, produces the industry productivity indexes from all the information received from more than 2500 sites throughout South Africa. The information contained in these indexes are analysed and used as a litmus test for the company's clients to check their site performance against that of other service providers.
Not only can these indexes be used as benchmarks to effectively measure guarding service providers amongst themselves, but it also puts pressure on service providers to up their game and perform at optimum levels. He says that this is particularly relevant where larger national companies pay for the services of more than one service provider.
While information derived from guard patrol monitoring systems was used as a method of enforcement in the past, he believes that it is now used to promote and incentivise better performance by bringing increased efficiencies to site.
Bloodhound's mobile Rover device is carried by guarding personnel and contains a specific set of instructions for the individual guard and site. Based on GSM and active RFID technology, this device can be used indoors and outdoors and relays data in real time. The device is linked to the company's Observer software to provide accurate and unobtrusive micro-location visibility.
Because tracking is often related to assets rather than locations, the system allows users to program in the necessary checks and audits associated with that asset. These parameters could include whether the item is in an operational or non-operational state and whether parts of the item are missing.
Each asset has an RFID tag or beacon associated with it. When the security officer is within range of this beacon or tag, the Rover will display a list of actions to be followed by him/her. A specific time period will be allocated to each task and if the time period is exceeded, an exception report will be sent to management or the control room. If the security officer enters a negative response to a query, the exception will be escalated to a specific department, for example if the asset is not functioning, the maintenance department will be alerted.
Accurate useful intelligence
Lawrence says the fact that crime has escalated in South Africa, with an increased footprint of security companies, proves that more efficient and effective technologies are needed in support of the industry's endeavours to tackle and reduce crime. Added values include managing the guarding activities with accurate, useful intelligence and higher levels of guard visibility.
As a powerful management tool, his company's AIMSS solution offers 30-second data transmissions, effectively managing the guards in real time, including a protective mechanism for the guards themselves. The system is linked to GPS and no infrastructure is necessary. The benefits are exclusion of tampering and elimination of unnecessary failures.
He explains that most systems are in place simply to ensure that the guard is visiting certain checkpoints within a facility as part of their patrol. The security guards are generally in a vulnerable position whilst guarding assets and thus provides the guard with a higher level of safety through the incorporation of panic buttons and built-in real-time geo-visual images.
He says that the intelligence being derived on the ground from many of the existing systems was very poor or non-existent. This prompted the company to include a miniature real-time camera in the jacket worn by the patrolling guard. The company has developed a transmission solution based on GPRS that allows them to transmit images at a fraction of the cost, thus making this an affordable value-add for companies.
A best practice solution should also consider the overall reduction of costs and this can be achieved by reducing the number of site visits required by supervisors through the provision of implementing tools for more thorough daily reporting and monitoring via the incoming data and images collected. In this way petrol, valued time and labour costs decrease, without any loss in effectiveness.
BetaTrac's AIMSS (analytic intelligent mobile security system) software incorporates four critical key elements; Safety shield for the guard, intelligence by picture, powerful management tool and finally robust failsafe tools in the field. The system reports to the control room every 30 seconds and provides an autonomous daily automatic report. Because the report is automatically generated, the human intervention element is removed from the equation, thus eliminating errors and any possible fraud. The detailed reports provide a percentage of efficiency of the patrolling guard and any result of 85% and higher is deemed acceptable.
The AIMSS tools can further assist in reducing the amount of time a supervisor needs to be on site, they can use the extra time to analyse reports, highlight problem areas and find ways of resolving them. Technology therefore becomes a valuable tool in picking up any shortfalls apparent in manpower and empowering the guards to increase the effectiveness of their patrols.
Interactive communication
The OnGuard stay awake function can be remotely programmed to turn on and off at the end of a shift and provides interactive communication with the guard during his shift. For patrolling guards, the system will send an alert to the control room if the guard has skipped certain checkpoints or has conducted his patrol too quickly.
The OnGuard system incorporates a T&A function that simplifies manpower solutions on site by ensuring that the correct type and number of guards are patrolling the premises in any given shift. In addition to a panic button, the guards are also equipped with ibuttons or RFID technology for data collection at the various checkpoints. The OnGuard system uses its own proprietary mobile app to relay data to the control room, thus eliminating SMS costs.
Frost points out that the system links the software to mini IP cameras placed on the guard. This allows users to easily see what is visually happening on site. It can manage several guards simultaneously, providing further cost savings. In addition, OnGuard does the laborious work of verifying staff information via the PSIRA database once staff details have been captured on the Astute server.
There are a number of excellent systems on the market that allow companies to monitor and manage their security guards, while simultaneously offering the guards a certain level of personal security. Choices should be driven by the reason for patrolling, for example general facility security and monitoring, or specific asset management. The choice of communication is likewise determined by whether the patrolled area is predominantly outdoors or indoors. While budget will ultimately affect the technology choice, it should be weighed against the cost savings derived from the resultant improved efficiencies.
For more information contact, www.onguard.co.za, www.betatrac.com, www.bloodhoundsa.com
Credit(s)
Further reading:
Rack-mounted, three-phase online UPS
Security Services & Risk Management IT infrastructure Products
The new Eaton 93PX 15-20 kVA UPS combines high efficiency with a compact footprint, lower TCO, and improved cybersecurity to provide stable power for critical IT, industrial, manufacturing, and medical applications.
Read more...
---
South Africa's solar boom against load shedding
Security Services & Risk Management
South Africa has installed more rooftop and onsite solar contracted to private consumers in the last year and a half than under government programmes in the last ten years.
Read more...
---
Five reasons why your board should push cybersecurity 'boundaries'
Security Services & Risk Management IT infrastructure
From a technological perspective, micro-segmentation of your IT security environment can be viewed as a way to identify, isolate and curtail the reach of any threat – even once it is in your network.
Read more...
---
Key timelines to ensure compliance
Security Services & Risk Management
Regulations to the Occupational Health and Safety Act that apply to major hazard installations require that certain actions be taken to manage health and safety risks – some with timelines for compliance that must be monitored.
Read more...
---
Best practice tips for strengthening data privacy system
Security Services & Risk Management Cyber Security
International cybercriminals are increasingly targeting South African organizations, making data privacy more difficult to maintain. A standardization expert offers insight to help combat this threat.
Read more...
---
Is AI the game-changer for streamlining anti-money laundering compliance?
Financial (Industry) Security Services & Risk Management
In the aftermath of South Africa's recent grey listing, companies are now confronted with the imperative to address eight identified strategic deficiencies, while simultaneously reducing their financial crime risk through anti-money laundering compliance processes.
Read more...
---
Five ways to reduce your cyber insurance premiums
Security Services & Risk Management News
With the global costs of cybercrime expected to soar to $13 trillion within the next five years, cyber insurance is booming as organisations try to mitigate the risk of financial losses.
Read more...
---
Client satisfaction boosted by 85% at Thungela Mine
Thorburn Security Solutions News Security Services & Risk Management Mining (Industry)
Thorburn Security, a division of Tsebo Solutions Group, has announced its recent collaboration with Kwa-Zulu Natal security company, Ithuba Protection Services, as part of its Enterprise Supplier Development (ESD) initiatives across Africa.
Read more...
---
Migrating to the cloud? Beware the many hurdles
IT infrastructure Security Services & Risk Management
While there are undoubtedly many benefits, there are also numerous hurdles to cloud adoption. Some of the biggest challenges revolve around managing cloud spend, understanding the cost components of cloud infrastructure, and how those costs can scale.
Read more...
---
Key strategies for businesses in the face of cyber threats
Cyber Security Security Services & Risk Management
Businesses face severe financial and reputational consequences due to data breaches and daily website hacks, and not all organisations are adequately prepared to combat these escalating threats.
Read more...
---