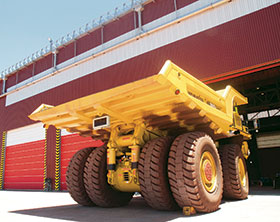 Automated door solutions for mining
November 2017, Access Control & Identity Management
The local mining industry is facing significant challenges which are putting this sector under severe pressure to find ways to reduce operational costs and improve productivity in order to ensure a sustainable future. Consequently plants, systems, processes and equipment are scrutinised to identify all possible areas where efficiencies can be increased and unnecessary costs eliminated.
"So when it comes to door systems for the mining industry, there can simply be no compromise on safety, efficiency and ruggedness," says Bram Janssen, MD of Maxiflex. "The doors must be energy efficient and tough enough to withstand dirty corrosive environments, high wind conditions and extreme temperatures. Most importantly, they have to pass the mines' strict safety standards."
The ASSA ABLOY range of vertical lifting fabric doors (better known as Megadoors) and the high-performance Albany RR1000 rubber doors are ideal for a wide range of facilities such as wash bays, truck shops, loading docks, maintenance facilities, parking garages, transportation centres, distribution facilities, wastewater management and utilities typically found on mines.
Both brands combine numerous advantages to ensure lowest possible total cost of ownership for the end-user. Designed to deliver strong, reliable efficient operation over their life span, these doors meet the extreme conditions typically found within the mining environment. In addition, the user-friendly doors are easy to maintain and contribute to a more comfortable working environment.
When it comes to efficiency, these door ranges have it covered. The Megadoor is considered to be one of the most energy efficient doors currently available on the market. The choice of a translucent fabric on the Megadoor helps minimise the carbon footprint and saves energy by providing natural ambient light in the interior which also enhances the working environment. The operating speed of the Albany RR1000 offers energy savings through efficient interior climate control.
Continues Janssen, "The Megadoors are designed with patented safety arrestors that prevent a 'free-fall' condition in the unlikely event of failed lifting mechanisms."
Big trucks need big doors. Able to accommodate massive mining vehicles, the Megadoor vertical lifting fabric doors are designed to operate in the toughest environments, opening and closing quickly, reliably and smoothly many times a day under virtually any conditions. Safe and cost-effective to operate, the doors require little to no maintenance.
Suited to both new construction as well as retrofits, the Megadoor can be customised to answer a wide variety of access needs and can for example be designed around an existing crane and crane rails. There are also multiple control alternatives, including PLC and self-diagnostic panels, as well as control panel enclosures designed for severe environments like wash bays.
The robust Megadoor vertical lifting fabric doors are manufactured from highly durable materials that easily cope with temperatures ranging from -35°C to +70°C. They are thus ideal entrance/exit solutions for extreme mining environments where doors are exposed to moisture, dust and very high or low temperatures, or where the door opening is large. A bespoke feature of these doors is their extreme design flexibility. Every door is individually designed to meet specific application requirements such as high wind load for example. Their unique design and structure offers durability, tightness, energy efficiency, operational reliability and minimum maintenance. With no hinges, springs, cables or couplings that can be damaged, these doors are damage resistant.
The efficient high-performance Albany RR1000 rubber doors deliver high speeds and reliability in the most severe environments. With opening speeds of up to 1.5 m per second, the doors contribute to increased productivity and decreased energy costs without compromising safety or operational efficiency. Engineered to cycle hundreds of thousands of times, the doors are built to withstand accidental impact and remain operational, reducing downtime; after a hit, the break-away bottom beam can be reset easily and quickly.
The Albany RR1000's chemical- and corrosion-resistant panels and frames ensure superb durability and performance. The thick, two-layer SBR rubber panel (lifetime warranty on the rubber curtain) protects against temperature extremes from -40°C to over 82°C. This strong panel, combined with heavy duty side frames and a patented Windlock guide system, provides resiliency against damage, harsh conditions and high wind loads of up to 200 km per hour. Boasting the fewest moving parts for a door of its size, the door can literally be repaired within minutes without the special tools.
Sophisticated controls and sensors protect the Megadoor and continuously monitor the opening. Through-beam photo eyes in the high-performance Albany RR1000 doors detect objects in the doorway and safely open the door before contact.
For more information contact Maxiflex Door Systems SA, +27 (0)11 392 1709, info@maxiflex.co.za, www.maxiflex.co.za