printer friendly version
Enhanced visitor management
Access & Identity Management Handbook 2018 Access Control & Identity Management, Integrated Solutions, Products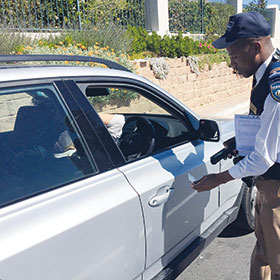 A number of residential estates and business parks have installed access control systems which aim to control the passage of pedestrian and vehicular traffic into and out of the facilities. However, without the addition of a suitable visitor management system that accurately records and monitors visitors, one is missing a vital link in the chain of access control solutions.
This is according to John Powell, CEO of Powell Tronics, who says that the company's PT-GUEST and PT-Scan visitor management solutions have been successfully adopted at a number of security estates throughout the country.
PT-GUEST is directly integrated to Impro's IXP400 ImproNet and the new Portal range of access control systems. This visitor management solution includes a portable barcode scanner, which scans an individual's drivers' licence, and a car registration disk scanner, with all data downloaded via Wi-Fi directly to an encrypted database on-site, thereby eliminating transactional running fees which are often incurred with cloud-based systems.
PT-GUEST allows estate managers to accurately identify exactly who is on site at a specific time and results in controlled traffic flow at the perimeter. "In addition, the system provides valuable marketing information for estates. This is especially pertinent where the estate is not only reserved for the use of residents but, for example, may play host to wine tasting, events, golf days and so forth. The reports provided will indicate busy periods and specific zones (for example the golf course, or the conference room or restaurant) which are being visited and how many people are visiting those particular zones over a specific time period," says Powell.
Attention to the changing needs of users is a major differentiator for Powell Tronics and has been a primary factor in the growing adoption of its visitor management solutions. The company recently announced that its PT-GUEST program will be moving to an Android device which has a large screen, with built-in barcode scanner. With a similar look and feel to a mobile phone, the unit is versatile and user friendly.
Powell says that the updated mobile app available with PT-GUEST allows for much faster and easier preregistration of visitors by a registered user. This can also be done by means of the web interface. The design criteria on its latest release were attention to detail, simplicity of operation for the users and security of all data by encryption, for guaranteed security.
"We are working towards making visitor management readily available no matter where one needs to verify and monitor visitor access and movement on an estate or facility. Customisation of solutions is one of our hallmarks," says Powell.
For more information contact Powell Tronics, 0861 787 2537, [email protected], www.p-tron.com
Further reading:
Texecom launches the Midnight Black Collection
Technews Publishing Perimeter Security, Alarms & Intruder Detection Products
Working in harmony with darker environments, the Midnight Black Collection has been created for businesses and sites that require or prefer a security solution which offers discreet protection that compliments their surroundings.
Read more...
---
Optimising remote technical support
Technews Publishing Asset Management, EAS, RFID Products
Sanden Intercool Kenya improves efficiency, removes manual processes with FIELDForce from MACmobile, making its technical backup and support staff more productive, while also optimising record keeping.
Read more...
---
Advanced server performance and energy efficient design
Editor's Choice IT infrastructure Products
Dell PowerEdge server portfolio expansion offers more performance, including up to 2.9x greater AI inferencing while Dell Smart Flow design and Dell Power Manager software advancements deliver greater energy efficiency.
Read more...
---
Gallagher to showcase new Controller 7000 single door
Technews Publishing Access Control & Identity Management Products
Gallagher will be showcasing its latest access control innovation, the Controller 7000 Single Door on its stand at Intersec Dubai from 17-19 January 2023.
Read more...
---
Batteries creating false alarms due to load shedding
Uniross Batteries Smart Home Automation Products
A local security company has solved the problem of receiving false alarms during loadshedding by replacing its customers' 12 V lead batteries with lithium batteries.
Read more...
---
31 percent of all IoT SIMs managed with third-party IoT CMPs
News Integrated Solutions
Berg Insight recently released new findings about the market for IoT connectivity management platforms (CMPs), a standard component in the value proposition from mobile operators and IoT MVNOs around the world.
Read more...
---
Minimising fire risks in automotive logistics
Hikvision South Africa CCTV, Surveillance & Remote Monitoring Products Logistics (Industry)
Automotive logistics company uses thermal imaging solution from Hikvision to ensure its stores of lithium batteries for electric vehicles never overheat and cause a fire.
Read more...
---
Olarm product highlights for 2022
Olarm Perimeter Security, Alarms & Intruder Detection Products
Olarm rapidly expanded its ecosystem in 2022 with several new products, the launch of its training academy, and a presence in Gauteng.
Read more...
---
Smart home security
Olarm Smart Home Automation Perimeter Security, Alarms & Intruder Detection Products
The applied use of smart technology within the Olarm ecosystem, through smart features coupled with existing systems, extends the benefits of technology into different spheres.
Read more...
---
Smart car parking solution eases traffic flow
Dahua Technology South Africa CCTV, Surveillance & Remote Monitoring Integrated Solutions Products
Ethiopia's first smart parking lot, designed to improve traffic flow and management efficiency, has been built and installed using Dahua Technology's smart parking solutions.
Read more...
---