printer friendly version
Why own when you can rent?
Access & Identity Management Handbook 2018 Access Control & Identity Management, Security Services & Risk Management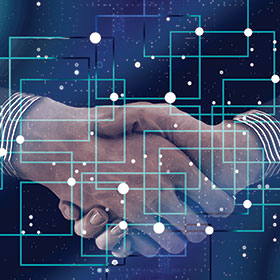 In a rapid changing environment, business is moving away from owning security equipment to a model of serviced rentals. This is in line with the global trend for businesses today to deploy resources on their core activities.
Capital and time are the two most valuable and limited resources in business and therefore have to be preserved. Customers deploy capital when buying equipment, but also waste a lot of time managing and maintaining these specialised technologies.
The rental model protects these two resources. The model is convenient in that the capital requirement and maintenance is managed by the service provider. Customers can focus on their core business while their provider takes care of non-core activities.
Discussing the advantages of the rental model, Almero Jacobs, business unit head of EOH Technology Rental Solutions, says flexibility is one of the main benefits. "When the economy forces business to upscale or downscale, the rental model proves its worth. The customer has the flexibility to extend the rental at a reduced rate and get longer use of the equipment, or the option to return items at no further cost. An existing contract can even be re-negotiated to improve cash flow."
Another benefit Jacobs highlights is the buy-back option in a rental agreement. "EOH will buy and rent equipment back to the customer. A buy-back transaction returns cash flow to the customer that can again be deployed somewhere else. In the current economic climate where cash flow improvement is a main focus area, EOH's buy-back agreements can contribute great value to customers."
The company has also made the process of credit vetting as simple as possible, with the EOH team driving the process. It has drafted a simple Master Rental Agreement (MRA) that is easily understandable. Equipment will be signed on a schedule by schedule basis, implying that the MRA only needs to be signed once. Every order subsequent to signature of the MRA will be done through a one page schedule, making additions and changes to the contract easy and fast.
What type of equipment can be rented?
"We offer a wide spread of equipment on a rental basis," explains Jacobs. "Over and above access control equipment, EOH also offers the following assets on rental: specialised security, software, networking equipment, solar solutions, generators, unified communication and AV."
The company applies two main rules to determine whether equipment is rentable or not:
1. Is there a serial number attached to the asset?
2. Can the asset be removed from the premises?
"The above allows us to offer a rental solution to almost any technology related asset," concludes Jacobs.
EOH Security and Building Technologies is a fully owned EOH subsidiary and has been in the technology security space for decades, offering technology and services to its various customers via the rental model.
For more information, contact EOH Security and Building Technologies, +27 (0)11 844 3276, technology.rentals@eoh.com
Further reading:
Gallagher Security releases Command Centre v9
Gallagher News & Events Access Control & Identity Management Integrated Solutions
Richer features, greater integrations, with the release of Gallagher Security's Command Centre v9 security site management software designed to integrate seamlessly with various systems and hardware.
Read more...
---
Paxton's Net2 secures medicinal cannabis facility
Paxton Access Control & Identity Management Healthcare (Industry) Videos
Paxton's Net2 access control has been installed at Highlands Grow, a fully licensed industrial-scale cultivator, producing cannabis for medicinal and recreational use.
Read more...
---
Lock down your access control with Alcatraz AI
C3 Shared Services Healthcare (Industry) Access Control & Identity Management AI & Data Analytics
Alcatraz AI, represented in South Africa by C3 Shared Services, changes access control by harnessing the power of artificial intelligence and analytics at the edge, where facial recognition becomes the essential credential autonomously.
Read more...
---
Effective access control
Flow Systems Access Control & Identity Management Products & Solutions
Flow Systems has introduced its new Extra Heavy Duty Industrial Rising Vehicle Barrier, which provides a high level of protection. It is a traditional-looking control barrier with the benefits of high-level physical protection.
Read more...
---
Newport Aquarium replaces traditional locks and keys
Paxton Access Control & Identity Management Entertainment and Hospitality (Industry)
Newport Aquarium wanted to replace its old security system with an easy-to-use and high-security access control solution to keep the animals, visitors, and staff safe. The solution was Net2, a PC-based access control system that offers centralised administration.
Read more...
---
Securing easy access
Suprema neaMetrics Access Control & Identity Management
Securing access to hospitals and healthcare institutions presents a unique set of challenges, because these facilities operate 24/7, have highly 'open' access in public areas and require a strict level of security.
Read more...
---
Reliable mass notification
Access Control & Identity Management
The use of voice alarm and voice evacuation systems within the healthcare industry ensures a safer and more reassuring environment in the event of an emergency.
Read more...
---
Upgrading security at lifestyle estate
Turnstar Systems Access Control & Identity Management
Lifestyle estates are often located in out-of-town settings, and living away from the hustle and bustle of the city can be conducive to a relaxing lifestyle. However, it requires a high level of security to keep residents secure.
Read more...
---
Tech developments lead hologram growth in 2024
News & Events Security Services & Risk Management
Micro-lenses, micro-mirrors and plasmonics are among the rapidly-emerging optical devices that have evolved on the back of holographic and diffractive technologies, and are seen as part of the natural evolution of optical science by R&D teams.
Read more...
---
Protecting our most vulnerable
Access Control & Identity Management
In a nation grappling with the distressing rise in child kidnappings, the need for innovative solutions to protect our infants has never been more critical. South Africa finds itself in the throes of a child abduction pandemic.
Read more...
---