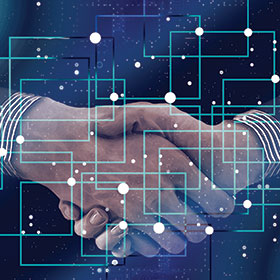 Why own when you can rent?
November 2017, Access Control & Identity Management, Security Services & Risk Management
In a rapid changing environment, business is moving away from owning security equipment to a model of serviced rentals. This is in line with the global trend for businesses today to deploy resources on their core activities.
Capital and time are the two most valuable and limited resources in business and therefore have to be preserved. Customers deploy capital when buying equipment, but also waste a lot of time managing and maintaining these specialised technologies.
The rental model protects these two resources. The model is convenient in that the capital requirement and maintenance is managed by the service provider. Customers can focus on their core business while their provider takes care of non-core activities.
Discussing the advantages of the rental model, Almero Jacobs, business unit head of EOH Technology Rental Solutions, says flexibility is one of the main benefits. "When the economy forces business to upscale or downscale, the rental model proves its worth. The customer has the flexibility to extend the rental at a reduced rate and get longer use of the equipment, or the option to return items at no further cost. An existing contract can even be re-negotiated to improve cash flow."
Another benefit Jacobs highlights is the buy-back option in a rental agreement. "EOH will buy and rent equipment back to the customer. A buy-back transaction returns cash flow to the customer that can again be deployed somewhere else. In the current economic climate where cash flow improvement is a main focus area, EOH's buy-back agreements can contribute great value to customers."
The company has also made the process of credit vetting as simple as possible, with the EOH team driving the process. It has drafted a simple Master Rental Agreement (MRA) that is easily understandable. Equipment will be signed on a schedule by schedule basis, implying that the MRA only needs to be signed once. Every order subsequent to signature of the MRA will be done through a one page schedule, making additions and changes to the contract easy and fast.
What type of equipment can be rented?
"We offer a wide spread of equipment on a rental basis," explains Jacobs. "Over and above access control equipment, EOH also offers the following assets on rental: specialised security, software, networking equipment, solar solutions, generators, unified communication and AV."
The company applies two main rules to determine whether equipment is rentable or not:
1. Is there a serial number attached to the asset?
2. Can the asset be removed from the premises?
"The above allows us to offer a rental solution to almost any technology related asset," concludes Jacobs.
EOH Security and Building Technologies is a fully owned EOH subsidiary and has been in the technology security space for decades, offering technology and services to its various customers via the rental model.
For more information, contact EOH Security and Building Technologies, +27 (0)11 844 3276, technology.rentals@eoh.com