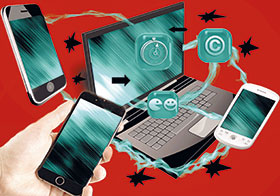 Access a mobile-first world
November 2017, This Week's Editor's Pick, Access Control & Identity Management, IT infrastructure
Mobile access control enables mobile devices – such as smartphones and wearables – to function as credentials in providing access to secured buildings, rooms and areas. This not only increases operational convenience and efficiency for today's mobile-enabled workforces. It's also provides a more cost-effective and simpler way for companies to manage identification credentials. Mobile access control can be used as either a complement to or replacement for traditional physical cards and cards.
More convenient
Compared to traditional printed identity credentials, mobile access control provides a more convenient experience for end-users. Which is important considering that the number of mobile phone users alone is expected to reach over 47 billion in 2017. And around two out of every three business people today are using mobile devices for an ever more diverse set of applications.
So using mobile devices as keys not only delivers the convenient user-experience expected by mobile-enabled workforces. It also helps boost operational efficiency and satisfaction of today's mobile-enabled workforces.
More cost-effective
Mobile access control is also a more cost-­effective and simpler way for companies to manage identification credentials. In fact, it eliminates numerous manual tasks related to handling, printing, distributing and disposing of physical identity badges. Digitally managing mobile identities saves staff time and effort as:
• Ordering, distributing and managing end-user credentials and rights is a 100% digital process.
• Provisioning mobile credentials to end-users is done via email – the mobile identity is securely sent and saved directly to the end-user´s mobile device.
• Administrators can add batch uploads via CSV or Excel file when enrolling users.
• No need for employees to check in to remote offices to acquire a temporary visitor badge.
Security and future flexibility assured
Our mobile access control solutions deliver the high levels of security and privacy protection. They ensure you send encrypted data, as well as protect identity data, throughout the lifecycle of the mobile credential. As important, the mobile access control solution ensures you of flexibility and interoperability to match your present and future business requirements and systems.
That is because it's being built on open, IP-based architecture, APIs and technologies. For instance, both Axis Entry Manager and our third-party partner software allow you to allocate, manage and revoke multiple credential types.
The Axis Communications' solution encompasses everything necessary for small-, medium- or enterprise-sized organisations to deploy mobile access control.
Overview of the HID integration
From Axis:
• AXIS A1001 Network Door Controller: grants and/or denies access based on access rules and schedules.
• AXIS Entry Manager: embedded, web-based control software, which is integrated with HID Mobile Access Portal and used to set up the system, add new users and manage mobile identities.
• AXIS API: ensure easy integration with any third-party software.
From HID Global:
• HID readers that support Bluetooth communication.
• HID Mobile Access Portal: where mobile identities are ordered and distributed.
• HID Mobile Access App: available through the Apple App Store and Google Play.
The Axis mobile access control integration with HID enables a security administrator to digitally set the system up, add new users as well as issue, manage and revoke mobile IDs via Axis Entry Manager. The administrator can add new users one at a time or in batches.
The administration simply adds an end-user's email address to the system, which then sends the user an invitation with instructions on how to install the app as well as use the activation code to securely provision the mobile ID from the cloud servers. The end-user's mobile ID is ready for use as soon as he or she downloads and activates the HID Mobile Access App.
Read more at https://www.axis.com/global/en/solutions-by-application/mobile-access-control, or for more information contact Axis Communications, +27 (0)11 548 6780, sasha.bonheim@axis.com, www.axis.com