printer friendly version
Accommodating a multi-purpose solution
Access & Identity Management Handbook 2018
Access Control & Identity Management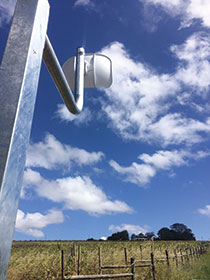 A farm owner came to Remote Entry Systems with a shopping list of requests for his access control solution. An existing ageing legacy system not only needed to be replaced but, furthermore, the new solution had to integrate with CCTV cameras around the farm. In addition, the owners required intercommunication between the main house and the cottage that it uses as a B&B facility.
The new system needed to be capable of allowing communication from the gate to the farm house, a distance of approximately 500 m. The building of new offices added a further element, as the owners required a modern infrastructure and the use of IP technology wherever possible.

The existing intercom system was inoperable, so instead of searching for different CCTV and intercom systems, Remote Entry Systems decided to install a flexible and integrated solution in collaboration with Came BPT South Africa.
Since the distance from the gate to the main farm house is substantial, new cabling would have required extensive trenching, labour and cable costs. However, by deploying an IP solution connected to a radio system, the owners were able to use an IP360 video intercom for identification, integrated with CCTV cameras, thereby allowing the same monitors to be used for surveillance purposes.

The solution comprised one IP entry panel, a radio link from the gate to the main house, and a Wi-Fi network covering the main farm house and the cottage. Two Futura IP monitors and four IP cameras are distributed throughout the property and are connected through the Wi-Fi network.
The installation was a complete success, ticking all the boxes for the farm owner. The two Futura IP monitors take advantage of the intercom feature embedded in the BPT system, allowing full control of the cottage and improving the service level afforded to cottage guests, who are now able to contact the main house when in need, without actually leaving the cottage.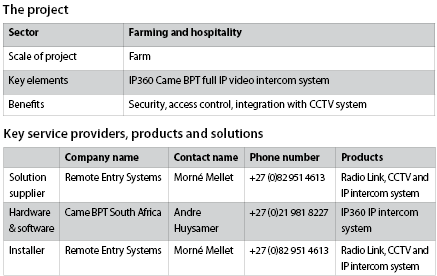 Credit(s)
Further reading:
You cannot bribe a computer
Access Control & Identity Management Security Services & Risk Management
Corruption is a cancer that destroys the prospects and stability of countries and businesses. It widens wealth gaps and punishes the poor. It costs countries many billions in lost revenue.
Read more...
---
Heightening physical security at military base
Turnstar Systems Access Control & Identity Management Government and Parastatal (Industry) Products
Turnstar Systems recently installed two 3-metre Velocity Raptor traffic spikes at the South African National Defence Force (SANDF) Randfontein military base on Gauteng's West Rand.
Read more...
---
Zero Trust to dominate 2023
Cyber Security Access Control & Identity Management
Traditional ways of safeguarding data are no longer sufficient in 2023. Zero Trust has emerged as a more proactive way for businesses to keep their systems, data, and networks protected against compromise.
Read more...
---
Turnstar opens an office in the UK
Turnstar Systems News Access Control & Identity Management
Turnstar Systems recently established an office in the Greater Manchester borough in the North East of England, as part of the company's ongoing expansion strategy.
Read more...
---
Enkulu Technologies to distribute Brazil's Control iD
News Access Control & Identity Management Products
Enkulu Technologies has been appointed as the first South African distributor of Control iD products; a Brazilian company offering a T&A range of solutions based on its range of biometric products.
Read more...
---
HID Technology Seminar
Technews Publishing HID Global News Access Control & Identity Management Products
HID Global's technology seminar introduced partners and distributors to the company's new Signo range of readers and highlighted the benefits and global growth of mobile access credentials.
Read more...
---
Celebrating a successful year
Gallagher Technews Publishing News Access Control & Identity Management Products
Gallagher Security hosted an end-of year event at the Steyn City Equestrian Centre in which it thanked its partners for another successful year and provided a glimpse into what the company will be releasing in 2023.
Read more...
---
Innovation and service, 37 years and counting
Technews Publishing Impro Technologies Access Control & Identity Management Integrated Solutions
Innovation, simplicity and trust underpin the nearly 40 years of success of local access control brand, Impro Technologies, which is still run as an independent entity despite being acquired by ASSA ABLOY in 2016.
Read more...
---
Access control for one of Britain's oldest boarding schools
Access Control & Identity Management Education (Industry) Products
In 2022, Christ's Hospital School, which hosts 18 boarding houses on site, needed to replace its access control security system with a new solution that would be simple to manage and maintain.
Read more...
---
Improving safety and security
Gallagher Education (Industry) Access Control & Identity Management Integrated Solutions
Education facilities have more than enough to deal with when it comes to allocating budget. Security often seems to be the last item on the agenda but is more important than ever.
Read more...
---