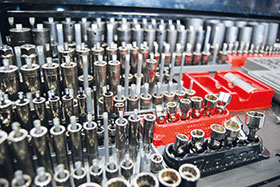 Integration and communication
November 2017, Integrated Solutions
Integration and communication are two essential features when considering security systems and access control in a residential environment for both security and convenience of the residents. There are a few questions which need to be answered when investigating this field.
• What access control measures are in place and how integrated are they with CCTV and the intercom facilities?
• What features are available to allow the resident to monitor the situation from a remote location using modern devices like laptops, tablets or smartphones?
• And if they are available, how complicated are they to implement and to maintain?
The answer to these and many other security-related questions is in the technology that allows complete control and communication of different devices and systems from a web application, because today the Internet is available on the majority of the mobile devices. Connection is the key word and the Came Group have developed a technology which enables these features, called Came Connect.
In essence, it brings altogether, a wide range of systems that are connected to a cloud platform that enables remote control of all installed operators, from anywhere in the world. It can operate via GSM and Ethernet, and is compatible with all Came and BPT systems. There are also solutions available to allow systems from other manufacturers to be connected via the Came Connect platform.
All of these disciplines are brought together, allowing simple control for the end user and easier support for the installer. Here are some examples of what is possible.
For the end-user:
• Status of the installations.
• Full control over an automation motor.
• Setting of timers.
• Creating of schedules and scenarios.
• Location on map of devices.
• Error notifications send via email to user and/or installer.
• A support request can be sent to the installer automatically when the end user allows it.
• Schedules may be created to run certain scenarios at given days/times. This may be a hold open device or to activate another device by means of the input/output module. They may be altered online at anytime from anywhere.
For the installer:
• A dedicated installer interface to see all their installations.
• Location on map of installations.
• After support request from end-user the installer will be able to access the end-user interface with all the same functionalities.
• Remote assistance.
• Schedule of maintenance activities.
Think about all the systems in a residential environment: gate automation, barriers, audio and video intercoms, access control, turnstiles, home automation, CCTV, automatic doors and even carpark systems. Now they can all be connected, controlled and monitored from anywhere in the world.