printer friendly version
The Battle: Human vs Machine
October 2017 Editor's Choice, CCTV, Surveillance & Remote Monitoring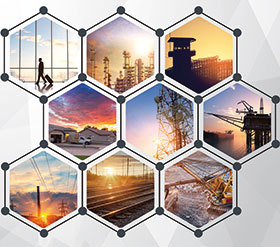 The human brain has limited attention span capabilities. A 1999 study (Green, 1999) found that after 20 minutes, guards watching a video scene will miss up to 95% of all activity. Leveraging advancements in video pattern detection and video analytics technology addresses this issue, and has comprehensively evolved from being a strictly forensic tool into a powerful proactive solution.
Paired with high-definition imaging, HD analytics provides security operators with highly accurate alerts and clear image detail, enhancing their ability to effectively intervene and take action when an incident occurs.
The economics of human attention
Artificial intelligence pioneer, Herb Simon stated, "A wealth of information creates a poverty of attention." Simon noted that most technology systems were focused on providing as much information as possible without taking the human attention span into consideration. Consequently, these systems provided a surplus of information to people, when what was needed were systems that filtered out irrelevant information, and highlighted items of interest (Simon, 1996).
What Simon was describing was the theory of attention economics; an approach to the management of information that treats human attention as a scarce commodity and a limiting factor in the absorption of information. The attention economics theory supports the creation of systems that take attention capabilities into consideration in their design, creating filters to ensure the first content a user is presented with is relevant and of interest.
The security risk of the human attention span
Based on the theory of attention economics, most security control centres and corresponding video surveillance systems today present security personnel with a wealth of information, leading to a poverty of attention. The aforementioned study (Green, 1999) showed a disturbing trend in operator performance:
1. Security operator performance degrades considerably after 20 minutes.
2. Security operators cannot effectively monitor multiple surveillance cameras and sensors.
3. Poor image quality accelerates this rate of degradation.
4. Viewing twice the number of cameras accelerates degradation by a factor of two.
The concept of video analytics technology is to present only the information that will require an operator's immediate attention. However, the vast majority of these systems create a disproportionate amount of irrelevant information, contributing to operator confusion and inaction.
The evolution of video analytics
Video analytics has evolved across a series of three technologies:
1. Video Motion Detection (VMD) – any change from one frame to another is important.
2. Advanced Video Motion Detection (AVMD) – any change that deviates from a background model is important.
3. Advanced Video Pattern Analytics – any change that has a pattern of a known object type is important.
VDM is now a standard feature included in most new surveillance cameras, recorders and video management software packages. The VMD feature focuses on detecting any pixel movement from scene to scene based on a simplistic user-defined threshold. VMD is most effective in sterile and static environments, however the technology is limited in dynamic environments, resulting in high false alarm rates. Unfortunately, this high rate of false alarms leads directly to a rapid decrease in operator attention.
In response to this limitation, the industry progressed from VMD to AVDM. AVMD is based on background modelling, alerting on any change that deviates from an established background model. This technology focuses on monitoring a scene and using the data captured via complex manual calibration to identify moving objects. AVMD is effective when set up and calibrated correctly, yet is limited when background composition changes (e.g. environmental, seasonal and physical changes), increasing false alarm rates over time and initiating the need for regular recalibration.
The latest evolution in video analytics is Advanced Video Pattern Analytics, which is based on pattern modelling algorithms, alerting on any change that has a pattern of a known object type such as a person or a vehicle. The technology focuses on recognising the objects in view and using information of the movement of the object to accurately classify it. Consider how humans recognise objects: we recognise an object based on its look, shape and movement. Advanced Video Pattern Detection works in a similar fashion.
Of the three types of video analytic technologies noted above, Advanced Video Pattern Analytics typically provides the lowest rate of false alarms, helping to sustain operator attention by highlighting information that is relevant and of interest.
Video analytics are becoming more intelligent, and feasible, as clients are looking for complete solutions as opposed to individual products. Complex integration of multiple systems, such as video management systems with other sub-systems like perimeter security systems demand rules that are based on integrated security management systems to manage increasing volumes of various different events. Ultimately, they provide better situational awareness and management of alarms.
In the never-ending battle between human and machine, Advanced Video Pattern Analytics provides a seamless work integration for the perfect balance of dependencies. Machine (technology) can only be good as the human's actions on its alarms, and the human's actions can only be as good as the machine's quality of alarms.
Do you have this perfect balance in your control room?
For more information contact C3 Shared Services, +27 (0)11 312 2040, [email protected], www.c3ss.com
Credit(s)
Further reading:
Free South Africa Market Report webinar from TAPA EMEA
Technews Publishing Editor's Choice News Transport (Industry) Training & Education Logistics (Industry)
October 2023 offers TAPA EMEA members and non-members opportunities to increase their knowledge of cargo crime and supply chain security risks in three countries in Europe, the Middle East & Africa region, where supply chains are most targeted by both organised crime groups and other offenders.
Read more...
---
Texecom increases support in the EMEA with key appointments
Editor's Choice Perimeter Security, Alarms & Intruder Detection News
Texecom announced two new appointments to its EMEA sales team: Thomas Vanden Wyngaerdt as Head of EMEA Sales and Tom Wright as EMEA Account Manager.
Read more...
---
Stadium security with Panomera
Editor's Choice CCTV, Surveillance & Remote Monitoring Integrated Solutions Entertainment and Hospitality (Industry)
To be able to better identify and track perpetrators and thus reduce financial and non-material damage in a soccer stadium, the operator opted for a video security solution from Dallmeier.
Read more...
---
Brighter, greener, and smarter
Dahua Technology South Africa Products CCTV, Surveillance & Remote Monitoring
Dahua Technology released its new Dahua CH II Series Indoor Fine Pixel Pitch LED display, providing visual clarity and promoting energy efficiency and sustainability.
Read more...
---
Helping retailers optimise monitoring and security
Guardian Eye Retail (Industry) CCTV, Surveillance & Remote Monitoring
From a smart retail perspective, it is crucial to understand that monitoring stock and other assets through camera surveillance and a variety of Internet of Things (IoT) sensors stretches further than the stores themselves.
Read more...
---
What South Africans need to know about smart devices
Technews Publishing Editor's Choice
We live in a world surrounded by smart devices, from our pockets to our driveways and living rooms.
Read more...
---
From overwhelm to oversight
Editor's Choice Cyber Security Products
Security automation is vital in today's world, and Microsoft Sentinel is a widely adopted, but complex answer. ContraForce is an easy-to-use add-on that automatically processes, verifies and warns of threats round-the-clock.
Read more...
---
SMART Surveillance Conference 2023
Technews Publishing Editor's Choice CCTV, Surveillance & Remote Monitoring Conferences & Events
Some people think the future is all about cloud technologies, but the SMART Surveillance conference demonstrated that AI is making edge surveillance much more attractive, over distributed sites, than ever before.
Read more...
---
Has your business planned for the worst?
Editor's Choice Cyber Security Security Services & Risk Management
Incident response is a specialised part of security, like a hospital's intensive care unit: IR kicks in when the organisation detects a breach of its systems to stop criminals from doing more damage.
Read more...
---
Making a difference with human intelligence gathering
Kleyn Change Management Editor's Choice
Eva Nolle believes that woman should stand their ground as they often bring an entirely different skill set to the table, which enhances the overall service delivered.
Read more...
---