printer friendly version
The Battle: Human vs Machine
October 2017 Editor's Choice, CCTV, Surveillance & Remote Monitoring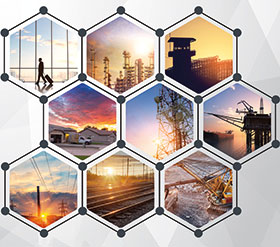 The human brain has limited attention span capabilities. A 1999 study (Green, 1999) found that after 20 minutes, guards watching a video scene will miss up to 95% of all activity. Leveraging advancements in video pattern detection and video analytics technology addresses this issue, and has comprehensively evolved from being a strictly forensic tool into a powerful proactive solution.
Paired with high-definition imaging, HD analytics provides security operators with highly accurate alerts and clear image detail, enhancing their ability to effectively intervene and take action when an incident occurs.
The economics of human attention
Artificial intelligence pioneer, Herb Simon stated, "A wealth of information creates a poverty of attention." Simon noted that most technology systems were focused on providing as much information as possible without taking the human attention span into consideration. Consequently, these systems provided a surplus of information to people, when what was needed were systems that filtered out irrelevant information, and highlighted items of interest (Simon, 1996).
What Simon was describing was the theory of attention economics; an approach to the management of information that treats human attention as a scarce commodity and a limiting factor in the absorption of information. The attention economics theory supports the creation of systems that take attention capabilities into consideration in their design, creating filters to ensure the first content a user is presented with is relevant and of interest.
The security risk of the human attention span
Based on the theory of attention economics, most security control centres and corresponding video surveillance systems today present security personnel with a wealth of information, leading to a poverty of attention. The aforementioned study (Green, 1999) showed a disturbing trend in operator performance:
1. Security operator performance degrades considerably after 20 minutes.
2. Security operators cannot effectively monitor multiple surveillance cameras and sensors.
3. Poor image quality accelerates this rate of degradation.
4. Viewing twice the number of cameras accelerates degradation by a factor of two.
The concept of video analytics technology is to present only the information that will require an operator's immediate attention. However, the vast majority of these systems create a disproportionate amount of irrelevant information, contributing to operator confusion and inaction.
The evolution of video analytics
Video analytics has evolved across a series of three technologies:
1. Video Motion Detection (VMD) – any change from one frame to another is important.
2. Advanced Video Motion Detection (AVMD) – any change that deviates from a background model is important.
3. Advanced Video Pattern Analytics – any change that has a pattern of a known object type is important.
VDM is now a standard feature included in most new surveillance cameras, recorders and video management software packages. The VMD feature focuses on detecting any pixel movement from scene to scene based on a simplistic user-defined threshold. VMD is most effective in sterile and static environments, however the technology is limited in dynamic environments, resulting in high false alarm rates. Unfortunately, this high rate of false alarms leads directly to a rapid decrease in operator attention.
In response to this limitation, the industry progressed from VMD to AVDM. AVMD is based on background modelling, alerting on any change that deviates from an established background model. This technology focuses on monitoring a scene and using the data captured via complex manual calibration to identify moving objects. AVMD is effective when set up and calibrated correctly, yet is limited when background composition changes (e.g. environmental, seasonal and physical changes), increasing false alarm rates over time and initiating the need for regular recalibration.
The latest evolution in video analytics is Advanced Video Pattern Analytics, which is based on pattern modelling algorithms, alerting on any change that has a pattern of a known object type such as a person or a vehicle. The technology focuses on recognising the objects in view and using information of the movement of the object to accurately classify it. Consider how humans recognise objects: we recognise an object based on its look, shape and movement. Advanced Video Pattern Detection works in a similar fashion.
Of the three types of video analytic technologies noted above, Advanced Video Pattern Analytics typically provides the lowest rate of false alarms, helping to sustain operator attention by highlighting information that is relevant and of interest.
Video analytics are becoming more intelligent, and feasible, as clients are looking for complete solutions as opposed to individual products. Complex integration of multiple systems, such as video management systems with other sub-systems like perimeter security systems demand rules that are based on integrated security management systems to manage increasing volumes of various different events. Ultimately, they provide better situational awareness and management of alarms.
In the never-ending battle between human and machine, Advanced Video Pattern Analytics provides a seamless work integration for the perfect balance of dependencies. Machine (technology) can only be good as the human's actions on its alarms, and the human's actions can only be as good as the machine's quality of alarms.
Do you have this perfect balance in your control room?
For more information contact C3 Shared Services, +27 (0)11 312 2040, [email protected], www.c3ss.com
Credit(s)
Further reading:
Avoiding human error at ports
LD Africa Transport (Industry) CCTV, Surveillance & Remote Monitoring Products Logistics (Industry)
LD Africa introduced a local port to the AxxonSoft Port Security System ,a solution that helps overcome the element of human error and eliminate paperwork.
Read more...
---
Compact, lightweight bullet cameras with support for analytics
Axis Communications SA Products CCTV, Surveillance & Remote Monitoring
Axis Communications announced two new outdoor-ready bullet-style cameras featuring deep-learning processing units for analytics based on deep learning on the edge.
Read more...
---
Numerous challenges for transport and logistics
Transport (Industry) CCTV, Surveillance & Remote Monitoring Security Services & Risk Management Logistics (Industry)
Operators are making significant investments in automation and digitalisation in order to address security concerns, improve loss prevention as well as efficiency, and reduce unit order costs.
Read more...
---
A key to urban transport challenges
Axis Communications SA Transport (Industry) CCTV, Surveillance & Remote Monitoring Integrated Solutions Logistics (Industry)
There are many enabling technologies that can impact transportation in South Africa, but a good place to start is by considering the applications for smart physical technology with the ability to collect and respond to data.
Read more...
---
Hikvision aims for solutions
Technews Publishing Hikvision South Africa Editor's Choice CCTV, Surveillance & Remote Monitoring News Integrated Solutions Conferences & Events
Hikvision recently held a roadshow titled Industry X, where the company highlighted its latest products and solutions, supported by partners and distributors.
Read more...
---
Reliable, low-maintenance video appliances
Technews Publishing Editor's Choice CCTV, Surveillance & Remote Monitoring News IT infrastructure Products
Symetrix, part of the Agera Group, has added the AES range of video recording servers, storage appliances and workstations to its portfolio.
Read more...
---
Technology and the future of security installation in South Africa
Editor's Choice Integrated Solutions Security Services & Risk Management
What are the technologies and trends shaping installation, service and maintenance teams globally, and how will they shape South African businesses today and in the future?
Read more...
---
Upgraded security and AI monitoring at upmarket estate
Watcher Surveillance Solutions Editor's Choice CCTV, Surveillance & Remote Monitoring Integrated Solutions Residential Estate (Industry)
Estate upgrades and enhances its security through a partnership between surveillance specialist Watcher and the incumbent guarding company.
Read more...
---
The technology wave implications for staff mismatches in control rooms
Leaderware Editor's Choice Security Services & Risk Management
An industry habit of looking at control rooms through a physical security lens has increasingly left clients and staff at a disadvantage in keeping up with control room technology and demands.
Read more...
---
Resilience is a collaborative effort
Technews Publishing Editor's Choice
Cyber resilience is not an 'IT thing'; Wayne Olsen says it is an enterprise-wide risk strategy that involves collaboration, lots of collaboration.
Read more...
---