printer friendly version
The Battle: Human vs Machine
October 2017 Editor's Choice, CCTV, Surveillance & Remote Monitoring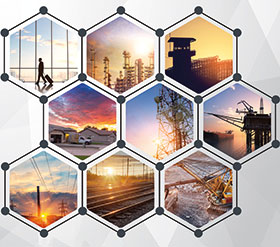 The human brain has limited attention span capabilities. A 1999 study (Green, 1999) found that after 20 minutes, guards watching a video scene will miss up to 95% of all activity. Leveraging advancements in video pattern detection and video analytics technology addresses this issue, and has comprehensively evolved from being a strictly forensic tool into a powerful proactive solution.
Paired with high-definition imaging, HD analytics provides security operators with highly accurate alerts and clear image detail, enhancing their ability to effectively intervene and take action when an incident occurs.
The economics of human attention
Artificial intelligence pioneer, Herb Simon stated, "A wealth of information creates a poverty of attention." Simon noted that most technology systems were focused on providing as much information as possible without taking the human attention span into consideration. Consequently, these systems provided a surplus of information to people, when what was needed were systems that filtered out irrelevant information, and highlighted items of interest (Simon, 1996).
What Simon was describing was the theory of attention economics; an approach to the management of information that treats human attention as a scarce commodity and a limiting factor in the absorption of information. The attention economics theory supports the creation of systems that take attention capabilities into consideration in their design, creating filters to ensure the first content a user is presented with is relevant and of interest.
The security risk of the human attention span
Based on the theory of attention economics, most security control centres and corresponding video surveillance systems today present security personnel with a wealth of information, leading to a poverty of attention. The aforementioned study (Green, 1999) showed a disturbing trend in operator performance:
1. Security operator performance degrades considerably after 20 minutes.
2. Security operators cannot effectively monitor multiple surveillance cameras and sensors.
3. Poor image quality accelerates this rate of degradation.
4. Viewing twice the number of cameras accelerates degradation by a factor of two.
The concept of video analytics technology is to present only the information that will require an operator's immediate attention. However, the vast majority of these systems create a disproportionate amount of irrelevant information, contributing to operator confusion and inaction.
The evolution of video analytics
Video analytics has evolved across a series of three technologies:
1. Video Motion Detection (VMD) – any change from one frame to another is important.
2. Advanced Video Motion Detection (AVMD) – any change that deviates from a background model is important.
3. Advanced Video Pattern Analytics – any change that has a pattern of a known object type is important.
VDM is now a standard feature included in most new surveillance cameras, recorders and video management software packages. The VMD feature focuses on detecting any pixel movement from scene to scene based on a simplistic user-defined threshold. VMD is most effective in sterile and static environments, however the technology is limited in dynamic environments, resulting in high false alarm rates. Unfortunately, this high rate of false alarms leads directly to a rapid decrease in operator attention.
In response to this limitation, the industry progressed from VMD to AVDM. AVMD is based on background modelling, alerting on any change that deviates from an established background model. This technology focuses on monitoring a scene and using the data captured via complex manual calibration to identify moving objects. AVMD is effective when set up and calibrated correctly, yet is limited when background composition changes (e.g. environmental, seasonal and physical changes), increasing false alarm rates over time and initiating the need for regular recalibration.
The latest evolution in video analytics is Advanced Video Pattern Analytics, which is based on pattern modelling algorithms, alerting on any change that has a pattern of a known object type such as a person or a vehicle. The technology focuses on recognising the objects in view and using information of the movement of the object to accurately classify it. Consider how humans recognise objects: we recognise an object based on its look, shape and movement. Advanced Video Pattern Detection works in a similar fashion.
Of the three types of video analytic technologies noted above, Advanced Video Pattern Analytics typically provides the lowest rate of false alarms, helping to sustain operator attention by highlighting information that is relevant and of interest.
Video analytics are becoming more intelligent, and feasible, as clients are looking for complete solutions as opposed to individual products. Complex integration of multiple systems, such as video management systems with other sub-systems like perimeter security systems demand rules that are based on integrated security management systems to manage increasing volumes of various different events. Ultimately, they provide better situational awareness and management of alarms.
In the never-ending battle between human and machine, Advanced Video Pattern Analytics provides a seamless work integration for the perfect balance of dependencies. Machine (technology) can only be good as the human's actions on its alarms, and the human's actions can only be as good as the machine's quality of alarms.
Do you have this perfect balance in your control room?
For more information contact C3 Shared Services, +27 (0)11 312 2040, marketing@c3ss.com, www.c3ss.com
Credit(s)
Further reading:
Elvey partners with HALO
Elvey Security Technologies News CCTV, Surveillance & Remote Monitoring
Elvey Group has partnered with HALO Europe to provide Africa's first body-worn solution with zero upfront costs. This includes an IP68-certified body camera and a 4G-connected device.
Read more...
---
Accenture Technology Vision 2023
Editor's Choice News
New report states that generative AI is expected to usher in a 'bold new future' for business, merging physical and digital worlds, transforming the way people work and live.
Read more...
---
Economists divided on global economic recovery
Editor's Choice News
Growth outlook has strengthened in all regions, but chief economists are divided on the likelihood of a global recession in 2023; experts are concerned about trade-off between managing inflation and maintaining financial stability, with 76% anticipating central banks to struggle to bring down inflation.
Read more...
---
Success in business process best practices
Technews Publishing Kleyn Change Management Editor's Choice Integrated Solutions Security Services & Risk Management
This month we commandeer time with the woman who is spearheading our national conversation on Women in Security, Lesley-Anne Kleyn, to get to know the lady herself a little better.
Read more...
---
Invisible connection and tangible protection via cloud
Dahua Technology South Africa Perimeter Security, Alarms & Intruder Detection CCTV, Surveillance & Remote Monitoring Products
Dahua Technology has launched its AirShield security solution that uses advanced, stable and reliable RF communication technology and cloud services, integrating alarm hubs, various detectors and accessories, with several software apps.
Read more...
---
SAFPS to launch a platform to combat fraud
Editor's Choice News Security Services & Risk Management
In response to the growing need for a proactive approach to fraud prevention, the SAFPS is developing a product called Yima, which will be a one-stop-shop for South Africans to report scams, secure their identity, and scan any website for vulnerabilities.
Read more...
---
Relaxed home cybersecurity could render consumers accidental 'inside actors'
Editor's Choice Cyber Security Smart Home Automation
Cisco security experts warn of snowball impact of relaxed approach to cybersecurity on personal devices, noting 60% of users primarily use their personal phone for work tasks and 76% have used unsecured public networks for work tasks.
Read more...
---
The importance of the operator's frame of reference
Leaderware Editor's Choice CCTV, Surveillance & Remote Monitoring Security Services & Risk Management Mining (Industry)
The better the operator's frame of reference and situational awareness, and the more informed they are in dealing with CCTV surveillance in the mining industry, the more successful they are likely to be in surveillance.
Read more...
---
The art of drive and focus
Technews Publishing Editor's Choice Mining (Industry)
Riette Smeda did not find security, security found her. In doing so, she found an environment where grit and determination make all the difference in a country where crime pays.
Read more...
---
AI, risk management, and frameworks
Blacklight Group Technews Publishing Editor's Choice Security Services & Risk Management Mining (Industry)
A risk management framework is a basic necessity to meet the always-evolving criminal war against mines, perpetrated by ruthless organised crime gangs that often are better informed and resourced than their targets.
Read more...
---