printer friendly version
Turning up the heat on solar field security
September 2014
Industrial (Industry)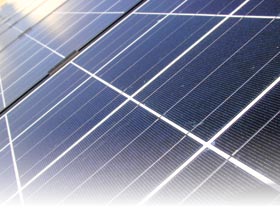 When the Sustainability Committee at Las Positas College in Livermore, CA, USA, launched construction of a 5,3-acre field of solar panels, the Campus Safety Department took charge of finding a cost-effective way to protect the $4,7 million renewable energy project. Given the remoteness of the location and the lack of any light after dark, Campus Safety was especially concerned about the site's vulnerability at night.
Knowing that the fence surrounding the field was not sufficient protection for the college's investment, Sean Prather hired Electronic Innovations to devise a more secure solution that would both detect and deter intruders.
"They needed a network-based system that would not only alert campus safety to the presence of intruders, but would give intruders an indication that they had been spotted," said Eric Bledsoe, president, Electronic Innovations.
Given the prohibitive cost of keeping the property illuminated at night, Electronic Innovations knew conventional day/night surveillance cameras would not be an option. Using a design concept from a past solar project, the team decided to mount three AXIS Q1921 thermal network cameras onto tall poles alongside 1500-watt halogen lights. The thermal cameras monitor the fence line, and when one detects motion using the camera's onboard motion detection, every halogen light in the field instantly switches on. The sudden blast of light lets intruders know they have been discovered.
"We chose Axis thermal imaging cameras not only because they didn't need light, but also because they could detect motion at long distances and their sophisticated analytics would help us eliminate false alarms," explained Bledsoe.
Electronic Innovations fine-tuned the camera analytics to make sure local wildlife, such as deer, birds, bats and cats, would not trigger the system. "The last thing we wanted was for the lights to turn on every 10 minutes," Bledsoe said.
A bright spot in perimeter security
The thermal cameras in the solar field are connected via fibre optic cable to the AMAG Technology Symmetry Security Management System the college uses to manage access control, intrusion detection and video surveillance across the campus. When the cameras detect any motion in their field of view, they immediately send an alert to AMAG's Symmetry system housed in the Campus Safety office. Symmetry automatically puts the alert on the video monitor indicating which camera triggered the alarm. The safety officer can watch the live video stream, determine the size of the intruding party and respond to the incident within minutes.
AMAG's Symmetry simultaneously broadcasts an email to safety officers' smartphones to alert staff at the main desk and on patrol. After hours, Las Positas College works with an alarm monitoring company that calls campus safety officers directly when an alarm comes in.
The thermal surveillance system has already proven effective. Within the first few months of operation, the thermal cameras spotted half a dozen individuals hopping the fence line. The system sounded the alarm and the halogen lights lit up. Back in the Campus Security office, an officer watching the monitor called the local police and dispatched a security patrol car to the scene. When the officer arrived at the field, spotlight blazing, the intruders fled the scene.
"Our response was so quick, they never had a chance to vandalise or steal any property," Prather said. "But without that security system up there, we would never have known they were there until it was too late."
Using Axis as the surveillance standard
The solar field was not the first Axis project on campus. When support for the college's old analogue camera system was discontinued, Electronic Innovations introduced them to Axis network cameras and the benefits of upgrading to IP video.
"Once they saw the difference in image quality, the cameras sold themselves," Bledsoe said. Las Positas soon decided to make Axis the campus standard going forward.
Today the college uses a mix of AXIS P3346 fixed network cameras and AXIS P5534 pan/tilt/zoom (PTZ) network cameras to give its students, faculty and staff a greater sense of safety on campus. Designed primarily as an evidentiary tool, the surveillance cameras focus on high-traffic areas in and around the new Student Services Centre that is the main hub of campus activity.
The automatic day/night feature of the 3-megapixel AXIS P3346 fixed dome network camera delivers great resolution even in lowlight conditions. The college uses them primarily for hallways, stairways and building entrances and exits. They also installed the fixed dome cameras in the bursar's office and by the campus ATM – two locations Campus Safety identified as high risk areas.
The AXIS P5534 PTZ network cameras are also tied into several emergency call stations in the newly constructed areas of the campus. When a student in trouble presses a call button, the camera closest to that vicinity automatically snaps to that location so that campus security can observe the situation and immediately dispatch an officer if necessary.
Las Positas College and Electronic Innovations continue to find novel applications for the Axis products. One project involves using high resolution cameras to capture pictures of licence plates at campus entrances and exits. "We've already field tested Axis cameras at those locations to monitor vehicles entering and leaving the campus," reported Sean Prather. "What it proved was that not only would we be able to capture licence plates, but we'd be getting great coverage of the pedestrian crosswalks and the intersections, too. From a liability standpoint that's really great because we get over 3000 vehicles entering and exiting our campus daily."
For more information contact Axis Communications, +27 (0)11 548 6780, [email protected], www.axis.com
Credit(s)
Further reading:
Accelerating your Zero Trust journey in manufacturing
IT infrastructure Cyber Security Industrial (Industry)
Francois van Hirtum, CTO of Obscure Technologies, advises manufacturers on a strategic approach to safeguarding their businesses against cyber breaches.
Read more...
---
A robust OT cybersecurity strategy
Editor's Choice Cyber Security IT infrastructure Industrial (Industry)
Cyber experts are still struggling to convince senior management to spend money to protect their control system assets, resulting in a lack of even basic measures to protect control systems.
Read more...
---
Real-world sustainability and innovation
Axis Communications SA Security Services & Risk Management
Technology such as smart city surveillance systems, in combination with video analytics that use artificial intelligence to analyse, prioritise and make decisions, enables cities to use resources as efficiently and sustainably as possible.
Read more...
---
Driving reliable wireless security
Elvey Security Technologies Perimeter Security, Alarms & Intruder Detection Industrial (Industry) Products
Ajax wireless technology provides reliable system to provide uncompromising perimeter intruder detection for security at vehicle manufacturing plant.
Read more...
---
Redefining access control in the commercial sector
Axis Communications SA Commercial (Industry) Access Control & Identity Management
Technology is key to keeping assets and personnel safe and secure, especially in the face of concern surrounding proposed new trespassing laws.
Read more...
---
Functional safety, cybersecurity protection on 32-bit MCU
Industrial (Industry)
The PIC32CM JH microcontroller is a 512 KB Flash, 5 V, dual CAN FD device that delivers premium features typically only available on more expensive, higher-performance devices.
Read more...
---
Compact, lightweight bullet cameras with support for analytics
Axis Communications SA Products CCTV, Surveillance & Remote Monitoring
Axis Communications announced two new outdoor-ready bullet-style cameras featuring deep-learning processing units for analytics based on deep learning on the edge.
Read more...
---
A key to urban transport challenges
Axis Communications SA Transport (Industry) CCTV, Surveillance & Remote Monitoring Integrated Solutions Logistics (Industry)
There are many enabling technologies that can impact transportation in South Africa, but a good place to start is by considering the applications for smart physical technology with the ability to collect and respond to data.
Read more...
---
Privacy shield with optional face blur
Axis Communications SA Products CCTV, Surveillance & Remote Monitoring
Axis Live Privacy Shield compares a live camera view to a set background scene and applies dynamic masking to areas of change.
Read more...
---
The current and future state of smart OT security
Technews Publishing Industrial (Industry) Cyber Security IT infrastructure
Nearly 60% of survey respondents also revealed that their organisation suffered at least one OT breach during the past 12 months, with 10% experiencing four or more.
Read more...
---