printer friendly version
The convergence of industrial security and life safety
September 2014 Industrial (Industry), Integrated Solutions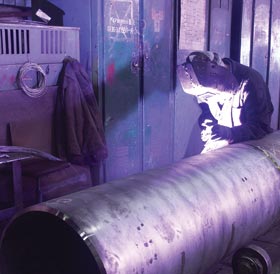 Abstract
Industrial security and life safety systems have traditionally been viewed as individual silos of capability, each having its own cost of deployment, training, operation, and maintenance. The advancement of sensor integration, IP network infrastructures and situational awareness platforms now enable a Geographic Information System (GIS) view of security and safety on a single screen.
This view of the facility can be populated with security and life safety sensors, including perimeter security sensors, CCTV cameras, access control equipment, fire equipment and more. The status and location of these sensors is displayed on the map, as well as the data from these sensors, such as intruder locations and live CCTV images. Software can automatically direct PTZ cameras to the current location of a potential intruder or a fire alarm, display that image, record it and initiate an alarm and an automated response. This article describes the concepts and benefits of industrial security and life safety convergence, including sensor integration, IP networks, and -situational awareness.
As new information technology is developed to enhance effectiveness and productivity, the burden of increased numbers of systems can exceed the benefits of the systems themselves. The benefit of a good standalone system outweighs the cost to deploy, operate, and maintain, but at some point, as systems are added, an organisation's ability to operate and maintain new systems is exceeded. Convergence is the ability of a single system to perform the functions of multiple systems.
Recent examples of convergence are in the consumer electronics market, where a single device can now function as a cellular phone, a camera, and a music player, and in the security market, where CCTV and access control systems have converged into integrated security systems. Convergence reduces the systems required in an enterprise, and can create substantial efficiencies for a buyer, installer, user, and maintainer.
Convergence in safety and security systems is now achievable because the sensors, networks and user interfaces behave and interact in similar ways. Life safety sensors and security sensors can share the same power sources and can report data on the same network using TCP/IP. A single or redundant server on the network can receive and process the data from both Life Safety and Security systems, and a single situational awareness display can convey the status of life safety and security for an entire facility.
Sensor integration
The integration of sensor technology has advanced substantially in the past 10 years with the advent of facility networks and standard interface protocols such as OPC, LON, BACnet, ODBC, Web-based Ethernet, HTML, Adv.DDE, SINEC H1, and Modbus. Not just life safety and security, but sensors from other systems such as building management, CCTV, asset locator, and energy managers can be integrated into a single building management framework. Using such a common framework substantially reduces the cost of deployment, training, operation, and maintenance of these systems compared to implementing them individually. The sensor data from multiple buildings can then be tied together in a hierarchical fashion to further extend the benefits of a common framework over an entire facility.
IP networks
Now that most facilities have an IP network, industry is finding new ways to benefit from this infrastructure. In addition to the lower level sensor integration discussed above, the IP networks facilitate higher level system integration. Multiple systems can share data across a local-area network (LAN) or a wide-area network (WAN) and this data can be used to create a single view into the facility. This view can be seen from any network location, over wireless links on mobile devices, or from home using a Virtual Private Network (VPN).
GIS-based situational awareness
Situational awareness is best delivered with a single view of the facility or area of interest to the operator. This view can be a GIS image, either a satellite view for an outside facility, or a CAD floor plan of a building. GIS systems provide a contextual view of a facility, which can be a map, a satellite image, a CAD drawing, or other representation. The key is that the image quickly depicts the status of the facility and has layers of information that can be turned on or off by the operator. The layers show the location of life safety sensors, security system sensors, critical assets, live video, potential intruders, response vehicles, personnel locations, and other pertinent information. The objects are displayed in a geospatially correct location, and when the image is zoomed or panned, the layers adjust accordingly.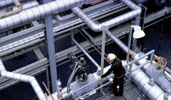 In addition to viewing the pertinent data in a logical way, the situational awareness software can help operators filter and correlate the data to prioritise situations and identify patterns that involve more than one sensor. This is achieved through the use of user defined rules. These rules are configured when the system is deployed and can be modified as the system matures to capture site-specific knowledge. For instance, if a fence sensor detects a disturbance followed by a radar sensor inside the fence line, then that becomes a very high priority alarm.
Another important feature of a situational awareness platform is not just to receive, process and view data from sensors, but to control the sensors themselves. For instance, if you have many cameras on a facility, and an operator receives a report of a suspicious or dangerous situation at a particular location, it often takes time for the operator to determine which PTZ camera to use, and which direction to point it to evaluate a situation. In an advanced situational awareness system, the cameras are selected and steered to the event automatically, presenting the operator with a real-time view of the event.
Once the knowledge of camera locations and how to control them is captured in the platform, it is a simple matter to offer a feature that selects and points a camera based on an operator mouse click on the map image. In this case, an operator gets a call regarding a potential situation, but no sensors are driving the cameras to the event. The operator can click a location on the map and select a camera to point to that location, and the live CCTV image will come up on the screen.
The difference between integration and convergence occurs at the user experience. If the user sees multiple systems that work together, then they are integrated. If a user sees a single system with multiple functions, then convergence has been achieved. The advancement of sensor integration through advanced building management platforms and of situational awareness through GIS applications has given us the tools needed to achieve convergence of safety and security systems.
Basic features of industrial security and life safety situational awareness platform
* Automatic detection and tracking.
* Integration with CCTV system.
* Integration with security platforms.
* Integration with life safety platforms.
* GIS engine.
* User defined alarm zones.
* User defined rules.
* Event prioritisation.
* Multiple configurations.
* Point and click camera control.
* Event summary.
* Event detail.
* Camera override.
* Open architecture.
For more information contact Honeywell Systems Group, +31 646 201 557, [email protected], www.honeywell.com
References: The data presented in this paper is based on previously unpublished material developed by the research teams at Honeywell International.
Further reading:
Smart car parking solution eases traffic flow
Dahua Technology South Africa CCTV, Surveillance & Remote Monitoring Integrated Solutions Products
Ethiopia's first smart parking lot, designed to improve traffic flow and management efficiency, has been built and installed using Dahua Technology's smart parking solutions.
Read more...
---
VMS 7.2 supports the investigation process and adds cloud capabilities
CCTV, Surveillance & Remote Monitoring Integrated Solutions Products
Qognify has launched the second release of its VMS, including extended support for body-worn video, additional functionalities to support investigations, and a new web client architecture. VMS 7.2 addresses the increasing use of body-worn video (BWV) across many sectors.
Read more...
---
Hytera and KZN Police Service roll out digital call handling system
Government and Parastatal (Industry) Asset Management, EAS, RFID Integrated Solutions
Hytera Communications announced that the municipality of Ray Nkonyeni in the KwaZulu-Natal province of South Africa is now using its digital call handling system for the reporting and recording of crimes.
Read more...
---
Accelerating your Zero Trust journey in manufacturing
IT infrastructure Cyber Security Industrial (Industry)
Francois van Hirtum, CTO of Obscure Technologies, advises manufacturers on a strategic approach to safeguarding their businesses against cyber breaches.
Read more...
---
Cyber resilience is more than cybersecurity
Technews Publishing Editor's Choice Cyber Security Integrated Solutions IT infrastructure
Hi-Tech Security Solutions held a round-table discussion focusing on cyber resilience and found that while the resilience discipline includes cybersecurity, it also goes much further.
Read more...
---
Johnson Controls releases IQ4
Perimeter Security, Alarms & Intruder Detection Integrated Solutions
New lower cost panel leverages Qolsys IQ Platform targeting residential, SMB, builder, MDU/multi-family and wellness market segments.
Read more...
---
A robust OT cybersecurity strategy
Editor's Choice Cyber Security IT infrastructure Industrial (Industry)
Cyber experts are still struggling to convince senior management to spend money to protect their control system assets, resulting in a lack of even basic measures to protect control systems.
Read more...
---
Shift to online driving retail transformation
Retail (Industry) Integrated Solutions
There is a growing demand from retail for an end-to-end solution that helps their digitisation process, integrating finance, procurement, warehouse management, pricing, stock management, point of sale and more.
Read more...
---
AI in video analytics
CCTV, Surveillance & Remote Monitoring Integrated Solutions
AI (artificial intelligence), has been developed and debated ever since the first computers were invented, and while the most revolutionary incarnations are not yet here, AI-based technologies are widely used today.
Read more...
---
Driving reliable wireless security
Elvey Security Technologies Perimeter Security, Alarms & Intruder Detection Industrial (Industry) Products
Ajax wireless technology provides reliable system to provide uncompromising perimeter intruder detection for security at vehicle manufacturing plant.
Read more...
---