printer friendly version
The future is bright
August 2014
CCTV, Surveillance & Remote Monitoring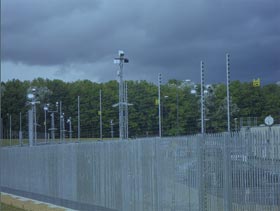 All cameras need light to see at night; no light = no picture. These are the basic laws of physics and it is a simple statement of fact. However, many low-light cameras are fantastic at delivering excellent images in dusk, low light environments and prolong the length of time before we turn on supplementary CCTV lighting helping to reduce system running costs.
But during the hours of darkness, all cameras benefit from good quality, reliable lighting for the best quality CCTV images. High megapixel and HD cameras especially benefit from good quality lighting to work to their full potential and deliver the high resolution images of which they are capable. And of course network cameras need sufficient lighting to keep their bandwidth and storage requirements to a minimum.
LED lighting technology has long been at the forefront of the global CCTV lighting market in terms of performance, reliability, longevity and energy and cost efficiency, and LED lighting solutions are more than often the first choice in most professional security installations.
But in recent years, IP cameras have taken a greater market share in the CCTV industry with the ability to remotely control and program cameras via a network infrastructure becoming the industry standard. The market has now begun to demand this same level of control and flexibility with their lighting.
Users want smart and responsive fully integrated systems, with all technologies on site working together to detect or better still deter crime. They also want the ability to instantly access all security technologies in the system at any time to immediately respond to live events or operational changes on site – not only to ensure excellent night-time images but also the highest level of safety and security 24/7.
This was the driving force behind the development of network LED lighting, and CCTV lighting specialists Raytec have been the first to address this.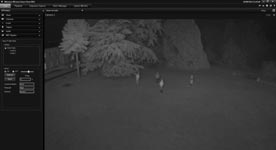 New technology explored
Raytec launched VARIO IP earlier this year and is the first, true network CCTV illuminator in the security industry. It provides IP addressable LED lighting for any surveillance or general lighting installation.
Available in both infrared and white-light, it allows simple remote set up, commissioning, operation and maintenance of your lighting scheme from anywhere on the network via an integrated Web interface provided as standard or through integration with your video management or building management system.
Lighting can be easily integrated with cameras and other network devices to operate as a system, for intelligent event driven lighting. Network illuminators can be triggered on demand by alarms from a camera, detector or other network device for a predefined period of time. Such illumination on demand e.g. on detection of a subject, is highly effective at deterring crime and reducing the system's running cost and environmental impact. The same illuminator can also provide a safe and well lit area for pedestrians or workers.
Lighting can be controlled individually or simultaneously in groups of illuminators, allowing easy operation of large sites. Operators can take instant manual control over any single light or group of lights, temporarily overriding pre-configured settings, to respond to live events on site with basic settings such as power on/off, boost and deterrent lighting. Operators also have control over their lighting at all times to adjust illumination settings making it quicker and easier to achieve the best image quality at all times.
Software integration
VARIO IP is the first illuminator to be provided with an API for immediate and easy integration into any VMS environment, for seamless lighting control as part of the overall system.
The world's first ever VMS lighting integration is between Raytec VARIO IP network illuminators and Milestone XProtect video management system, with additional integrations already underway with manufacturers such as Mirasys and 3XLogic and more to follow. The new VMS lighting integrations allow the highest level of flexibility, management and control over your lighting in conjunction with all other network technologies in your security system, from one central platform.
Plug-in software to enable the Raytec Milestone integration is available free of charge from the Raytec website. Access to other integrations are available directly from the manufacturers.
Practical changes
Commissioning is a key part of any lighting installation, to fine tune illumination settings to achieve best system performance and security. Images may be too dull or too bright, lights may be coming on too early or too late, or you may want to change the input from external trigger devices or alter light patterns.
The remote controllability of network lighting makes set up, commissioning and testing much easier, minimising labour time and costs. Now instead of adjusting lighting settings directly at the illuminator on site, on a ladder or lift, users can configure and adjust their chosen lighting specification from anywhere on the network, potentially without visiting site.
Detailed remote diagnostics are also available to provide instant feedback on the status of each light, allowing for quick and easy, proactive maintenance reviews from any location on the network.
This is ideal for all professional installations but particularly in restricted areas that are difficult to access or remotely monitored sites.
Typical applications
VARIO IP is designed for all safety and security critical applications which would benefit from the ability to control lighting over the network eg, power stations, prisons, critical infrastructure, military sites, airports, hospitals, large perimeters, borders and any large lighting installation.
Perimeter surveillance – is a key example of how VARIO IP lighting technology can be fully integrated into a security system, for top level control and the highest level of safety and security at all times. VARIO IP is smart and allows remote control of lighting levels from an external trigger.
For example, infrared and white light illumination can be used together. IR can be constantly 'on' at night for covert surveillance, and white light can be set to an 'off' position, and then externally triggered when an intruder is detected (eg, by detector, fibre optic fence line or camera), and boosted to 100% or pulsed for a short period of time to provide a warning to intruders. When using visible lighting it is often beneficial to only use it when and where needed in order to reduce running costs and light pollution.
Alarm receiving centres – is another example. On receipt of an alarm, the operator has the ability to take instant control of individual lights or a group of lights to:
a) add additional lighting, or fine tune existing light levels to easily view live events occurring on site – clear and accurate images are crucial for reducing false alarms
b) provide deterrent lighting to warn off intruders, letting them know that they are being watched.
These are just a few examples of many, showing how the ability to control lighting via a network system offers a higher level of flexibility and control, and ultimately higher levels of security and safety.
Lighting for the future
The future of lighting is definitely heading towards being even smarter.
We are steadily seeing more and more installations that are keen to use lighting with intelligence, for higher levels of security and crime prevention, and in a much more cost effective and environmentally friendly way.
The need for dynamic lighting which is instantly responsive to activity on site is becoming increasingly important for all high security installations; this is something that we can expect to see a lot more of in the near future.
For more information contact Roston Sadie, GIS SA, +27 (0)71 560 4151, roston@gis-sa.net, www.gis-sa.net
Further reading:
Camera Selection Guide 2019
September 2019 , CCTV, Surveillance & Remote Monitoring
The Camera Selection Guide 2019 includes a range of IP, analogue, thermal and speciality cameras aimed at a broad range of surveillance functions.
Read more...
---
Intelligent analytics and the brains to match
September 2019, Bosch Building Technologies , CCTV, Surveillance & Remote Monitoring, Integrated Solutions
What if the brains behind our security cameras could be trained to improve their cognitive ability to pay attention, learn, and problem-solve according to specific rules and situations?
Read more...
---
AI-powered autonomous Drone-in-a-Box
September 2019 , CCTV, Surveillance & Remote Monitoring, Integrated Solutions
Organisations in the mining, energy and industrial, oil and gas, ports and terminals sectors can optimise security and business operations, whilst reducing risks and operational costs
Read more...
---
Cybersecurity for video surveillance systems
September 2019 , Cyber Security, CCTV, Surveillance & Remote Monitoring
Video surveillance systems are increasingly accessible over any IP network, which has led to the rise of potential cyberattack.
Read more...
---
A platform approach to innovation and value
September 2019, Technews Publishing , Editor's Choice, CCTV, Surveillance & Remote Monitoring, Integrated Solutions, IT infrastructure
Moving to the platform model of doing business holds tremendous advantages for end users and smaller developers, but also for the whole technology supply chain.
Read more...
---
Back to manufacturer uniformity?
September 2019, Dallmeier Electronic Southern Africa , CCTV, Surveillance & Remote Monitoring
Decision makers often have to choose between an all-inclusive, complete solution from one manufacturer and the products and services of several different providers.
Read more...
---
Open does not always mean easy integration
September 2019, VERACITECH, Technews Publishing , Editor's Choice, CCTV, Surveillance & Remote Monitoring, Integrated Solutions
Customers who opt for best-of-breed solutions will have to rely on their integrators to develop customised integrated solutions for them.
Read more...
---
The impact of AI on the surveillance industry
September 2019, G4S South Africa, Hikvision South Africa, Myertal Tactical Security, Technews Publishing , Editor's Choice, CCTV, Surveillance & Remote Monitoring
What the impact of AI will be on companies, the services and solutions they supply, as well as on the jobs people do.
Read more...
---
Video analytics and AI
September 2019, Axis Communications SA, Dallmeier Electronic Southern Africa , Hikvision South Africa, Technews Publishing, Dahua Technology South Africa , Editor's Choice, CCTV, Surveillance & Remote Monitoring, Integrated Solutions
Artificial intelligence has the potential to deliver real benefits in the world of video analytics and many companies are already delivering customer benefits.
Read more...
---
Cloudy with a chance of AI
September 2019 , Editor's Choice, CCTV, Surveillance & Remote Monitoring, Integrated Solutions
One local company has developed an AI solution that can be added to existing surveillance installations, offering 24-hour intelligence.
Read more...
---